Space Command to relaunch this month, officials say
by
Jennifer H. Svan
August 21, 2019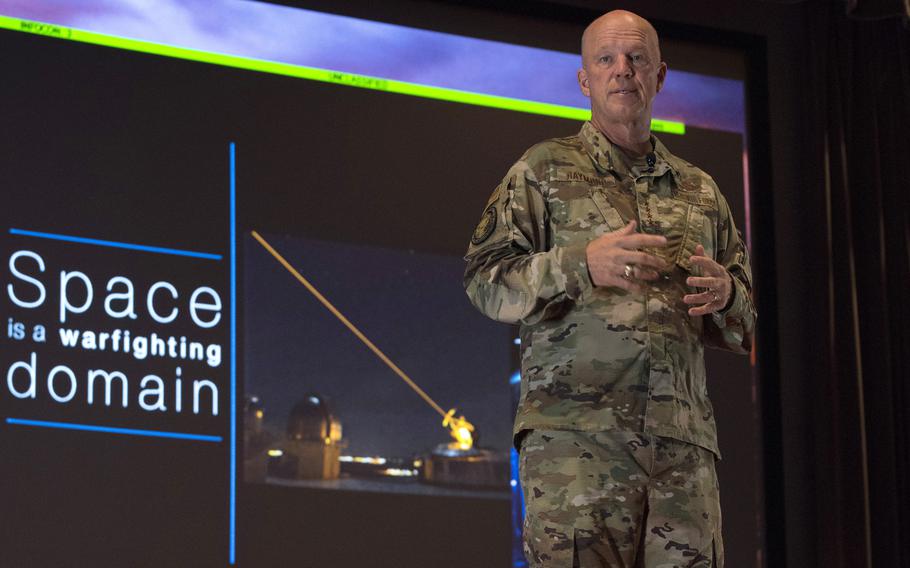 U.S. Space Command, the Pentagon's 11th combatant command and the first new one in 10 years, will stand up at a ceremony on Aug. 29, according to the U.S. military's highest-ranking officer.
"We will immediately assign 87 units under a single combatant commander" after the ceremony, Gen. Joe Dunford, the outgoing chairman of the Joint Chiefs of Staff, said Tuesday at the sixth National Space Council meeting in northern Virginia.
Gen. John W. Raymond, commander of Air Force Space Command at Peterson Air Force Base, Colo., is expected to take command of the Space Command, Vice President Mike Pence said at the meeting.
The new command's capabilities will include missile warning, satellite operations, space control and space support, Dunford said.
"The direction is clear, we understand it and we're moving out," Dunford said.
No location for the new headquarters has been announced.
President Donald Trump signed an executive order last year establishing U.S. Space Command. The last combatant command created was U.S. Africa Command in 2009.
The Pentagon is actually bringing back U.S. Space Command: it was active from 1985 to 2002, based in Colorado Springs.
Combatant commands provide command and control of military forces. Pence has said U.S. Space Command will serve alongside other functional commands like Strategic Command and Special Operations Command.
Its mission will be to integrate space capabilities across all branches of the military, developing space doctrine, tactics, techniques and procedures, Pence said last year at the Kennedy Space Center in Florida, when the administration announced plans for a new Space Command and separate Space Force.
The Space Force would be a sixth branch of the armed forces and would require congressional approval.
The White House is still working with Congress to stand up the Space Force, which would become the lead military service for space operations, Pence said Tuesday at the National Space Council meeting.
"As the President has said and we all recognize — it's been frankly true for decades — in his words, space is a warfighting domain," Pence said.
Separately, Pence said the U.S. intends to return to the moon by 2024. The "next man and first woman on the moon will be American astronauts," he said.
svan.jennifer@stripes.com Twitter: @stripesktown
---
---
---
---