South Carolina National Guard troops in DC hospitalized after lightning strike
by
Corey Dickstein
June 5, 2020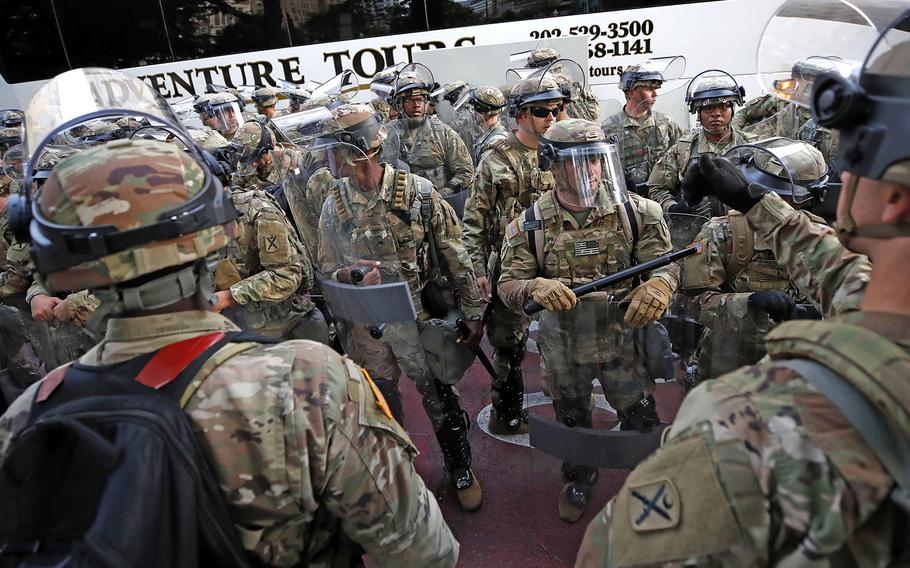 WASHINGTON — Two South Carolina National Guard soldiers were hospitalized early Friday morning after lightning struck close to their position in Washington, D.C., where they were deployed this week in response to protests in the city, according to military and local officials.
The soldiers were transported by local EMS personnel just after midnight following the lightning strike at Lafayette Park, which is adjacent to the White House, the District of Columbia Fire and Emergency Medical Services Department said in a statement. The soldiers' injuries were not life threatening.
Both soldiers were from the South Carolina Army National Guard, said Army Capt. Jessica Donnelly, a spokeswoman for that state's Guard. She said they were in stable condition Friday morning and would spend 24 hours in the hospital "for observation."
South Carolina sent about 450 National Guard troops to Washington this week at the request of Defense Secretary Mark Esper after demonstrations in the national capital aimed at addressing police brutality and institutional racism in the United States grew violent last weekend. In total, 10 states sent a total of 3,300 National Guard troops to Washington, where they are working with the nearly 1,300 D.C. National Guard troops under the command of Maj. Gen. William Walker.
The troops have been charged with aiding local and federal law enforcement officials responding to the protests. President Donald Trump in recent days has touted the use of the National Guard to quell riots, which have spread across the United States since the May 25 killing of a handcuffed black man, George Floyd, by a Minneapolis police officer. That officer has since been fired and faces charges, including second-degree murder in Floyd's death.
Washington Mayor Muriel Bowser on Thursday sent a letter to Trump demanding the removal of National Guard troops and federal law enforcement officers deployed from outside the city.
She said violence within the city has dropped and her local police force and federal law enforcement agencies within Washington were "well equipped to handle large demonstrations and First Amendment activities."
National Guard troops in recent days have been photographed working hand-in-hand mostly with other federal law enforcement troops and guarding national monuments, including the Lincoln Memorial, which was vandalized over the weekend.
The South Carolina troops were guarding a perimeter around Lafayette Park on Thursday evening when strong thunderstorms rolled through the national capital. That park was the site of a controversial incident on Monday that saw federal law enforcement forcibly remove protestors from the park just before Trump and others from his administration staged a walk through the area for a photo opportunity at nearby St. John's Church. D.C. National Guard troops with military police-labeled shields were involved in moving the protestors, but Pentagon officials said they did not employ any nonlethal munitions during the incident.
dickstein.corey@stripes.com Twitter: @CDicksteinDC