South Carolina makes its pitch as the scramble for AFRICOM begins
by
John Vandiver
September 25, 2020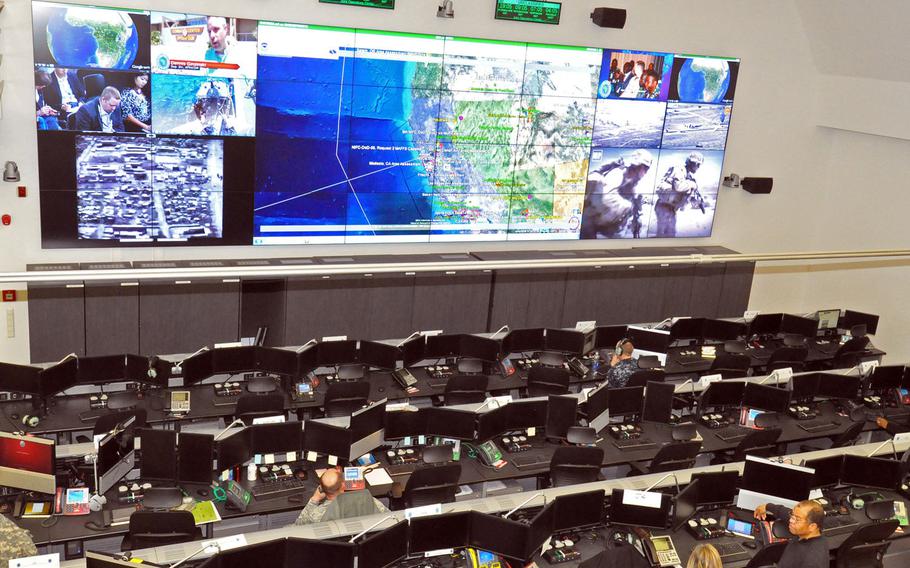 STUTTGART, Germany — U.S. Africa Command should swap Stuttgart for Charleston, say two South Carolina senators whose pitch is likely to be the first among many as the military searches for a new headquarters home.
In a joint letter to Defense Secretary Mark Esper, Sens. Lindsey Graham and Tim Scott touted Joint Base Charleston as an ideal location for AFRICOM headquarters if a location in Africa isn't an option.
"One specific benefit is that JBC offers direct airlift and sealift to Camp Lemonnier in Djibouti, as well as road, and rail assets to provide a rapid response should immediate actions be required," the senators wrote in a joint letter.
In July, the Pentagon announced plans to remove 12,000 troops from Germany after President Donald Trump ordered a drawdown in the country. Numerous units will be affected if the plan, which would take years, is put into action. The Pentagon has not yet detailed when unit moves would begin, but AFRICOM and its 1,400 personnel were among those pegged for relocation.
AFRICOM in July said that it had launched its search for a new home. At the time, the command made no mention of locations in Africa as a possibility, saying it was focused on sites in Europe and the United States.
While Graham and Scott said it would be ideal to set up a headquarters someplace in Africa, which would emphasize America's commitment on a continent where China has significantly boosted its economic and political clout, they "acknowledge the logistic and strategic challenges associated with this relocation."
When compared to Stuttgart, Charleston "would offer the personnel assigned to AFRICOM headquarters and their dependents a lower cost of living with a diverse range of options for housing, educational opportunities and spousal employment," the letter said.
If AFRICOM decides it wants to move elsewhere in Europe, keeping it in closer proximity to Africa, it could run into resistance from some in Congress. Given the financial stakes involved, more states are likely to follow South Carolina's lead with basing offers.
When AFRICOM's headquarters location was up for debate in years past, lawmakers from Virginia and Georgia also lobbied for the command, which was viewed as a boon for local jobs and the economy. In 2012, the issue faded from Congress' military agenda after a Pentagon review decided to keep the headquarters in Stuttgart, citing the high startup costs connected to a relocation.
But the General Accountability Office in 2013 took issue with that DOD decision, saying a move to the U.S. could save between $60 million and $70 million annually. AFRICOM's potential local economic impact ranged from $350 million to $450 million, the GAO report said.
vandiver.john@stripes.com Twitter: @john_vandiver