Soldiers who helped in early virus fight describe overwhelmed hospital as they brace for potential second deployment
by
Corey Dickstein
July 15, 2020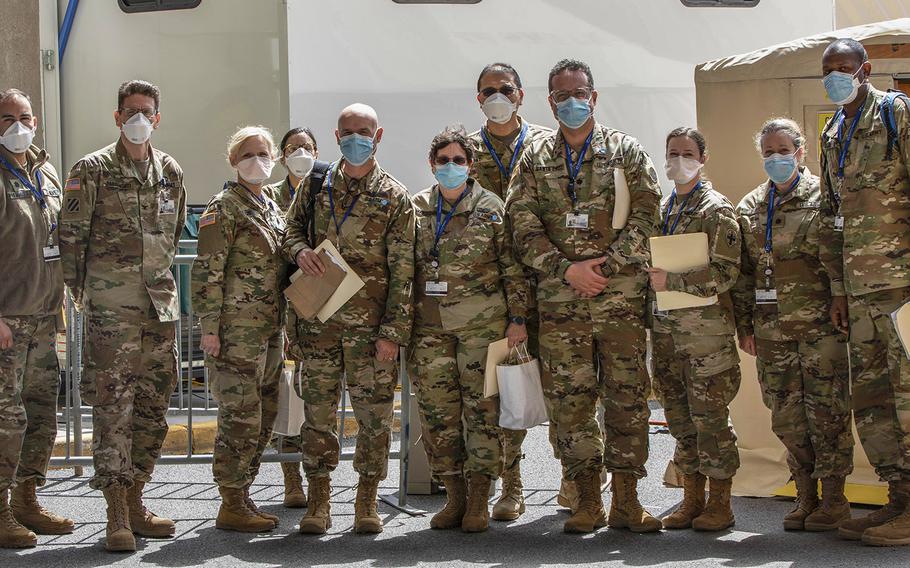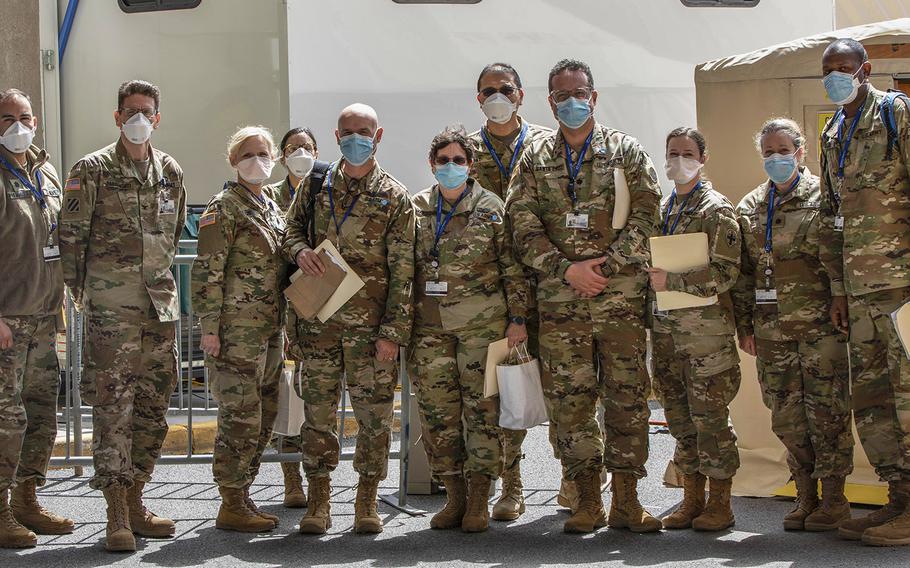 WASHINGTON — When a medical detachment of Army soldiers first arrived at University Hospital in Newark, N.J., in mid-April to assist the mounting coronavirus fight there, they found overwhelmed doctors and nurses treating patients in hallways.
The rooms in the state-run, civilian hospital were filled to capacity and its emergency room was flooded with new patients arriving with coronavirus-like symptoms, soldiers who deployed there this spring said Wednesday. Doctors and nurses at the hospital, in many cases, had worked for weeks without a day off, as between 30% and 50% of their colleagues were forced into isolation after contracting the virus, the soldiers said.
When the 85-soldier Urban Augmentation Medical Task Force 332-1 arrived at University Hospital on April 14, New Jersey was among the states hardest hit by the spreading pandemic. State health officials that day reported nearly 69,000 cases of the coronavirus statewide and more than 2,800 deaths. The hospital was at its "breaking point," described Army Staff Sgt. Mauricio L. Peña, the task force's top enlisted soldier and a respiratory therapist.
This week, as coronavirus cases have surged in other parts of the country, the Army has deployed six more Urban Augmentation Medical Task Forces, or UAMTFs, primarily to San Antonio and Houston in Texas, U.S. Northern Command announced Monday. Some medical soldiers have also been dispatched to California.
Army officials said Wednesday thousands of additional medical troops — including at least some of those who served at University Hospital — have been placed on prepare to deploy orders, in case Federal Emergency Management Agency officials request additional military help in the fight against the virus. Public health officials in recent days have listed southeastern states and California, Texas and Arizona as locations with growing outbreaks.
The task force sent to New Jersey in April was one of the first of its kind, which the Army built quickly of reservists with medical expertise to send into hotspots across the country, including in Newark, New York City, Baton Rouge, La., and Seattle. Task Force 332-1 would spend just more than five weeks integrating its doctors, nurses, mental health professionals and other medical support soldiers in with the hospital's regular staff. By the time the soldiers left on May 20, the hospital was operating as normal, said Army Maj. Erin Velazquez, who commanded the unit.
"I was really kind of taken aback and saddened by the conditions on the ground in New Jersey," Peña told reporters in a telephone news briefing. "I was seeing firsthand a hospital that was really doing just the best that they could."
Officials declined Wednesday to provide specifics on what medical units had been tasked now to prepare to deploy, but they confirmed the Fort Bragg, N.C.-based 44th Medical Brigade was among them.
That brigade led the military's coronavirus fighting efforts in the eastern United States this spring, including operations at New York City's Javits Center, where military health professionals worked alongside civilians to treat more than 1,000 coronavirus patients earlier this year in the makeshift hospital.
UAMFT 332-1's 85 soldiers were among the roughly 3,000 service members under the 44th Medical Brigade's Command during that initial coronavirus response.
Velazquez said her task force of soldiers from 13 different states who volunteered to be part of the deployment proved that rapidly built military units of medical specialists can be an easy boost for overwhelmed medical facilities dealing with coronavirus surges.
"Our integration into the hospital was seamless," Velazquez said. "Upon our arrival we were greeted with open arms. They were relieved to see us."
Her task force's soldiers treated an average of more than 100 coronavirus patients each day in intensive care units, emergency rooms, pharmacies and in surgery. Some soldiers even went out in ambulances to aid emergency medical technicians, she said.
Velazquez, a clinical social worker in Lakeland, Fla., in her civilian life, said she was awed by the work of her team, the vast majority of soldiers who had never previously worked together.
During the deployment, she said, she pushed the Army to alter somewhat the makeup of her team, advising the UAMTF needed more nurses, especially those with ICU experience. The Army eventually added 17 additional nurses to her team, the service said.
Army Col. Kimberlee Aiello, who commanded the 44th Medical Brigade during its spring deployment, said the Pentagon was largely successful in building new units to respond across the country in some cases within three days. She commended the work of Velazquez's task force and the other 3,000 troops she oversaw.
"I think we did a great job with what we knew [about the coronavirus] at the time," Aiello said Wednesday. "We learned a lot from our [local] partners on how to take care of [coronavirus] patients and what we needed to do.
"But we consider this ongoing. [Coronavirus] has not been stopped. We consider this an ongoing effort."
dickstein.corey@stripes.com Twitter: @CDicksteinDC