Soldiers and Marines evacuate the coast as Dorian crawls toward shore
by
Corey Dickstein Rose L. Thayer
September 3, 2019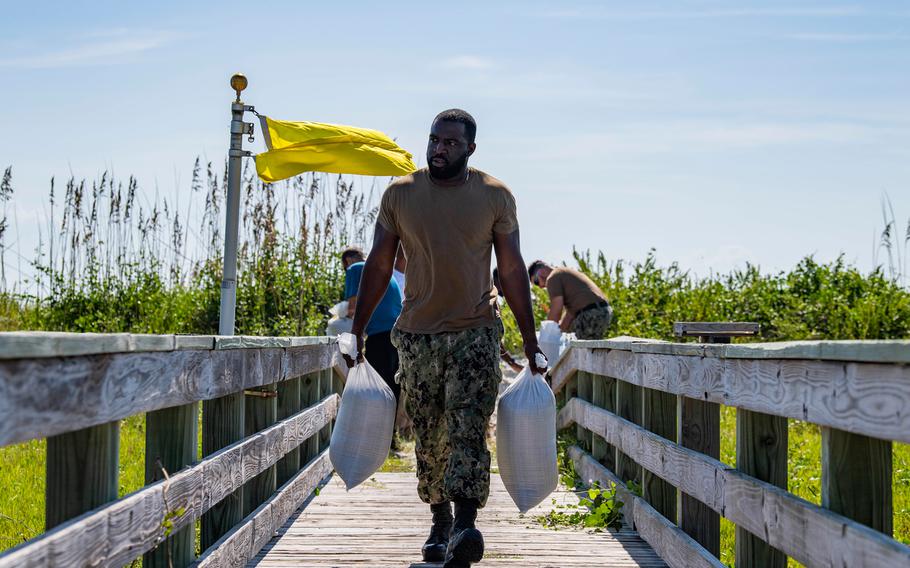 Hurricane Dorian continued its slow crawl Tuesday toward the U.S. East Coast, prompting military bases from Florida to North Carolina to move personnel and equipment before the Category 2 storm brings significant rain, flooding and winds up to 120 mph.
Senior military leaders said Tuesday that the Pentagon was moving troops and assets throughout the Southeast to prepare to respond as rapidly as possible if the slow-moving storm impacts the East Coast. More than 8,000 servicemembers had received orders to respond or to prepare to respond to the storm as it moved at just 1 mph Tuesday morning and lingered about 100 miles off the coast of West Palm Beach, Fla. Forecasters predicted the hurricane would skirt the East Coast until it reached the Carolinas, and then would move inland.
Meanwhile, several military bases potentially in Dorian's path ordered evacuations of non-emergency personnel, including Hunter Army Airfield in Georgia and Marine Corps Recruit Depot Parris Island and Marine Corps Air Station Beaufort in South Carolina. In Florida, commanders also ordered non-emergency personnel from bases including Naval Air Station Jacksonville and nearby Naval Station Mayport, and from Patrick Air Force Base, which is near Orlando.
Even with the eye of the storm remaining offshore, Dorian and its outer rain bands pack a powerful punch and water levels could rise in advance of wind, according to the hurricane center.
"In consideration for the safety of our soldiers, families, and Department of Defense employees and in coordination with state and local officials, all soldiers, families, and Department of Defense civilians assigned to Hunter Army Airfield and residing within the designated mandatory evacuation zones will evacuate no later than noon Wednesday," said Maj. Gen. Tony Aguto, commander of the 3rd Infantry Division as well as Fort Stewart, Ga., and Hunter Army Airfield. "We will continue to monitor the storm and update you as the situation develops with Hurricane Dorian."
Hunter Army Airfield in Savannah is closer to the coast than Fort Stewart, where an evacuation has not been ordered. The airfield provided buses Tuesday to get soldiers safely to Fort Gordon, which is near Augusta, about 126 miles north and farther inland. The 3rd Combat Aviation Brigade moved aircraft to Fort Benning, which straddles the Alabama-Georgia border next to Columbus, about 200 miles west of Hunter.
Parris Island, one of two Marine Corps boot camps, began evacuating 7,000 recruits Tuesday to Marine Corps Logistics Base Albany in Georgia. The graduation ceremonies for two companies were held early to get those new Marines home through commercial travel before Dorian's arrival, which is expected at the base Wednesday morning.
"They will continue to conduct training there until it's safe to resume training aboard Parris Island," said Brig. Gen. James Glynn, the base commander, in a video message posted to Facebook. He also ordered a mandatory evacuation of the base from 5 p.m. Tuesday through noon Friday.
The Marines at Camp Lejeune, N.C., will ride out the storm, just as they did last year with Hurricane Florence.
"While there will be significant rain and wind impacts felt from this storm, I will not issue a blanket-type order to evacuate our installations," Maj. Gen. Dale Alford, the base commander, said in a statement. However, he did encourage individual commands to be liberal with the leave policy to allow personnel who feel the need to evacuate to do so.
"Many parts of our community are still vulnerable from damage sustained during Hurricane Florence. Families who feel they are not prepared to ride out the storm in their homes should make plans to leave the area by Wednesday," he said.
In another statement issued late Tuesday afternoon, Alford reiterated the importance of preparing vulnerable facilities for the storm.
"Many of the buildings on our installations are still undergoing repairs and are vulnerable to leaks. While we are reinforcing or replacing temporary tarps, I urge building occupants to do what you can now to prepare, mitigate and eventually dry out these structures as soon as possible following the storm," he said.
All base services will close Thursday and Friday, and non-mission-essential civilians are not required to go into work, Alford said.
"If weather permits, we will seek to reopen these facilities as soon as it is safe to do so," he said.
Beginning Wednesday, Wallace Creek Fitness Center and Tarawa Terrace Elementary School at Camp Lejeune will open as shelters. Wallace Creek is a pet-friendly shelter for dogs and cats only.
Meanwhile, the National Guard is stepping up with about 5,500 servicemembers from Florida, Georgia, North Carolina and South Carolina activated for recovery efforts, said Air Force Gen. Joseph Lengyel, the National Guard's top officer.
Additionally, tens of thousands of servicemembers in the southeastern portion of the country are available to assist as needed.
Another 2,700 active-duty soldiers had been ordered to prepare to respond to the storm, said Air Force Gen. Terrence O'Shaugnessy, the chief of U.S. Northern Command. That included some 40 to 50 helicopter crews spread out across the southeast, including Alabama's Fort Rucker and Naval Station Norfolk in Virginia, to launch search-and-rescue operations quickly after the storm. Additional search-and-rescue assets were positioned at Moody Air Force Base near Valdosta, Ga., including C-130 aircraft and helicopters, O'Shaugnessy said.
At Fort Bragg, N.C., soldiers and some 80 high-water vehicles were placed on orders to prepare to deploy "as soon as they are needed," he added.
The number of troops — National Guard and active duty, collectively — could increase rapidly, O'Shaugnessy told reporters Tuesday at the Pentagon. That response could include some 2,000 sailors and Marines aboard the USS Bataan, an amphibious assault ship now off the East Coast, where it was conducting training. The general said the ship was "uniquely positioned now to be potentially part of the response, if that robust capability is needed."
As storm tracking continues and states prepare their response capabilities in the face of Dorian, the number of activated personnel could change rapidly, Houk said. Teams from Washington, D.C., are on the ground to help coordinate assistance.
"We are in close coordination with those southeastern states and are prepared to facilitate outside National Guard help for those states, should they require it, from their neighbors," said Master Sgt. Michael Houk, spokesman for the National Guard Bureau in Washington. "The National Guards of 54 states, territories and the District of Columbia have a very deep bench of around 450,000 Air and Army National Guard professionals to draw from in support of any domestic response."
In Florida, where effects of Dorian already are being felt, 4,848 National Guard soldiers and airmen are staffing and supporting the State Logistics Readiness Center in Orlando, operating a logistics staging area in White Springs, providing liaison officers to 17 counties, supporting two aviation missions in Miami-Dade County and staffing four shelters in Putnam and St. Johns counties, said Maj. Caitlin Brown, spokeswoman for the Florida National Guard.
A helicopter search-and-rescue team is on standby with two UH-60 Black Hawks, two CH-47 Chinooks, two HH-60 Black Hawks and two LUH-72 Lakotas. Other assets include high-wheeled vehicles, boats and generators.
Naval Air Station Jacksonville went to mission-essential-personnel-only status Monday and will remain closed until further notice. Naval Station Mayport, also in Jacksonville, followed suit Tuesday.
MacDill Air Force Base on the west coast of Florida called personnel back to work Tuesday, expecting Dorian's wrath largely to miss the base. However, they haven't called back any aircraft evacuated late last week, as heavy rain and wind gusts of about 40 mph are still expected in Tampa Bay.
Homestead Air Reserve Base, located south of Miami, also is expecting lesser impacts and its civilian personnel are expected to report back to work Wednesday after getting an administrative leave day Tuesday.
As the path of the storm continues north during the week, Navy personnel in Virginia are on alert to move equipment from the Hampton Roads area within 24 hours.
Vice Adm. Andrew L. Lewis said the precautionary measure is to reduce the risk of significant damage to ships, aircraft and piers during potential high winds and seas.
"We will continue to monitor and track the storm to ensure our ships and personnel are prepared," he said. "If necessary, we will sortie our ships to allow enough time to transit safely out of the path of the storm."
O'Shaugnessy said the military services were making decisions to move aircraft and ships out of the storm's path ahead of Hurricane Dorian more quickly than they had in the past. He said the approach is a lesson learned from last year's devastation at Tyndall Air Force Base, just outside Panama City, Fla., caused by Hurricane Michael, a Category 5 storm. That storm left the base uninhabitable for months and damaged several F-22 advanced stealth fighter jets that were placed in hangars when the base was evacuated.
"There's been probably more conservatism in the sense of [moving] out both ships and aircraft to be safe," O'Shaugnessy said. "I think at large, we've incorporated those lessons learned from Tyndall as an example."
thayer.rose@stripes.com Twitter: @Rose_Loridickstein.corey@stripes.com Twitter: @CDicksteinDC