Solar-powered electric scooters make their Air Force debut at Edwards in California
---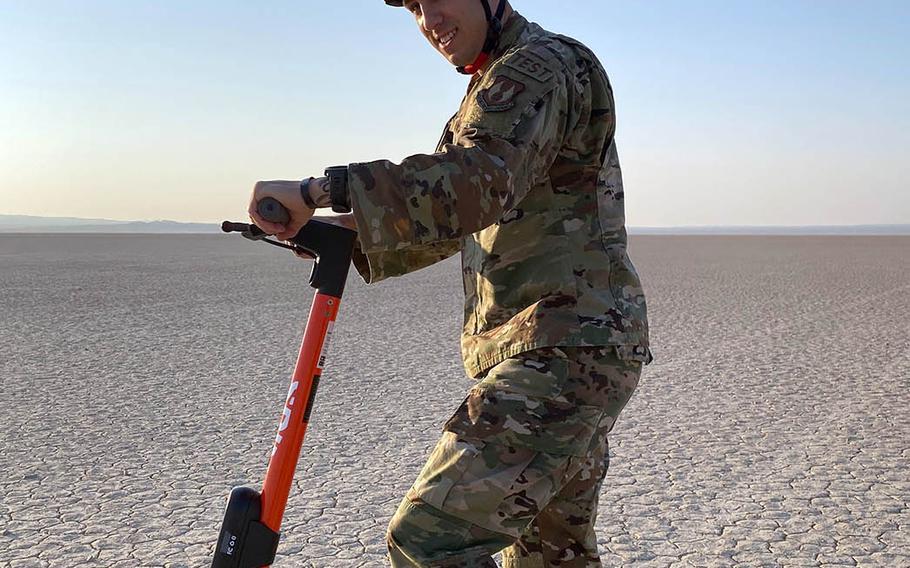 Airmen at Edwards Air Force Base, Calif., have been whizzing around on two wheels since Sept. 2, when the facility became the first in the Air Force to offer electric scooters for rent.
Spin, the San Francisco-based company behind the scooters, hopes to roll out its service on other bases, including overseas and deployed locations, company director Ben Fong said in a telephone interview Friday.
"We are open to [providing scooters] wherever we can serve the service members," he said, noting that Spin already has operations in a number of cities in Germany, where there's a large U.S. military community.
Electric scooters are a transportation option for airmen who are new to a base or on temporary duty and don't have a vehicle, said Fong, who learned about troops' needs from liaison officers during a previous career as a foreign service officer at embassies in Mexico and India.
The launch of the scooter service at Edwards, which started with 17 scooters, was welcomed by 412th Test Wing Command Chief Master Sgt. Ian Eishen in a Sept. 3 Facebook post.
"If it was easy this would have happened a long time ago, but I am glad that we finally have this capability for our Airmen," he said. "If an Airman in the dorms runs into car trouble, please reach out to a First Sergeant and they can make sure you have scooter access free of charge."
Others at Edwards can sign onto the Spin app and pay for their rides, he said.
The Edwards scooters are powered by solar charging stations in line with Spin's efforts to become carbon neutral by 2025, Fong said. The company charges a dollar to unlock the devices and 15 cents a minute after that.
Scooters there can be found at three locations, including the commissary, Eishen said in his Facebook post.
"We will start to expand to more locations as we get feedback," he said.
Many of the rules for using the scooters at Edwards mirror those for bicycles, Eishen said. People must wear helmets, obey road rules and not ride while impaired.
The scooters on Edwards have a top speed of 15 mph and a battery range of 38 miles, according to Spin.
E-scooter rollouts in cities around the world in recent years have not been without controversy. Last week, pop singer Rihanna got a black eye after falling off a scooter, according to British tabloid The Sun.
When e-scooters first appeared in New Zealand in 2018, pedestrians complained about people riding on sidewalks and labeled the devices a "menace," local news website Stuff reported.
Spin has added screens to its app setting out the rules for on-base use, Fong said.
"So far there is very positive feedback from airmen," he said. "This is really an affordable solution helping those folks to get around the base. It is really helpful for folks who have to cover longer distances."
However, the company's electric dreams might require modifications to policy at some Air Force bases. At Yokota Air Base, home of U.S. Forces Japan in western Tokyo, for example, a local rule prohibits the operation of e-scooters on the facility, according to 374th Airlift Wing spokeswoman Kaori Matsukasa.
robson.seth@stripes.com Twitter: @SethRobson1
---
---
---
---