Servicemembers, families can now attain US citizenship at only four 'hub' locations overseas
by
Caitlin M. Kenney
September 30, 2019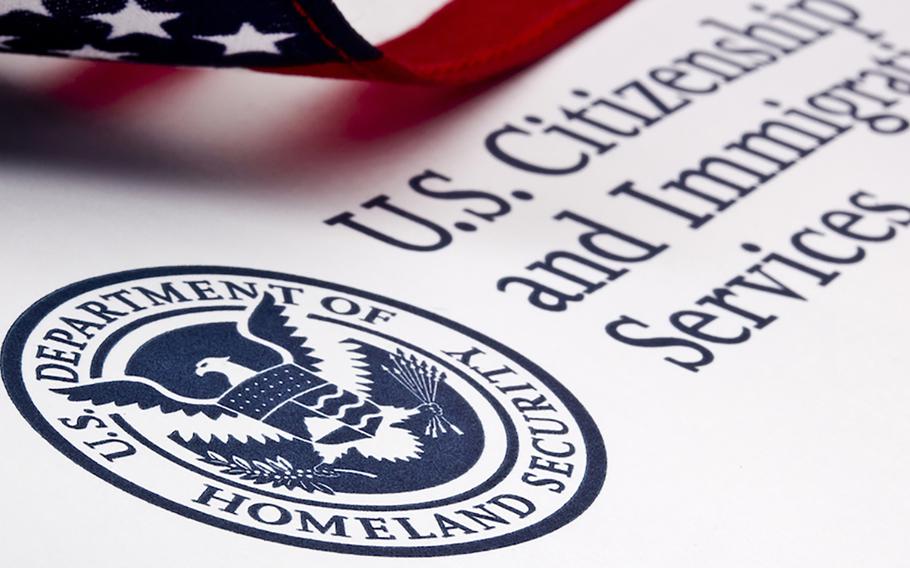 WASHINGTON — Servicemembers and their families stationed overseas who are seeking to become U.S. citizens will now only have four international offices where they can complete the process as U.S. Citizenship and Immigration Services closes more than a dozen locations, the department announced Monday.
USCIS had previously announced it is closing 13 overseas locations in the next year, leaving only seven in operation. But in order to support servicemembers and their families stationed overseas, the agency is now opening what they are calling "hub" offices at military bases, for one week every three months.
"After careful consideration, USCIS has determined it will maximize agency resources by shifting the processing of in-person benefit requests to the Department of State's Consular Affairs or through the deployment of USCIS domestic staff on temporary assignments," USCIS spokesman Daniel Hetlage wrote in an email.
The rollout of these four offices on military bases will happen during the next nine months and will be the only places overseas for servicemembers and their families to process naturalization applications. The locations will be at Camp Humphreys, South Korea; Commander Fleet Activities Yokosuka, Japan; U.S. Army Garrison Stuttgart, Germany, and Naval Support Activity Naples, Italy.
Applicants who go to these hubs will already have everything completed before setting up an appointment to meet with a USCIS officer for their interview and final adjudication, said a USCIS official, who spoke on the condition of anonymity to discuss the new overseas offices.
"So the hope is that everything is going to be able to be completed in that one visit," the official said.
Applicants have always been responsible for their travel during the naturalization process, the official said, and they should be working with the Defense Department to help with traveling to the hub locations if they are not already based there.
Amid the office closures, the amount of military naturalization applications has increased during the last fiscal year. According to USCIS, they have received 520 overseas applications in fiscal year 2019, compared to 347 that they received in fiscal year 2018.
The four offices will only have appointments for one week each quarter of the year. The official said the number of applications is "manageable at this point" and she did not believe at this time that families would be seriously impacted by only having the office open for one week every three months. She said if the agency finds they have more applications than anticipated, they will consider adding an additional visit to the office.
The first two locations on the military bases to open will be in South Korea and Japan, in part because the original Seoul office is closing Monday. The first visits by USCIS officers will be in late October and early November.
These four specific bases were picked because they're located in areas where most of the overseas military naturalization services has been provided, so the impact is expected to be "minimal," according to Hetlage. Of the 520 overseas applications received so far, 355 of them were received at the Seoul office, according to the official.
The official said the closures were not meant to make the naturalization process more difficult for servicemembers.
"Our first priority has been and always will be our military personnel," the official said. "I anticipate that once this new process gets going, that I think everyone will see that also, and will see that that we are able to still complete cases in a timely and efficient manner."
Servicemembers and families who have questions can call the USCIS toll free military help line at 877-247-4645, Monday through Friday, 8 a.m. to 4 p.m. Central Standard Time, or email them at militaryinfo@uscis.dhs.gov.
kenney.caitlin@stripes.com Twitter: @caitlinmkenney