Senior US officials insist military to remain in Syria as Trump publicly mulls pullout
by
Corey Dickstein
April 3, 2018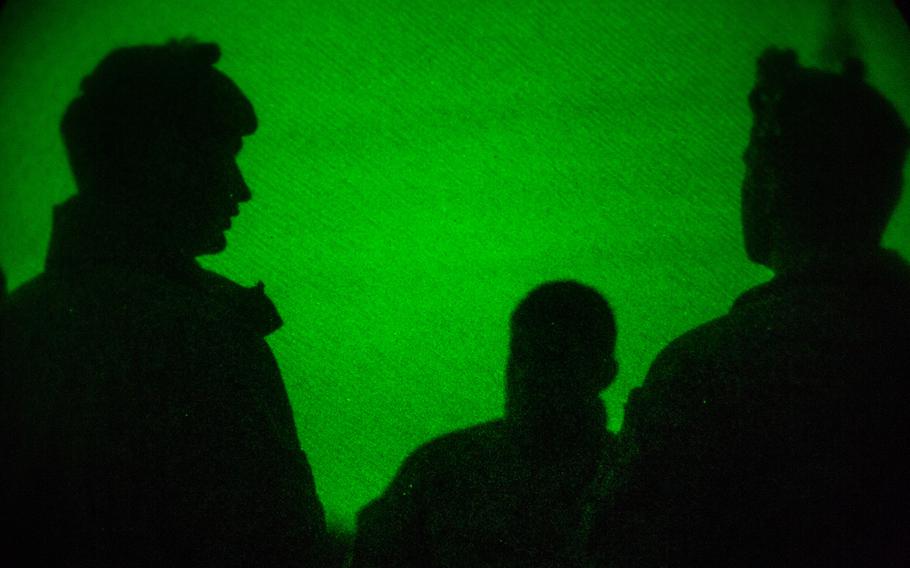 WASHINGTON — U.S. troops are needed in Syria to help defeat Islamic State militants who maintain control of three pockets of territory and to help ensure the terrorist group does not return to prominence, top American officials said Tuesday.
Army Gen. Joseph Votel, the U.S. Central Command chief who oversees military operations in the Middle East, and Brett McGurk, the State Department's envoy to the anti-ISIS coalition, insisted much work remained for the some 2,000 U.S. forces in Syria. Their remarks Tuesday at the congressionally funded U.S. Institute of Peace think tank came as President Donald Trump offered a different viewpoint on Syria at the White House, less than a mile away.
The president emphasized his desire to abandon the military mission in Syria, telling reporters he would make his decision about American troops there "very quickly."
"I want to get out," Trump said, echoing comments he made last week. "I want to bring our troops back home. I want to start rebuilding our nation."
U.S. troops have operated in Syria for more than two years where their primary mission has been to train and advise Arab and Kurdish fighters battling ISIS in the country's north and east.
Backed by American and coalition advisers and air power, the local fighters in Syria and the Iraqi security forces have pushed ISIS from about 98 percent of the land that it once occupied across the two countries.
But Votel and McGurk declined to directly address a question about the president's comments on Syria.
Nonetheless, Votel said: "The hard part is in front of us."
"Stabilizing these areas, consolidating those gains, getting people back in their homes — there is a military role in all of this, certainly in the stabilization phase," the general said. "I very much see us in that position right now."
The Pentagon believes U.S. troops will be needed to ensure explosives and booby traps left behind by ISIS are cleared so they cannot maim and kill civilians returning to their homelands. Those troops also will be needed to ensure security for diplomats and development officials who under current U.S. policy are expected to help return areas cleared of ISIS to normal.
McGurk confirmed Trump had ordered a freeze of some $200 million in aid meant to fund recovery efforts in Syria, but he said the effort was part of a broader effort by Trump to ensure taxpayer money was spent properly.
"As we undertake this review, it is not hindering our work in the field," he said.
McGurk, who has held his position since former President Barack Obama's administration, indicated the United States remained unflinchingly committed to its mission to destroy ISIS in Syria, which he said has moved faster than expected.
"We are committed to finishing the campaign against ISIS," he said. "We are ahead of where we thought we would be at this time, but we are not finished … and we will get this job done clearing out those last areas of ISIS. That mission is not over."
The campaign against ISIS has stalled in recent months as some of the Kurdish fighters who have worked with the United States along the Euphrates River in southeastern Syria have fled. Those Kurds have moved to the country's north where Turkey's troops have moved on their comrades. Turkey views the Kurdish fighters — members of the YPG, or People's Protection Unit — as terrorists, pushing them out of the northwestern city of Afrin along its border and threatening them in Manbij, farther east.
The United States has called on Turkey, a NATO ally, to end its incursion in northern Syria, which it has insisted is a distraction to the ISIS fight.
The Pentagon estimates ISIS boasts about 3,000 fighters, primarily in a pocket along the Euphrates just north of Abu Kamal.
But the group also still has cells of fighters in areas that have been liberated. That was demonstrated last week when an American and a British commando were killed in Manbij on an operation military officials said was to kill or capture an ISIS leader in that area. Manbij was declared free of ISIS in August 2016.
U.S. Army Master Sgt. Jonathan J. Dunbar, a Delta Force operator, and U.K. Sgt. Matt Tonroe, an elite British paratrooper, were killed Friday in an improvised bomb blast in the city during the operations, U.S. and British defense officials said. Five other servicemembers were also injured in the attack.
Votel said Tuesday that ISIS cells also continue to operate in areas of western Iraq, where the victory over the terrorist group was declared in December.
American troops are expected to remain in Iraq to help its security forces combat the remainder of ISIS as long as the Iraqi government permits their presence, Votel said.
Iraqi officials, speaking at the U.S. Institute of Peace earlier Tuesday, urged Trump not to withdraw from Syria, saying such a decision would destabilize areas of their country.
Fareed Yasseen, Iraq's ambassador to the United States, warned ISIS would strengthen along his country's border with Syria if the Americans were to withdraw.
"It is in the interest of everybody to prevent ISIS from re-emerging," he said, adding Iraq "suffers from Syria."
The Iraqi-Kurdistan Regional Government's envoy to the United States, Bayan Sami Abdul Rahman, added a U.S. pullout from Syria would "send a frightening message" to leaders in the Middle East.
dickstein.corey@stripes.com Twitter: @CDicksteinDC