Senior official suggests further evacuations needed in South Sudan; US might send more troops
by
Jon Harper
December 23, 2013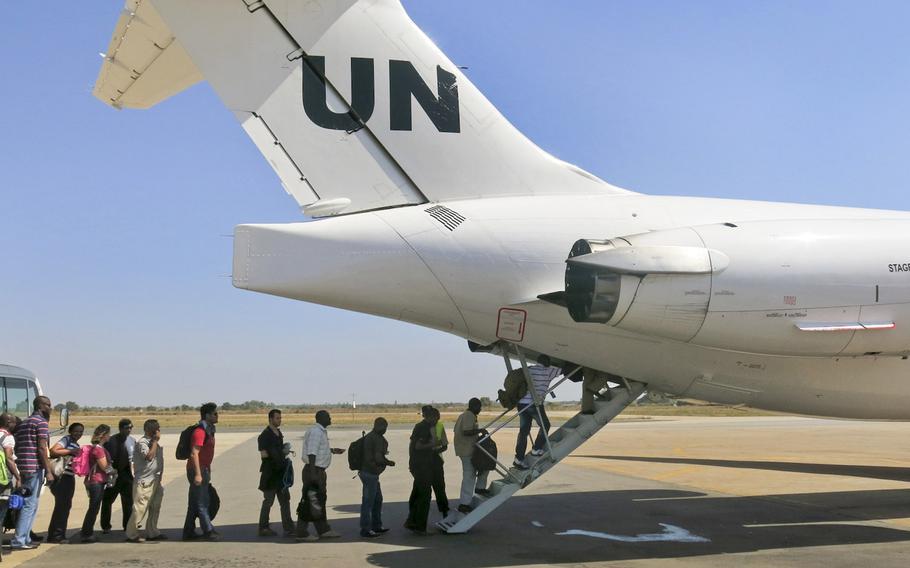 WASHINGTON – A senior administration official suggested Monday that further evacuations of American citizens from South Sudan will be needed in the coming days.
"Based on registration [with the U.S. Embassy], there are American citizens in other towns and areas throughout South Sudan. We are trying to track down how many may still be there," the official said on condition of anonymity during a conference call with reporters. "If indeed there is a need, I'm sure that we will do our best to try to help American get out South Sudan, and we will continue that effort."
On Wednesday, the U.S. Air Force began evacuating Americans and foreign diplomats from Juba, the capital, when fighting between local factions intensified and the State Department decided that nonessential U.S. Embassy personnel should leave for safety reasons. Forty-five U.S. Army soldiers were also deployed to Juba to protect the embassy. As of Sunday, about 380 American officials and private citizens had been evacuated on military and civilian aircraft, along with 300 citizens of other countries, the State Department reported.
Four U.S. Navy SEALs were wounded during an aborted rescue mission Saturday in the city of Bor. U.S. special operations forces aboard three Osprey aircraft were on a mission to evacuate American citizens from the area when they came under small-arms fire while attempting to land. Three of the wounded are in stable condition and are being flown to Landstuhl, Germany on Monday for further medical treatment. Defense Department spokesman Col. Steve Warren said the other service member whose injuries are more serous remains in Nairobi, Kenya and is being treated by an American Critical Care Air Transport Team, an intensive care unit.
On Monday, DOD announced that military commanders are preparing to conduct more evacuation missions.
"The combatant commander is repositioning forces in the region in an effort to give himself the maximum flexibility to respond to any follow-on requests from the Department of State," Warren said. "As we've seen with our force members who have already been wounded, there is risk associated with this and any military operation."
A defense official, speaking on condition of anonymity, told Stars and Stripes that part of a Marine Air-Ground Task Force is being moved to the Horn of Africa from Moron, Spain. The MAGTF contingent will consist of 150 Marines and a complement of Ospreys and KC-130 aircraft.
On Monday, United Nations Secretary-General Ban Ki-moon called an emergency crisis meeting of his top advisers on the deteriorating situation in South Sudan and proposed reinforcing the UN peacekeeping force there, according to the UN.
"I will be spending most of today calling regional leaders and others to bolster military support for UNMISS [U.N. Mission in South Sudan]," he told a news conference at UN Headquarters in New York. "I am determined to ensure that UNMISS has the means to carry out its central task of protecting civilians."
The senior administration official raised the possibility that the U.S. will provide troops and other military assistance to the U.N. peacekeeping mission.
"The UN is working up a list of requests for assistance to UNMISS. And as I understand it, Washington is now in the process of looking at these requests and evaluating how we can be helpful and how we can do that as quickly as possible," he said.
harper.jon@stripes.com Twitter: @JHarperStripes