Senate's Armed Services Committee chairman backs women in the draft
by
Travis J. Tritten
February 10, 2016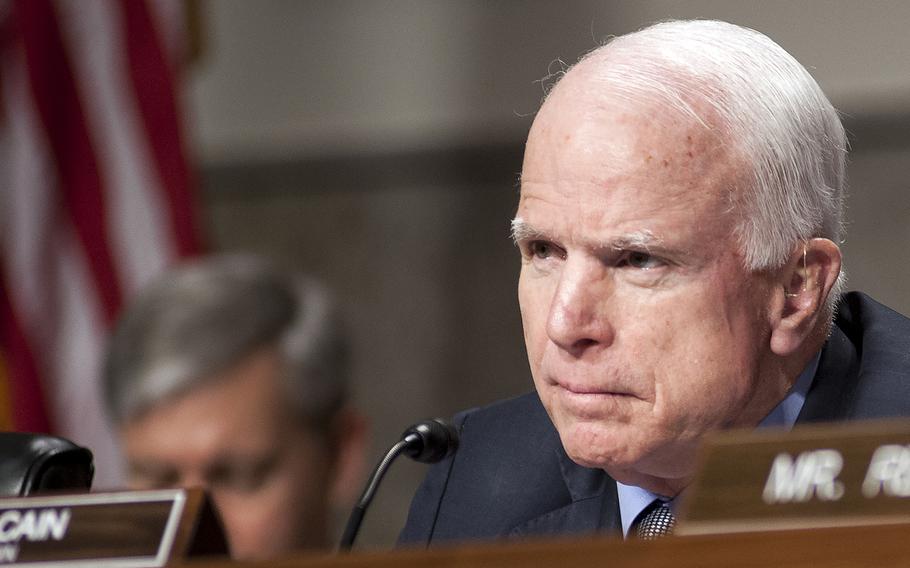 WASHINGTON — Sen. John McCain on Wednesday came out in support of requiring women to sign up for the military draft, becoming the latest top official to back the historic change.
McCain, the chairman of the Armed Services Committee, said he was supporting a recommendation earlier this month from the Army and Marine Corps that all eligible women register following the Pentagon decision in December to integrate all combat roles.
The decision to integrate women has raised a mostly unforeseen question over their place in the Selective Service program, which requires men between 18-26 to register in case they need to be drafted into combat. The draft question also has stoked debate in Congress, where two House lawmakers have proposed legislation called the Draft America's Daughters Act.
"As women serve in more roles across the armed forces, I support the recommendation of the Army Chief of Staff and the Commandant of the Marine Corps that women should register for Selective Service," McCain said in a written statement. "It is the logical conclusion of the decision to open combat positions to women."
However, the Arizona Republican said it is unlikely that a military draft will ever be used again due to the success of the country's all-volunteer military force, which uses incentives such as pay and benefits to encourage service. The draft was last used during the Vietnam War.
In the House, staff for Rep. Mac Thornberry, R-Texas, chairman for the Armed Services Committee, said he has not yet weighed in on the issue.
Marine Gen. Robert Neller and Army Gen. Mark Milley testified to the Senate on Feb. 2 that there should no longer be an exemption for women as the military works to open all combat positions, a move that will allow women into the remaining 225,000 military positions that had remained all-male.
"Every American that is physically qualified should register for the draft," Neller said.
The Supreme Court has ruled in the past that women do not need to register because they do not fill critical combat occupation specialties but that rationale might no longer stand up to scrutiny and is already being challenged in federal court.
The prospect of women being drafted into war has angered some members of Congress.
Rep. Duncan Hunter, R-Calif., a Marine veteran, and Rep. Ryan Zinke, R-Mont., a retired Navy SEAL, recently filed the Draft American's Daughters Act as a protest to the Pentagon's decision to integrate every area of the services from boot camp to special forces.
Zinke said the move is "reckless and dangerous." Hunter said he would not vote for the bill but filed it to force a debate on integration.
If passed, women from 18-26 years old would for the first time have to join men in registering.
tritten.travis@stripes.com Twitter: @Travis_Tritten
---
---
---