Senate committee shows overwhelming support for Navy Secretary nominee
---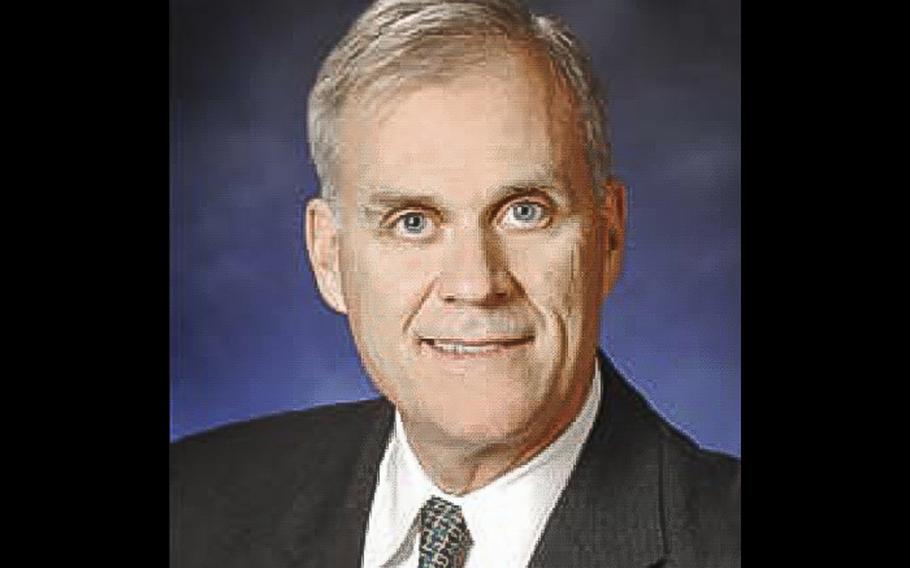 In a rousing show of support, the Senate Armed Services Committee on Tuesday questioned Navy Secretary nominee Richard Spencer during a two-hour preliminary confirmation hearing that looked more like a unanimous endorsement than the rigors of interrogation.
Committee Chairman Sen. John McCain, R-Ariz., appeared amused as he offered the former Marine aviator turned finance executive the opportunity to give his opening remarks, saying "please proceed so we can interrogate you as quickly as possible," while senators spoke of their overwhelming support for the nominee.
Spencer, who left the Marine Corps as a captain and spent most of his career at venture capital firms, has also served on several military related boards and charities including the Department of Defense business board and as vice chairman of the Marine Corps Heritage Foundation.
But while the nominee and the senators spoke of the many challenges facing the Navy during this time of global threats and budgetary crises, no one raised questions about any conflicts that might arise from Spencer's business investments and interests. President Donald Trump's previous Navy secretary nominee, financier Philip Bilden, withdrew from consideration in February saying he would not be able to meet Navy ethics requirements without divesting material family financial interests.
Senators did question how Spencer would handle some of the most difficult challenges facing a Navy that is stretched thin, struggling to overcome years of maintenance, readiness and modernization shortfalls and a struggle to keep morale up among servicemembers.
Spencer said he was aware that there was going to have to be some "heavy lifting" to streamline spending and make the force more lean and agile. But he said he comes from a career where "accountability starts at the top" and to adapt in the face of competition, a Navy under him will be guided by the principle of: "If you see something, suggest something."
He also said that facing down that challenge "is what makes this job exciting in my eyes."
Several senators, including McCain and Tim Kaine, D-Va., questioned Spencer about the need for accountability – particularly in spending and acquisitions. McCain asked how, as secretary, Spencer would handle the excessive cost overruns the Navy saw with the construction of the aircraft carrier Gerald Ford – the first of its class -- and the F-35 joint strike fighter.
"My career has been steeped in accountability," Spencer said. "Accountability starts right here."
Later, he told Kaine that transparency and accountability "will be the tone set from the top."
Spencer said he did not shy away from delivering bad news, even if it meant coming before the committee to say that they've stumbled.
"We might fall off the bicycle every now and then," he said. "I will be completely transparent and tell you. … I want to manage expectations in an open transparent manner."
Spencer promised Sen. Joni Ernst, R-Iowa, that he would give notice if he intended to make changes to gender integration and he told senators that he would fight military sexual assault. The role of the Navy is to "inflict pain on enemy," he said. "When I see us inflicting pain on ourselves, it is an anathema to me and it has to stop."
Spencer helped create a firestorm in 2010 when the defense advisory board he was on suggested that closing commissaries could save billions in taxpayer money. He said Tuesday that even though that proposal had come with an alternative for reasonably priced goods for military families, there are areas where pacing is important.
He promised that if confirmed, he would "look under every single rock" to find efficiencies.
He also appeared to backtrack on suggestions he would support base closures, saying that if the Navy is "in good shape when it comes to the utilization of assets" and if it is looking to expand to a 350-ship fleet, it could not afford to give up waterfront property that would be expensive to get back.
If confirmed, Spencer will take over as civilian head of the Navy and Marine Corps more than six months after Trump became president. The position is currently filled by acting Secretary Sean Stackley, a holdover from President Barack Obama's administration.
McCain said he intended to move the nomination to the floor of the Senate before it breaks for its August recess.
"We look forward to interrogating you again soon," he told Spencer.
cahn.dianna@stripes.com Twitter: @DiannaCahn
---
---
---
---