Senate bill would build commission to study striking Confederate names from Army bases
by
Corey Dickstein
June 11, 2020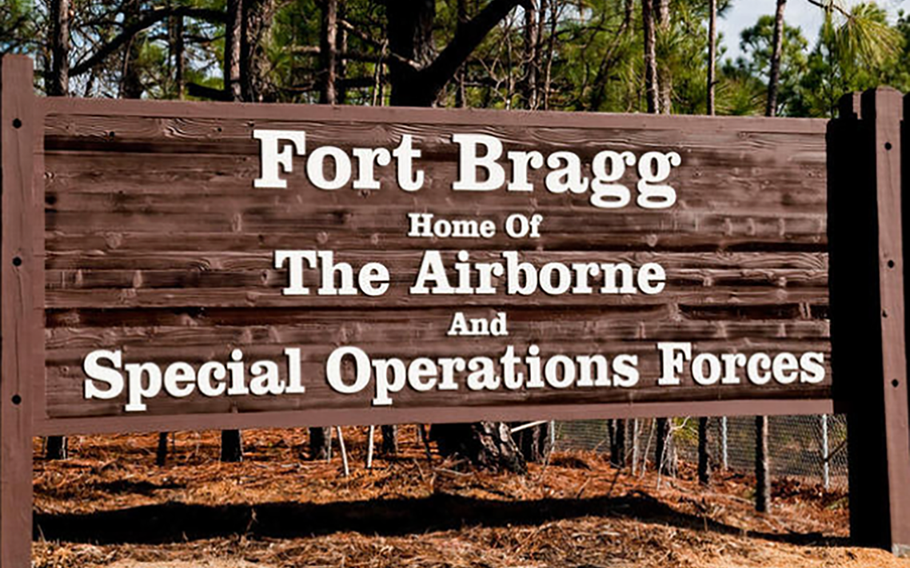 WASHINGTON — The Senate's initial version of the 2021 Pentagon policy bill directs the establishment of a three-year commission charged with studying ways to strike honors to the Confederacy at military installations, Senate Armed Services Committee staffers said Thursday.
A draft of the 2021 National Defense Authorization Act voted out of the committee Thursday morning would build an eight-person panel "to study and provide recommendations concerning the removal [of] names, symbols, displays, monuments and paraphernalia that honor or commemorate the Confederate States of America" from military posts, the committee said. That would include changing the names of 10 southern Army bases named for Confederate generals from the Civil War. President Donald Trump balked at that proposition on Wednesday as calls grew to strip those posts of their longstanding names amid nation-wide demonstrations against racial inequalities.
Senate Armed Services Committee aides, who spoke Thursday on the condition of anonymity to discuss the bill before its contents are published, said the creation of the commission to study the topic had bipartisan support, but not all members agreed. The topic was added into the bill on Wednesday, just days after Army Secretary Ryan McCarthy signaled he was open to starting a discussion about the names of the 10 posts. For years — and even as recently as late February — Army officials refused to consider changing the posts' names.
Sen. James Inhofe, R-Okla., chairman of the committee, told reporters on a conference call Thursday that he was among those who opposed its inclusion.
Inhofe avoided providing his personal opinion on installations carrying names of Confederate generals, but he said local communities and state officials should be directly involved in any process that could change longstanding installation names and have "veto authority" on any potential changes. The 10 posts in question have carried their names since the 1910s and 1940s.
"Sometimes we don't agree on some issues. This is one we don't agree on," Inhofe said just after praising how well Republicans and Democrats on the committee worked together to craft the bill. "My effort's going to be to allow the local communities … to participate in whether or not they want to do this. So, we have a long ways to go on that issue."
The inclusion could set up a fight with President Donald Trump over the NDAA, the annual bill that sets Pentagon policy and directs its spending. White House Press Secretary Kayleigh McEnany said Wednesday that the issue was a "nonstarter" and she vowed Trump would veto any bill that would change military installations' names. Trump wrote in a tweet earlier Wednesday that he would "not even consider" name changes.
In a tweet Thursday, Trump appeared to foot-stomp the issue, writing: "THOSE THAT DENY THEIR HISTORY ARE DOOMED TO REPEAT IT!"
Two members of the House Armed Services Committee on Thursday introduced similar legislation in their chambers that would create a commission to study the issue. The measure was co-sponsored by Reps. Anthony Brown, D-Md., and Don Bacon, R-Neb., who are veterans and issued statements supporting striking Confederate names from military installations.
"The symbols and individuals that our military honors matter. It matters to the black soldier serving at an installation honoring the name of a leader who fought to preserve slavery and oppression. It matters to the culture of inclusivity and unity needed for our military to get the job done," Brown said in a prepared statement.
The House "National Commission on Modernizing Military Installation Designations" bill would review and make recommendations on renaming military installations and other Defense Department property within a year. The commission would be made up of members of Congress as well as individuals appointed by the military service secretaries.
The Army posts carrying names of Confederate leaders are: Camp Beauregard and Fort Polk in Louisiana; Fort Benning and Fort Gordon in Georgia; Fort Bragg in North Carolina; Fort A.P. Hill, Fort Lee and Fort Pickett in Virginia; Fort Rucker in Alabama; and Fort Hood in Texas.
Just hours after McCarthy signaled his support for a discussion on the installations' namesakes on Monday, Defense Secretary Mark Esper, a former Army secretary, also said he was open to such a conversation. The Army has the ability to change the names of its installations without input from Congress or other federal authorities.
McCarthy and Esper wanted congressional input before making such a decision, according to an official familiar with their thinking on the topic.
The commission directed by the Senate version of the 2021 NDAA would look at the costs associated with changing the posts' names and criteria for renaming them. Senate Armed Services Committee aides said the commission would include four members appointed by the Defense Department and four by Inhofe and Sen. Jack Reed of Rhode Island, the committee's ranking Democrat.
The aides said commissioners would be required to hear from local officials about name changes. The commission would not have authority to consider removing the headstones of Confederate dead buried on military posts, the aides also said.
The committee voted 25-2 Thursday to send the bill to the full Senate. NDAA provides the Pentagon direction on spending $705.4 billion in fiscal year 2021. Senate aides said the bill's full contents would be published when it reaches the Senate floor, perhaps as early as next week.
dickstein.corey@stripes.com Twitter: @CDicksteinDC