Senate bill protects 'parole' option that keeps military family members from being deported
by
Caitlin M. Kenney
November 6, 2019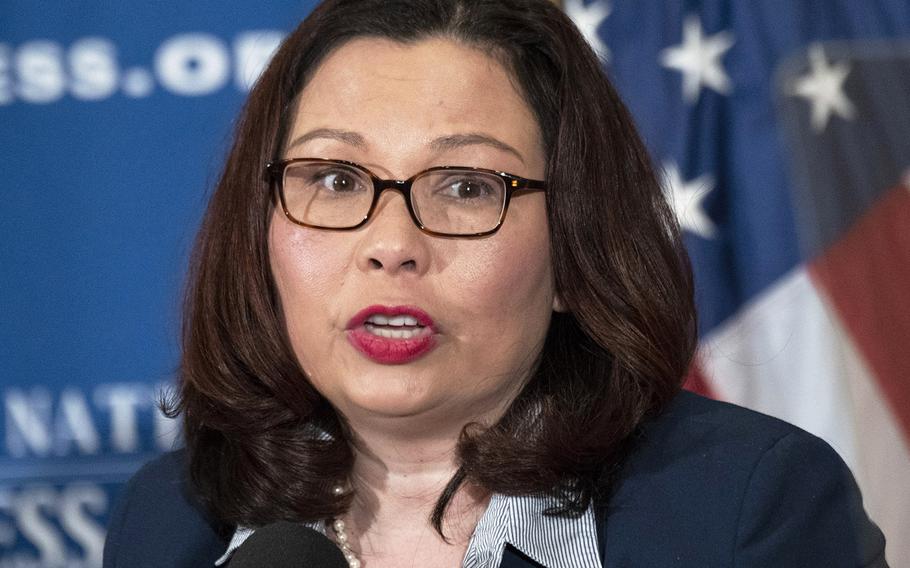 WASHINGTON — A Senate bill introduced Wednesday protects an immigration program that prevents the deportation of undocumented relatives of service members, a response to reports that a limited number of military families would be permitted to use the program to stay in the United States.
Sen. Tammy Duckworth, D-Ill., introduced the Military Family Parole in Place Act in an attempt to ensure the option stays available for many military families.
"Our troops serving overseas should be focused on doing their jobs, not worrying about whether their family members will be deported," Duckworth said in a prepared statement. "Ending these deportation protections would be a cruel, inhumane and a direct threat to our military readiness, which is why I'm introducing this legislation that would support our men and women in combat by protecting their families from deportation."
The U.S. Citizenship and Immigration Services offers military families what they call a "Parole in Place" option that gives a spouse, widower, parent or child of a service member or a veteran who did not receive a dishonorable discharge the ability to stay in the country in one-year increments on a case-by-case basis. It only applies to people who have entered the country illegally, not if they overstayed a visa, according to USCIS.
The parole option is meant to protect military families from the threat of deportation, and it allows eligible people who receive the parole option to apply for a work permit and apply for permanent residence in the United States, according to USCIS. People who get parole option can receive permanent residency or at least an interview for permanent residency within the year, according to Margaret Stock, an immigration attorney and retired lieutenant colonel from the Army Reserve.
The parole in place option for military families has been a formal policy since 2007 and has helped thousands of people, according to Stock. Duckworth's statement did not say how many people this bill would affect.
In June, NPR reported immigration attorneys were being told that a change in the option would make it so paroles would be granted in rare cases. An internal memorandum at the time between the Defense Department and Department of Homeland Security mentioned a plan to eliminate the option, according to Stock.
"Supposedly it was going to be eliminated in July, but there was a big uproar about it because it will definitely hurt the military," she said.
The policy change has still not gone into effect and parole applications that Stock has filed for clients are still being approved, she said.
The bill is co-sponsored by Sens. Ed Markey, D-Mass., Catherine Cortez-Masto, D-N.M., Amy Klobuchar, D-Minn., Robert Menendez, D-N.J., Richard Blumenthal, D-Conn., Chris Coons, D-Del., Dick Durbin D-Ill., Tim Kaine, D-Va., and Ron Wyden, D-Ore. Duckworth is the sponsor of the bill.
Homeland Security will still have discretionary authority to deny the parole option, however the bill requires the secretaries of the departments of Defense and Veterans Affairs must also approve the denial, according to the statement. The approved denials would be required to be posted online by the agencies with a detailed justification for each one, but without including personally identifiable information.
"I definitely want to create more checks and balances and oversight and transparency in the process, but I also want to stop DHS from on their own, unilaterally starting to deport family members of servicemen and servicewomen," Duckworth said.
The Military Officers Association of America, a nonprofit, nonpartisan organization, co-signed a letter in July with other veteran and legal organizations to the leadership of the Defense Department, Homeland Security and USCIS to request that they keep Parole in Place for military families. MOAA is endorsing Duckworth's bill.
"Due to current threats to diminish Parole in Place for military families, we are encouraged to see this legislation introduced to include the Department of Defense in the decision process and ensure this policy stays in place as it is vital to military readiness," retired Air Force Lt. Gen. Dana T. Atkins, the CEO and president of MOAA, said in the prepared statement. "Reducing military family separations, removing added stress and distraction from service members, and caring for our nation's veterans and their families are all tenants MOAA supports."
The bill is the second bill introduced by Duckworth related to immigration policies that impact service members and their families. On Oct. 23, the senator introduced a bi-partisan bill called the Citizenship for Children of Military Members & Civil Servants Act that would modify section 320 of the Immigration and Nationality Act so children of service members who are stationed overseas can automatically acquire U.S. citizenship.
kenney.caitlin@stripes.com Twitter: @caitlinmkenney