SC lawmakers seek to ban federal funds to close, realign Marines base at Parris Island
by
Caitlin M. Kenney
October 9, 2020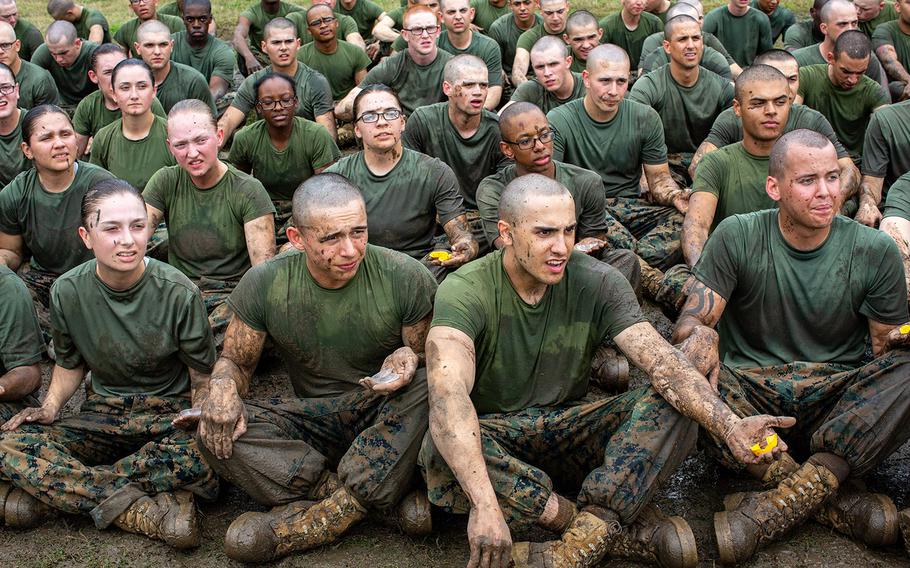 WASHINGTON — Three lawmakers from South Carolina introduced legislation Friday to stop the Marine Corps from potentially closing its recruiting depot at Parris Island, S.C., in order to train new troops in a co-ed environment at another location.
"I do not support and will never support closing Parris Island," Sen. Lindsey Graham, R-S.C., said in the prepared statement issued Friday.
The House bill, the Parris Island Protection Act, follows comments made by Marine Corps Commandant Gen. David Berger on Sept. 24 about the service considering a third training location due to lack of facilities for women at its two boot camps — the Marine Corps Recruit Depot at Parris Island and the Marine Corps Recruit Depot in San Diego. The bill would "prohibit the use of federal funds to close or realign" Parris Island, according to the joint statement.
Graham will also introduce a similar bill in the Senate, according to the statement.
"With its rich history, this base is of significant importance to South Carolina, our nation, and our military. As long as I serve in Congress, I will fight to preserve Parris Island and make sure it remains the preeminent training facility for the U.S. Marine Corps," Rep. Ralph Norman, R-S.C., said in the prepared statement.
Rep. Joe Wilson, R-S.C., cited the impact the base's closure would have to the state for his support for the legislation.
"South Carolina has welcomed recruits from around the country for over a century, and to close Parris Island would not only be detrimental to South Carolina, but also to the Marine Corps," he said.
Though the Marine Corps has two locations for training new recruits, female recruits only train at Parris Island.
The fiscal year 2020 National Defense Authorization Act, which sets annual Pentagon policy and authorizes spending priorities, has a section mandating the Marine Corps to end gender-segregated training at Parris Island within five years and integrate the training at San Diego within eight years. However, Berger's recent comments focused on the difficulty of achieving that goal at both bases by the set deadlines.
"We have to get to a place where on both coasts, or at a third location or whatever we end up with, that every recruit...there's male and female around," he said Sept. 24 during a virtual event with DefenseOne, a news organization.
Parris Island has limited barracks space for women and San Diego has none, so having women and men train together at each base immediately cannot happen, Berger said. There are also not enough women instructors to train recruits at both bases.
"It's definitely not as simple as build a couple buildings, and we'll be there," he said about infrastructure concerns at the boot camps.
Maj. Eric Flanagan, the commandant's spokesman, said in a statement Sept. 28 that the Marine Corps is "exploring all options to accomplish this integration" within the timeline laid out in the NDAA, as well as the need to modernize its training facilities.
"Due to a variety of limitations, neither Marine Corps Recruit Depots Parris Island nor San Diego are currently able to optimally train recruits in an integrated environment. At this time, any remarks on courses of action are premature as we are simply exploring all options," he said.
However, the bill would also "prohibit any planning or other activity related to such closure or realignment," according to the lawmakers.
While Parris Island has recently begun integrating male and female recruits at the company level, it is only done when there are smaller numbers of female recruits during the slower training months. Graham suggested getting the Marine Corps to "change the basic training rules to have men and women train in the same platoon like other services."
"I believe that over time this change will be good for the Marine Corps. However closing Parris Island is a horrible idea. It should not happen today or in the future," Graham said.
kenney.caitlin@stripes.com Twitter: @caitlinmkenney