Runaway Army blimp lands in Pennsylvania, no injuries reported
By
Tara Copp Corey Dickstein
October 28, 2015
---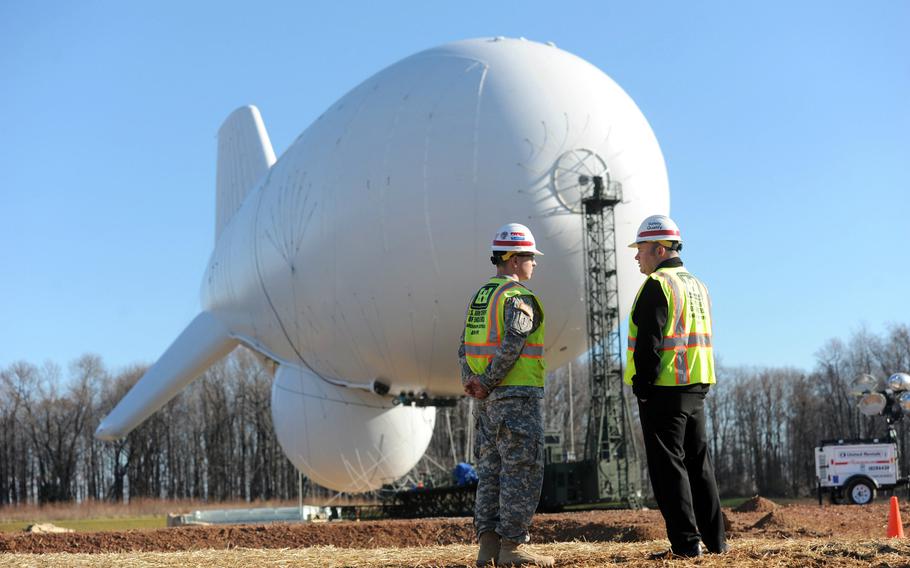 WASHINGTON — A massive unmanned military surveillance blimp broke free from its tether at Aberdeen Proving Ground in Maryland on Wednesday afternoon and drifted nearly 150 miles before landing in rural central Pennsylvania.
The blimp had been deflating and dragging a tether line that was several thousand feet long as it floated as high as 15,000 feet, said Navy Capt. Scott Miller, a spokesman for the North American Aerospace Defense Command.
It was not clear why the blimp had broken free from its mooring, Miller said, adding an investigation into the incident would be conducted.
Before it landed, the blimp's tail section broke away and landed about one-quarter of a mile from the remainder of the aircraft, Miller said. It was not immediately clear whether the blimp was damaged extensively. No injuries were reported in the incident.
The blimp caused as many as 18,000 power outages in Columbia County, Penn., near Montour County, as its tether line took out power lines, said Gail Kipp, Columbia County chief clerk.
The 243-foot long blimp was a Joint Land Attack Cruise Missile Defense Elevated Netted Sensor System, or JLENS. It was one of two such blimps stationed at Aberdeen as part of a three-year test to determine whether the surveillance blimps would provide improved air defenses for the United States. The blimp is the kind used in the Iraq and Afghanistan wars to provide ground surveillance around U.S. bases and other sensitive sites.
The research, development and initial production of the system has cost $2.7 billion. The blimps provide 360-degree surveillance and detection through a suite of radars and sensors it carries on board. The JLENS is intended to provide constant surveillance and early warning of an incursion into U.S. airspace, to increase the amount of time U.S. defenses have to respond.
The Pentagon quickly sent a pair of armed F-16 Fighting Falcons to monitor and track the aircraft, but shooting the blimp down was never "seriously considered," Miller said.
NORAD focused on working with local and federal authorities, including the Federal Aviation Administration, to ensure civilian aircraft were not endangered, he said.
A team from Aberdeen Proving Ground was traveling to the site as of Wednesday evening to recover the downed blimp.
The Associated Press contributed to this story.
dickstein.corey@stripes.com Twitter: @CDicksteinDC
copp.tara@stripes.com Twitter:@TaraCopp
---
---
---
---