Report: Most military sexual assault victims still face retaliation
By
Heath Druzin Jennifer Hlad
May 18, 2015
---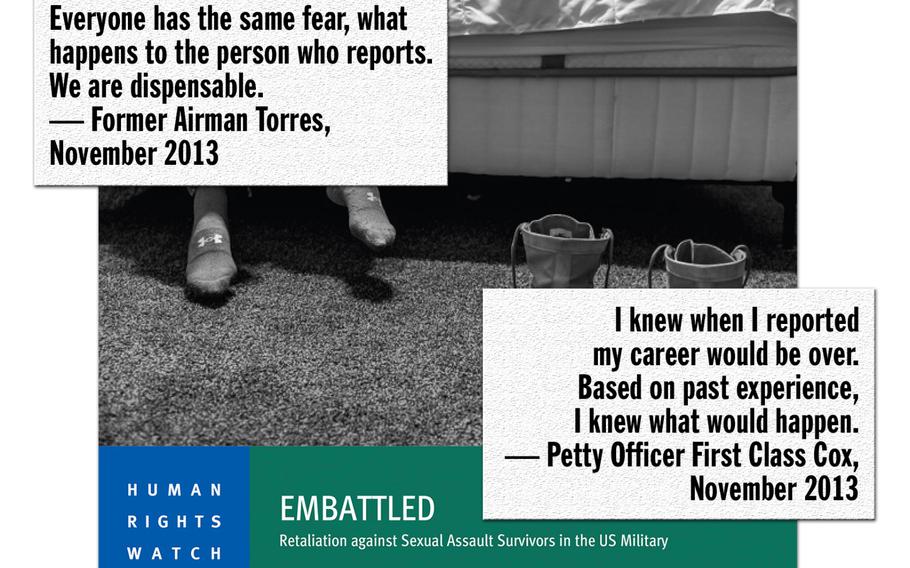 Victims who report military sexual assault are 12 times more likely to experience retaliation than to see their attacker convicted of a sex crime, according to a report released Monday by Human Rights Watch and Protect Our Defenders.
The report's findings are in line with a Defense Department survey that found 62 percent of women who report being sexually assaulted later experience retaliation, and came from a review of Pentagon records and interviews with victims.
"As you read these reports, these people are suffering, they're in pain, they feel like the military has turned their back on them," said retired Col. Don Christensen, the former chief prosecutor for the Air Force and current president of the advocacy group Protect Our Defenders.
Retired Army Capt. Vicki Phipps, who appeared at a roll out event for the report Monday, said when she reported a senior officer groping her and brushing up against her repeatedly, her commander gave her a choice — get bounced from the Army or deal with it. Even after military criminal investigators got involved and the officer admitted the assault, Phipps says all he got was a local letter of reprimand that had no effect on his career. She would like to see military commanders taken out of the equation when it comes to prosecuting sex crimes.
"The reason (he wasn't prosecuted) was my commander had control over the whole thing," she said in an interview with Stars and Stripes.
Department of Defense spokeswoman Laura Seal said the military is taking a number of steps, including monthly commander meetings to monitor cases for retaliation.
"The department appreciates the research and insight provided by Human Rights Watch concerning retaliation against those who report military sexual assault," she said. "We agree that ending retaliation is critical to effectively addressing sexual assault in the military, and we are open to any information, analysis, insight and partnerships that will help us craft and improve our way forward."
Despite the increased attention given to military sexual assault in recent years, not only do victims still fear coming forward — an estimated one in four victims report the crime to authorities — but not a single one has been protected by the Military Whistleblower Protection Act, according to the report. Many victims, in fact, themselves end up charged with minor infractions, like underage drinking, that only are found out through them reporting an assault.
Among the report's recommendations are:
Congress strengthening the Military Whistleblower Protection Act to give servicemembers the same level of protection as civilians. Expanding initiatives like the Special Victims Counsel program, to reward those who take retaliation seriously and hold accountable those who do not. Congress establishing a ban on criminal charges or disciplinary action against victims for minor collateral misconduct that would not have come to light if the victim had not reported a sexual assault. Improving outreach to make military sexual assault survivors aware of special victim counsels and victims' legal counsel. Critics have argued that allowing troops to go unpunished for crimes like underage drinking and adultery if they report being sexually assaulted effectively incentivizes reporting a sexual assault — whether one happened or not.
But Christensen, who served in the Air Force for more than 20 years and handled dozens of sexual assault cases, called that a "pretty jaded view," that someone would make a false accusation that could potentially send someone else to jail for the rest of their life "to avoid a letter of reprimand."
"I've had a lot of cases, and I've never gotten the impression that the victim was enjoying the process," he said.
The report details how one victim went to the hospital after her co-workers disabled her car and told her she "better sleep light," how members of another victim's unit posted notes on cars at the post exchange with her phone number and "for a good time call" on them, and how one man said he was physically attacked twice and verbally abused by colleagues within six months of reporting an attack.
Other victims described professional retaliation, such as a Marine with computer training who was transferred to an armory unit to work inside a locked cage with five men, cleaning and passing out weapons, after she reported being assaulted.
A Coast Guard Petty Officer who spoke to Stars and Stripes but asked to remain anonymous because she is still on active duty said not only was the supervisor who repeatedly groped her not prosecuted for the assault but after she had reported the assaults her perpetrator made his own report and the petty officer found herself on trial for sexual assault. She was acquitted but when she returned from her trial her commander tried to kick her out of the Coast Guard.
She fought it and was able to stay in, but not before her superiors tarnished her reputation and dinged her with an alcohol violation based on a charge for which she was acquitted that remains a black mark on her record.
"I went from being a star performer to being labeled a troublemaker and promiscuous and all sorts of horrible things," she said.
DOD officials also noted that some of what they called the perceived retaliation referred to things like being snubbed in social settings. Christensen said he is offended that military officials would make light of social retaliation, since in places like Afghanistan, Korea or even Minot, S.D., a servicemember must work with, eat with and live with other troops around the clock and takes issue with what he sees as DOD attempting to downplay retaliation.
"It's sending the message that you might as well not bring it up, because it won't be believed."
Though troops can file retaliation complaints through the DOD Inspector General, Christensen said that the investigations take years, and in examining a decade's worth of documents, the report's researchers were unable to find a single case in which the IG substantiated a complaint of professional retaliation against a victim of sexual assault.
Human Rights Watch was responsible for the research, data analysis and writing the report while Protect Our Defenders supplied subject matter experts, helped identify survivors to be interviewed, got the consent of the survivors and contributed to the report's final recommendations, according to the report.
hlad.jennifer@stripes.com Twitter: @jhlad
druzin.heath@stripes.com Twitter: @Druzin_Stripes
---
---
---
---