Problems facing military spouses are 'an issue of national security,' Brookings panel discussion concludes
---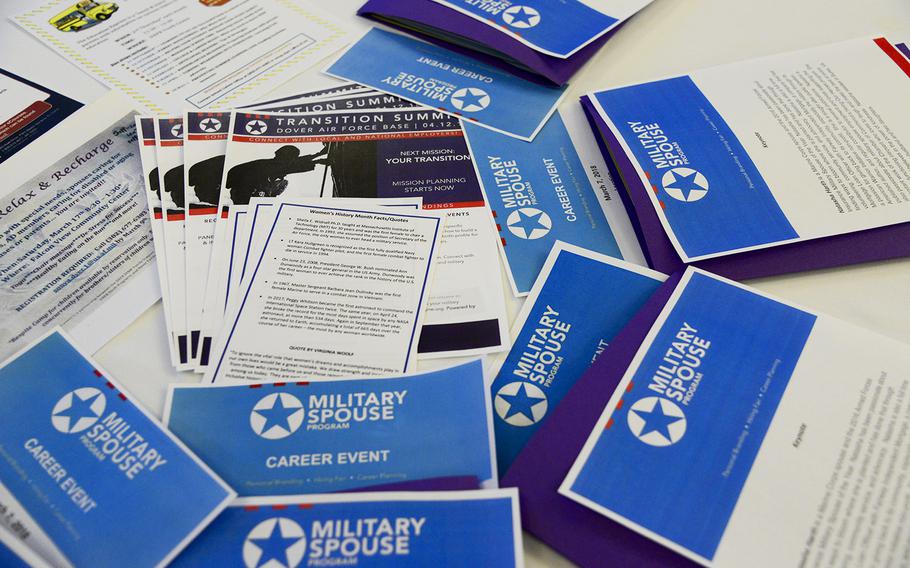 WASHINGTON — Matters that impact military spouses, such as unemployment, need to be part of national security discussions because of how they can undermine the nation's volunteer military force, a panel of experts concluded Monday during a discussion at a Washington think tank.
"If we don't get this right, the cracks in the all-volunteer force model are going to become big chasms. And I think things fall apart," Michael Haynie, executive director at the Institute for Veterans and Military Families at Syracuse University, said to an audience at the Brookings Institution.
Unemployment is an ongoing problem for military spouses due to the elements that make up military life, such as frequent moves and living far from family and career networks. These factors can have a negative impact on career opportunities for spouses.
In 2017, the most recent year for data, the unemployment rate for civilian military spouses was 24%, according to a Defense Department active-duty spouse survey released in February. The current unemployment rate for the United States is 3.5%, according to the Bureau of Labor Statistics.
For a military move, many spouses are forced to quit their job and face long periods of unemployment after relocating, according to a 2017 report, "Military Spouses in the Workplace," by the Hiring Our Heroes military spouse program of the U.S. Chamber of Commerce. The report also found spouses with college degrees "face the highest rates of unemployment and the most difficulty finding meaningful work."
"Spouses say the greatest challenge in seeking employment as a military spouse is companies not wanting to hire someone who may be moved," the report states.
Whether military families can make it on one income is a concern as the cost for things such as education and housing have outpaced inflation, according to Holly Petraeus, the former assistant director for service member affairs at the Consumer Financial Protection Bureau and an Army spouse for more than 37 years to retired Army Gen. David Petraeus.
"I cringe when I see people piling up debt that is going to impact their entire lives," she said.
Though the military often invests money and education into service members, some of them still end up leaving because of the lack of job opportunities for their spouses, said Elizabeth O'Brien, the senior director of the Hiring Our Heroes military spouse program.
"It absolutely, by our definition, becomes an issue of national security if after the Army has invested almost over a million dollars in my spouse, that we decide to walk. And now he's gone," she said as an example.
"Eighty-one percent of military spouses and their service members have discussed the possibility of leaving the service, with the availability of career opportunities for both spouses cited as one of the top deciding factors," according to the Hiring Our Heroes report.
The impact of the issues concerning military families also trickles down to their children. During the past decade, Haynie said, data has shown that military families are increasingly less likely to recommend military service to their children than they were five years ago.
According to Blue Star Families 2017 Military Family Lifestyle Survey, done in partnership with the Institute for Veterans and Military Families, 60% of military families that year were unwilling to recommend service to their children.
"That should tell us something and it should scare us," he said.
Many military recruits come from military families. At the 2018 Association of the U.S. Army annual meeting, Dee Geise, the chief of the Army's Soldier and Family Readiness Division, stated 61% of soldiers come from families where a parent, grandparent or sibling has served, according to an Army news release.
Kenney.Caitlin@stripes.com Twitter: @caitlinmkenney
---
---
---
---