President Obama visits DMZ in Korea
by
rabiroffj@pstripes.osd.mil Jon Rabiroff
March 25, 2012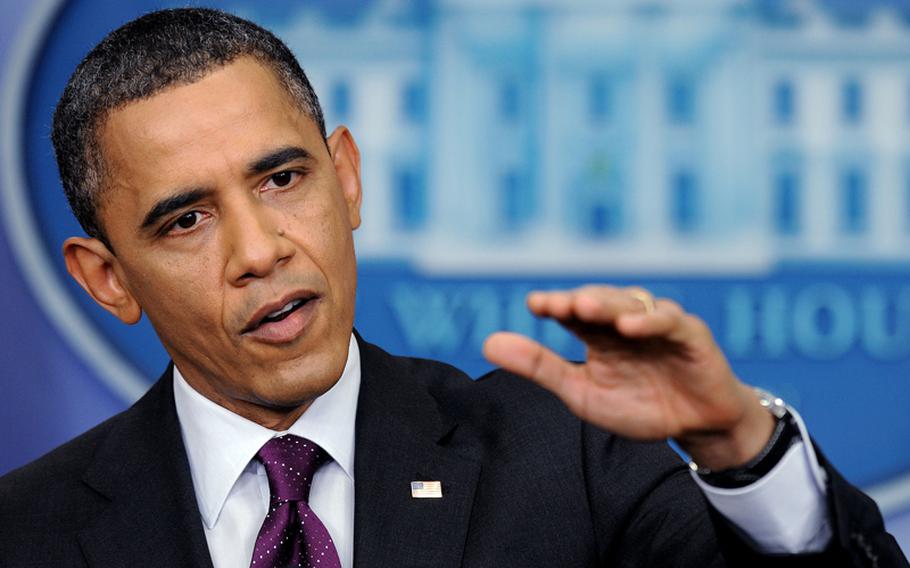 DEMILITARIZED ZONE, Korea – President Barack Obama got a first-hand look Sunday into North Korea, the hermit kingdom that continues to frustrate the U.S. and the rest of the world with its confounding mix of provocations and peaceful promises.
On the eve of the two-day international Nuclear Security Summit that he will attend in Seoul - at which the North is likely to be a topic of conversation - Obama visited the DMZ for an hour and peered north through binoculars from Observation Post Ouellette, which is 25 yards from the Military Demarcation Line that divides the two Koreas.
Before getting a glimpse into North Korea, Obama spent some time visiting with U.S. and South Korean troops stationed at the Joint Security Area of the DMZ -- the 155-mile long, 2.5-mile wide barrier which former President Bill Clinton once called, "the scariest place on Earth."
"You guys are along freedom's frontier," Obama told about 40 troops in a dining facility at Camp Bonifas. "The transformation that has taken place in Korea in my lifetime is directly attributed to the long line of soldiers, sailors, airmen, marines and coastguardsmen" who have served on the peninsula.
"There is something about this spot in particular … and there is such an obvious impact that you've had for the good each and every day that should make all of you proud."
Obama's visit to South Korea – his third since becoming president – comes amid yet-another contentious time in U.S. relations with North Korea.
In recent months, there were signs that a new era of U.S.-North Korea cooperation might be dawning.
The North invited the U.S. to send in a team of investigators to resume the search for the remains of American soldiers killed during the Korean War that, an operation that has been suspended since 2005. It also suggested it was open to a return to the so-called six-party talks aimed at stopping its nuclear weapons program.
And, in February, North Korea agreed to put a temporary hold on its nuclear and missile testing, in addition to any uranium-enrichment, in exchange for food donations from the U.S.
However, in recent days, the apparent warming in relations have faded into a deep chill as the North announced plans to launch a satellite next month, a move the U.S. and others deemed a cover story for what they believe will be in fact be a long-range missile test.
Earlier this month, DOD spokesman Capt. John Kirby said the U.S. would consider any North Korean ballistic missile launch as "destabilizing behavior" and, "I believe there will be other repercussions."
The North also warned against making its nuclear program the subject of discussion at this week's summit, saying it would view any related statement of condemnation as "a declaration of war."
The leaders of about 50 countries – including Hu Jintao, the president of China, North Korea's biggest ally – are expected to attend the summit.
On Thursday, the U.S. Department of Defense announced it had suspended its efforts to recover the remains of American servicemembers in North Korea because of what Pentagon spokesman George Little called the North's recent "unacceptable behavior"
While the primary purpose of Obama's visit to South Korea is to attend the Nuclear Security Summit, he will also meet separately with leaders from Russia, China, Turkey, Kazakhstan and South Korea to discuss regional security issues.
He is also scheduled to deliver a speech Monday at the Hankuk University of Foreign Studies in Seoul
Obama was flown to the DMZ by helicopter after Air Force One touched down at Osan Air Base, south of Seoul, early Sunday morning.
At Observation Point Ouellette, Obama periodically looked through binoculars and asked questions about what he was looking at. Lt. Col. Ed Tailor, commander of the United Nations Command Security Battalion – Joint Security Area, pointed out landmarks like the Military Demarcation Line and the villages on both sides of the DMZ.
At camp Bonafis, Obama told U.S. and South Korean servicemembers how South Korean President, Lee Myung-bak, has expressed his thanks in the past for the sacrifices of American servicemembers that set the stage for his country's dramatic transition from war to prosperity.
"That's the legacy you're carrying on," he said.
Before posing for photos with those in attendance, Obama gave them an update on the results of Saturday's NCAA Championship Basketball tournament games, so they could update their brackets.
White House officials said previously the reason for Obama's visit to the DMZ was to thank troops stationed there, and to emphasize the strength of the alliance between the U.S. and South Korea. There are 28,500 American troops spread over about 100 military bases across the peninsula.
Sunday was Obama's first visit to the DMZ. Previous U.S. presidents to visit the contentious border between the two Koreas were George W. Bush in 2002, Clinton in 1993 and Ronald Reagan in 1983.