Pentagon will reverse shutdown order for Stars and Stripes
by
Corey Dickstein
September 10, 2020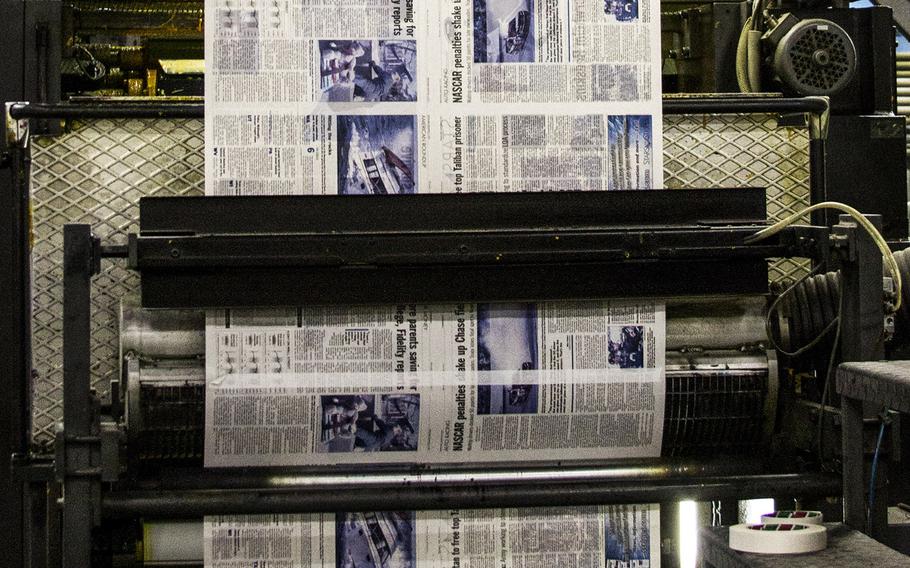 WASHINGTON — The Pentagon will rescind its order for Stars and Stripes to cease publication by Sept. 30, according to an email sent to the news organization Thursday.
The Pentagon was also working Thursday to withdraw its request that Congress not fund Stars and Stripes in fiscal year 2021, according to the email from the acting director of the Pentagon's Defense Media Activity to Stars and Stripes ombudsman Ernie Gates.
The apparent decision comes nearly a week after President Donald Trump on Sept. 4 tweeted Stars and Stripes funding would not be cut "under my watch."
In Army Col. Paul Haverstick's email, he wrote Stars and Stripes would no longer be required to submit to the Defense Department a written shut down plan that had been due Sept. 15. That plan would have detailed how the news organization would close by Jan. 31. Haverstick, the acting DMA director who issued the original August order for Stripes' to prepare to stop operations, wrote to Gates that he aimed to provide the new memorandum to Stars and Stripes leadership by the weekend.
"It's good to get written assurance from the director that the shutdown memo will be rescinded," Gates said Thursday of the reversal. "Beyond that assurance, it's significant that Col. Haverstick called off his direction that Stripes' publisher provide a detailed shutdown plan by next Tuesday."
Though Stars and Stripes retains its editorial independence and is congressionally mandated to be governed by First Amendment principles, it is part of the Pentagon's Defense Media Activity. The Pentagon funding, about $15.5 million, makes up roughly half of Stars and Stripes' annual budget and is primarily used to print and distribute the newspaper to troops scattered across the globe, including in warzones such as Afghanistan, Iraq and Syria. The remainder of the newspaper's funding comes from advertising and subscriptions.
In February, Defense Secretary Mark Esper proposed in his fiscal year 2021 budget ending federal funding for Stars and Stripes, a move the news organization's leadership said would be fatal to the newspaper. Esper said at that time the savings would fund "higher-priority issues," such as purchasing modern weapons.
But last week with major news organizations publishing stories of Stars and Stripes' imminent closure, Trump took to Twitter to announce the news organization would remain in operation and "continue to be a wonderful source of information to our Great Military!"
Trump's announcement came as he fought off accusations he had disparaged American service members, including Marines who died in World War I. He has adamantly denied those reports first raised Sept. 3 by The Atlantic.
Now, Stars and Stripes' fate appears to rest with Congress, Gates said Thursday.
The House has already moved to fund Stripes at about $15.5 million in fiscal year 2021, in a pair of critical Pentagon spending and policy bills passed by the lower chamber during the summer. But those bills — the fiscal year 2021 National Defense Authorization Act and the Department of Defense Appropriations Act — still must be reconciled with the Senate.
The Senate-passed version of the NDAA did not authorize funding for the news organization. The Senate Appropriations Committee has yet to consider its version of the annual appropriations bill and it has not scheduled hearings to draft that legislation.
Lawmakers said this week that it is unlikely the two chambers will finish negotiating the bills until at least November, meaning the Pentagon will likely begin the new fiscal year, which starts Oct. 1, under a continuing resolution, which is a stopgap spending measure.
In a letter last week to Esper, 15 senators — four Republicans and 11 Democrats — urged the Pentagon to continue funding Stars and Stripes under a continuing resolution. They also requested Esper reconsider his plans to shutter the news organization, writing there was "a real possibility" Congress would ultimately support Stripes' continuation.
Another Republican, Sen. Lindsey Graham of South Carolina, who is a Trump ally, also lobbied Esper to rescind his order to shut down Stars and Stripes. And, on Monday, Sen. Mitch McConnell, R-Ky., the Senate majority leader, announced his support for Stars and Stripes via Twitter.
Ten House Democrats on Wednesday sent Esper yet another letter, which noted the Pentagon had yet to act at that time on Trump's tweeted direction to continue funding Stripes.
"Beyond serving as a reminder of home, the journalists at Stars and Stripes provide over 1 million daily readers with unfiltered news and perspective free of institutional bias," according to the letter, which included the signatures of war veterans Rep. Jason Crow, D-Colo., a former U.S. Army Ranger; Rep. Ruben Gallego, D-Ariz., who served as an infantry Marine, and Seth Moulton, D-Mass., another Marine Corps veteran.
Gallego on Thursday wrote in a tweet that he would continue to work to ensure Stars and Stripes' future.
"Still putting protections in the NDAA to save Stars and Stripes," Gallego tweeted. "Don't trust that they won't change this in the lame duck."
dickstein.corey@stripes.com Twitter: @CDicksteinDC