Pentagon to send 1,700 troops, aircraft to participate in Fourth of July celebrations
by
Steve Beynon
June 29, 2020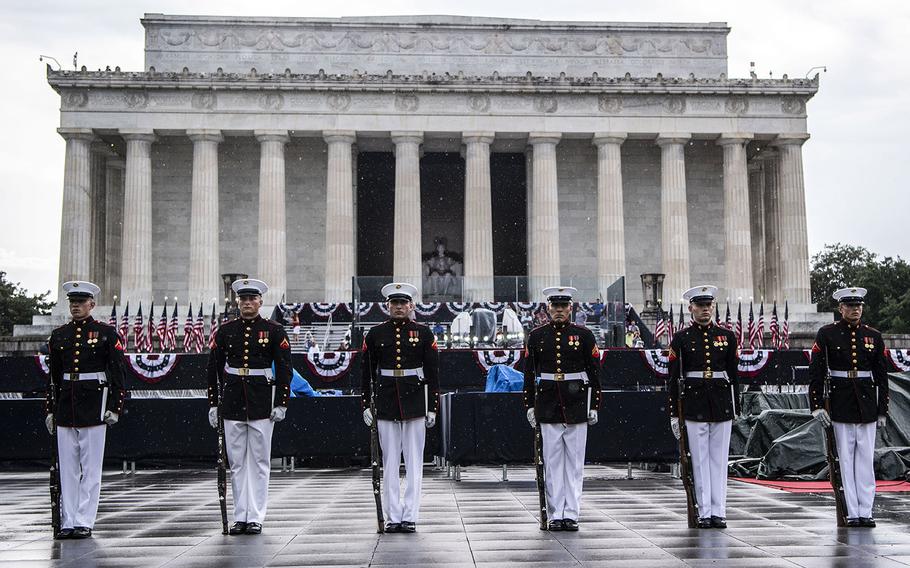 WASHINGTON — The Department of Defense will provide 1,700 troops and aircraft for flyovers for Independence Day celebrations across the country.
The Pentagon said troops will provide support to the Department of the Interior with "Salute to America" celebrations in Washington, D.C., Mount Rushmore, S.D., and cities critical to victory in the American Revolution: Baltimore, Boston, New York City and Philadelphia.
"The highlight of this year's celebration will be our salute to the great cities of the American Revolution. DOD will provide aerial, musical and ceremonial support to this year's celebration in Washington, D.C.," Lt. Col. Chris Mitchell, a Pentagon spokesman, said in a statement. "The flyovers will begin in Boston and proceed to New York City, Philadelphia, and Baltimore. From there, they will join other Department of Defense and heritage aircraft in the Salute to America over our nation's capital."
It isn't unusual for the Pentagon to supply troops to support celebrations for Independence Day for ceremonies and flyovers. However, last year's celebration at the Lincoln Memorial racked up a cost to taxpayers of more than $13 million, compared to totals between $6 million and $7 million in the three previous years, according to a report from the Government Accountability Office.
The federal watchdog reported most of the inflated costs were due to President Donald Trump's request to transport two unarmed Bradley Fighting Vehicles and an M1 Abrams tank for a static display during his speech. For example, the District of Columbia consulted with engineers to verify that affected roads, sewer pipes, and bridges could withstand the weight of bringing in the armored vehicles and conducted damage assessments after the event, during which no damage was identified.
The White House did not comment Monday on whether Trump has made similar requests for military vehicle displays this year. However, Defense Secretary Mark Esper has not approved use of ground military vehicles for display in Washington, D.C., according to Mitchell.
Only the Bradleys were used as static displays at the Lincoln Memorial, the Abrams was transported there, but was not put on display. The vehicles had identification painted on them suggesting they were from the 64th Armor Regiment, 3rd Infantry Division out of Fort Stewart, Ga.
The Pentagon did not announce what aircraft would be used, but Mitchell noted the flyovers would not be an added burden on the taxpayer, saying the pilots and crews would be using the time to train regardless.
At Trump's celebration last year in Washington, D.C., the flyovers included Air Force B-2 Stealth Bombers, Air Force One, F-22 Raptors, F35 Lightning IIs, Navy F/A 18 Hornet Blue Angels, Marine Corps MV22 Osprey helicopters, Marine One, Army AH-64 Apache helicopters, CH-47 Chinook helicopters, Coast Guard H-65 Dolphin helicopters, H-60 Jayhawk helicopters, and HC-144 medium range surveillance aircraft.
The annual Fourth of July parade in Washington, D.C., has been canceled due to coronavirus concerns, but there will still be a fireworks display over the National Mall. Trump will give remarks from the South Lawn of the White House.
Last week, 400 Washington D.C. National Guard troops were activated to protect monuments and critical infrastructure amid ongoing protests against police brutality. The Guard did not respond to a request for comment on whether soldiers will be on the streets on Independence Day.
Washington has seen ongoing protests, some of which have led to the vandalism of monuments, such as the World War II Memorial on the National Mall. Protesters also tried to pull down a statue of President Andrew Jackson in Lafayette Square and some have urged the removal of a statue of President Abraham Lincoln holding a copy of the Emancipation Proclamation as an African American man kneels at his feet.
As of June 17, about 4,000 National Guard troops were still activated in support of law enforcement in various locations, according to the National Guard Bureau.
beynon.steven@Stripes.com Twitter: @StevenBeynon