Pentagon says 1,200 troops have been mobilized to assist Dorian-ravaged Bahamas
---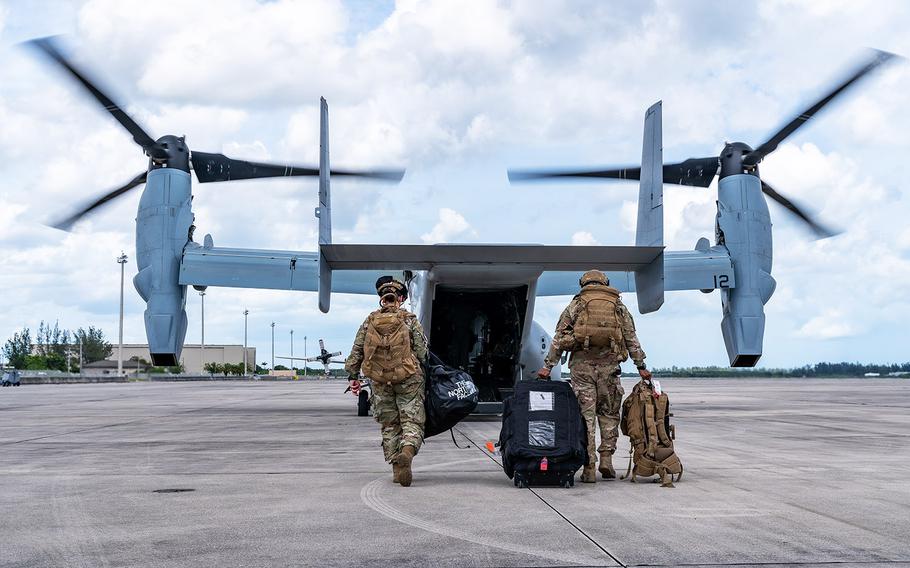 WASHINGTON — The Pentagon has mobilized about 1,200 active-duty troops to assist the Hurricane Dorian-stricken Bahamas, where the death toll rose to at least 44 on Monday about one week after the Category 5 storm devastated the islands.
The troops — some of whom arrived in the Bahamas over the weekend — have begun a variety of missions, including search and rescue operations and assessing air fields to ensure they could safely receive aircraft loaded with troops, equipment and relief supplies, Jonathan Hoffman, the Pentagon's chief spokesman, said Monday. The U.S. military might also help with air traffic control for the Bahamas, he said.
Defense Secretary Mark Esper has authorized the use of 20 Army and Navy helicopters in the Bahamas, and the Navy's USS Bataan, an amphibious assault ship carrying four Marine MV-22 Osprey tilt-rotor aircraft and some 2,000 troops, has been moved south toward the Bahamas to aid in recovery efforts.
Hoffman said Pentagon-led troops had rescued eight people during 30 search and rescue flights in the Bahamas, as of Monday. U.S. Coast Guard members — who are assigned to the Homeland Security Department — had been credited with rescuing some 300 during operations in the Bahamas in the last week, the service said. Some 700 Coast Guard members and six MH-60 Jayhawk helicopters are supporting hurricane relief efforts in the Bahamas, according to a Coast Guard statement on Sunday.
The Bataan's Ospreys ferried an Air Force airfield assessment team into the Bahamas to examine the airfields at Grand Bahama International Airport and Marsh Harbour airport on Great Abaco Island in the northern Bahamas. Hoffman said the Grand Bahama airport, just west of Marsh Harbour, had been cleared for traffic including C-130 and C-17 cargo planes. Marsh Harbour's airfield had yet to be cleared for use as of Monday, Hoffman said.
The Pentagon could provide additional support for the Bahamas, if the island nation requests it, he added.
Hoffman said the Defense Department had not yet determined the amount of damage Hurricane Dorian had caused on U.S. military bases along the East Coast. He said the services have begun assessing damage in areas impacted by the storm, including in the Carolinas and Virginia.
The Associated Press contributed to this report.
dickstein.corey@stripes.com Twitter: @CDicksteinDC
---
---
---
---