Pentagon: Pro-government forces in Syria use drone to attack US-led coalition troops
by
Tara Copp
June 8, 2017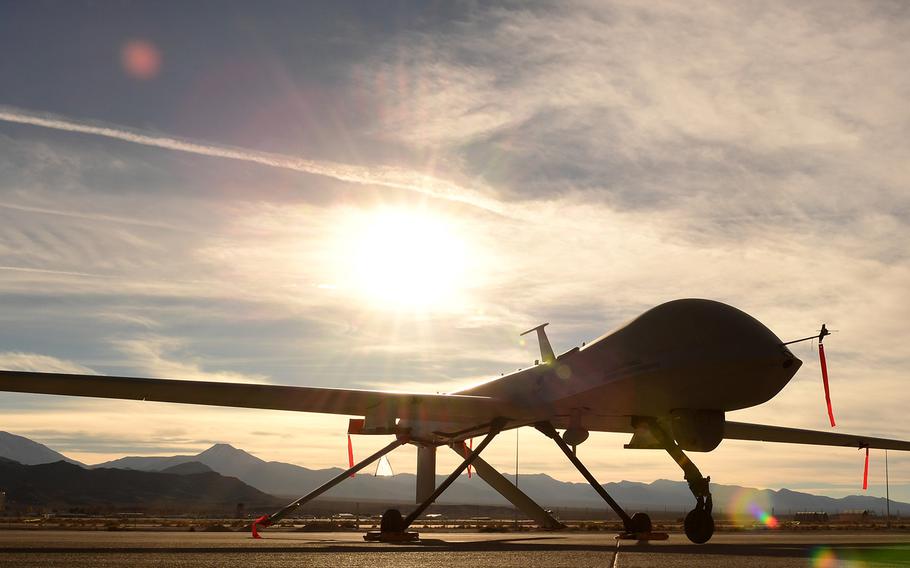 WASHINGTON — U.S.-led coalition troops patrolling in southern Syria were attacked Thursday by a pro-government forces drone, marking an escalation in hostilities in the region, the Pentagon said.
Coalition troops, which included advisers, were conducting a patrol east of Tanf, near a military camp used by U.S. troops training Syrian rebels fighting the Islamic State. The drone, which was similar in shape and size to an MQ-1 Predator, dropped an unidentified munition on the troops, Army Col. Ryan Dillon told reporters Thursday at the Pentagon.
"It had remaining munitions that were still on the drone when we fired and we shot it down," said Dillon, a Baghdad-based spokesman for Operation Inherent Resolve.
The munition "hit dirt" and caused no injuries, he said.
It was the first time that pro-government forces had fired directly on coalition forces, Dillion said. It was also the first time that U.S. warplanes engaged in air-to-air combat to destroy a hostile air asset that was firing on coalition forces. After the drone dropped the munition, a U.S. F-15E Strike Eagle jet fired at the drone and destroyed it, Dillon said.
When the patrolling coalition forces were targeted by the drone, the group was outside the 55-kilometer area around Tanf that the United States and Russia have identified as a no-conflict zone, Dillon said. The United States did notify the Russians about the ground forces, Dillon said, though it was not known whether that information was shared by Russia with the pro-government forces who fired the drone.
Dillon would not say Thursday what the origin of the drone was, including whether it was possibly Iranian or belonged to Hezbollah. Both have forces operating in the area in support of Syrian President Bashar Assad.
U.S. forces have been training, equipping and advising Syrian Arabs and Syrian Kurds to assist them in fighting ISIS in Syria, but many of those same forces also seek the ouster of Assad. Syria has been embroiled in a civil war since 2011.
It was the second airstrike that day in southern Syria. Earlier in the day, U.S. warplanes hit "two technical vehicles" belonging to government forces that were inside the no-conflict zone near Tanf.
U.S. warplanes also conducted strikes Tuesday against pro-government forces that it considered a threat to U.S. and coalition personnel at Tanf. On May 18, U.S. warplanes attacked a fighting position that was also considered a threat.
"Today was the third set of kinetic strikes the United States has conducted in response to threats posed to coalition forces and partners operating out of Tanf," Dillon said. "We're watching the situation very closely. The coalition does not seek to fight Syrian regime or pro-regime forces. However, we remain ready to defend ourselves."
copp.tara@stripes.com Twitter:@TaraCopp