Pentagon prepares to accept transgender recruits Jan. 1, as judge upholds block on Trump ban
by
Corey Dickstein
December 11, 2017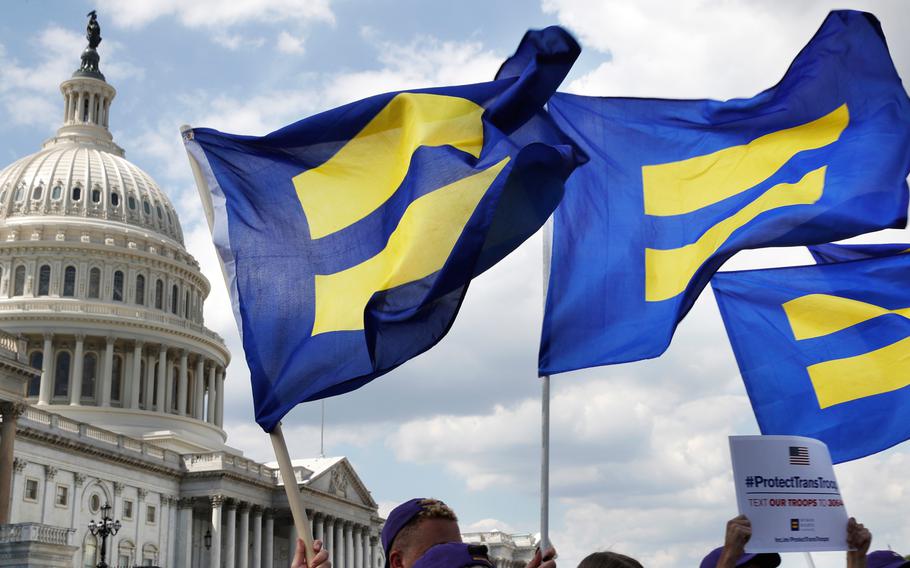 WASHINGTON – Transgender men and women will be allowed to enlist in the military beginning Jan. 1, Pentagon officials said Monday, acknowledging it would follow court orders stemming from ongoing legal challenges to President Donald Trump's policy barring them from serving.
A federal judge on Monday denied the Trump administration's request to delay enlistments of transgender men and women until a series of lawsuits challenging the president's ban had been settled. U.S. District Judge Colleen Kollar-Kotelly upheld her initial block of Trump's ban on transgender people serving in the military, writing the administration had failed to convince her that the Pentagon needed additional time to plan to accept transgender recruits or the military would be "irreparably injured" by accepting them into the service.
"With only a brief hiatus, defendants have had the opportunity to prepare for the accession of transgender individuals into the military for nearly one and a half years," Kollar-Kotelly wrote Monday. "Especially in light of the record evidence showing, with specifics, that considerable work has already been done, the court is not convinced by the vague claims in [the Trump administration's] declaration that a stay is needed."
In the judge's October ruling, she wrote Trump's ban did not "appear to be supported by any facts" and likely violated equal-rights guarantees in the Constitution.
The Pentagon is "preparing" to accept transgender men and women into the service beginning in January, Army Maj. David Eastburn, a Defense Department spokesman, said Monday.
In July, Trump announced on Twitter that transgender men and women would no longer be allowed to serve in the military "in any capacity." He cited, among other concerns, the cost of their health care and risks to unit cohesion as reasons for imposing his ban.
Trump gave military officials until March to implement his new policy. Until then, Defense Secretary Jim Mattis has ordered transgender servicemembers continue serving as they had under former President Barack Obama's policy allowing them to serve openly since June 2016. A panel of senior Pentagon officials is studying the issue and is expected to make a recommendation about transgender servicemembers by February.
It was not clear Monday whether the Pentagon's acknowledgement that it would accept transgender men and women into the service beginning Jan. 1 would change the panel's timetable for reporting its findings to Mattis.
Those transgender individuals seeking acceptance into the military must have a doctor's certification that they have been clinically stable in their preferred gender for 18 months before they can enlist, Eastburn said Monday. Likewise, transgender individuals who receive hormone therapy must be certified that they have been stable in using their medication for 18 months before they can join, he said.
Equal rights groups on Monday applauded the Pentagon's decision.
David Kilmnick, the president of the LGBT Network, a New York-based group that advocates for gay and transgender rights, called the decision "an encouraging sign."
"The Pentagon took a critical first step by declaring transgender people will no longer be disqualified based their gender identity," he said. "Anyone willing to fight and die for their country deserves to be treated with dignity and respect."
Jennifer Levi, the Transgender Rights Projector director for GLAD, a legal rights group the represents gay and transgender individuals, said the Pentagon should be ready to open its ranks to transgender recruits.
"High-ranking military leaders who oversaw training when the military made the first changes to transgender service policies have said the military is ready to accept transgender enlistees," Levi said in a statement. "This [Trump] administration needs to stop creating fake problems and get on with it."
The Trump administration vowed to push forward with its ban.
"The Department of Justice is currently reviewing the legal options to ensure that the president's directive can be implemented," White House Press Secretary Sarah Huckabee Sanders said Monday.
dickstein.corey@stripes.com Twitter: @CDicksteinDC