Pentagon leaders say Iran missile attack was meant to kill American troops
by
Corey Dickstein
January 8, 2020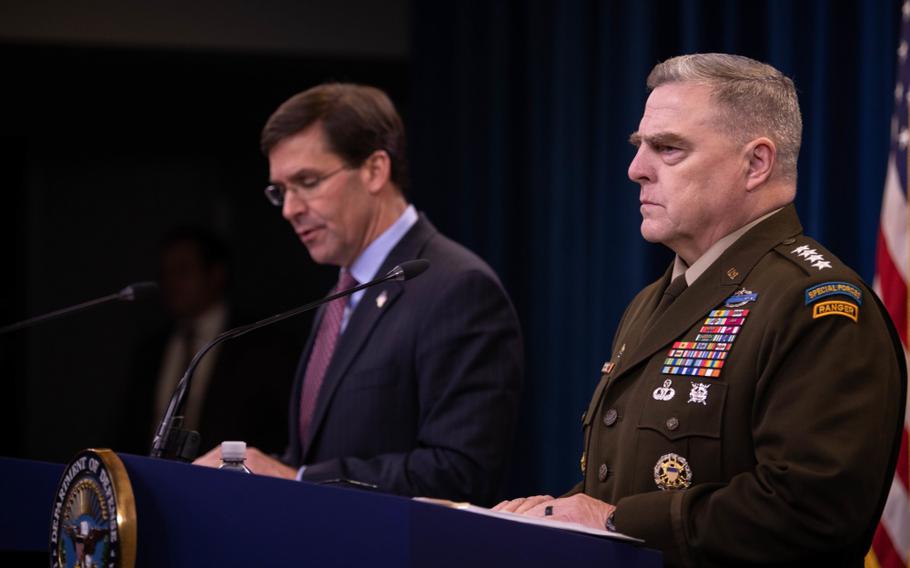 WASHINGTON — The Pentagon's top leaders said Wednesday that they believe the ballistic missiles launched by Iran against U.S. military positions in Iraq was an unsuccessful strike meant to kill American troops in retaliation for an Iranian leader's death.
Defense Secretary Mark Esper and Army Gen. Mark Milley, the chairman of the Joint Chiefs of Staff, said the barrage of 16 short-range ballistic missiles launched from three sites in Iran struck locations that would have likely hit U.S. and anti-Islamic State coalition troops had they not been prepared for the attack. The Pentagon leaders said their early warning systems of the impending attack worked properly, allowing troops to take cover.
"Bottom line is, in my professional assessment, … the points of impact were close enough to equipment and personnel that I believe, based on what I saw and what I know, they were intended to cause structural damage, destroy vehicles and equipment and aircraft, and to kill personnel," Milley told reporters at the Pentagon late Wednesday after briefing members of Congress on recent tensions in the Middle East. "That's my own personal assessment."
Esper said intelligence officials would work to determine whether the missiles were meant to inflict casualties on American troops. Some officials, who spoke anonymously because they were not authorized to talk publicly, suspected earlier Wednesday that Iran might have intentionally avoided hitting locations likely to kill Americans.
President Donald Trump announced earlier Wednesday that no one had been injured or killed in the attack, which included 11 missiles launched at al Asad Air Base in western Iraq's Anbar province and another at Irbil in northern Iraq's semi-autonomous Kurdish region. Four missiles failed to hit their intended targets, Milley said.
Trump, in a nearly 10-minute address to the nation earlier Tuesday, appeared to indicate he would not retaliate with a military response to the Iranian attack. He did announce new, "punishing economic sanctions" on Iran until it "changes its behavior."
"Iran appears to be standing down, which is a good thing for all parties concerned and a very good thing for the world," Trump said.
Reports earlier Wednesday indicated the United States had received verbal warning of the imminent attack from the Iraqis, who said they were warned about an hour before the bombardment. Esper and Milley declined to confirm if such a warning was issued.
The attack did leave damage on al Asad, Esper said, but the impacts were "not major." He said missiles damaged structures, aircraft taxiways, a parking lot and a helicopter.
The Pentagon said its troops remained on high alert throughout the region, and cautioned that Iran-backed militias across the Middle East could still launch their own attacks as retaliation for the death of Maj. Gen. Qassem Soleimani, the commander of Iran's elite Quds Force and a chief adviser to Ayatollah Ali Khamenei, Iran's supreme leader.
Soleimani was killed Jan. 3 in a U.S. drone strike at Baghdad's international airport on Trump's order. He was responsible for Iran's operations outside its borders, including the training and coordination of Tehran's proxy forces in nations including Iraq, Syria, Yemen and Lebanon.
For now, American troops remain braced for further attacks in the region, likely from some of those proxy forces, Esper and Milley said. The Pentagon would be challenged to determine how closely such attacks will be controlled by Iran and how the United States should respond, Esper said.
"I fully expect Shia militia groups to conduct terrorist operations against U.S. forces and coalition forces in Iraq and perhaps even elsewhere," Milley said. "That's a very real possibility."
In Iran, Khamenei called the missile attacks a "slap across the face" to America in an address to his nation Wednesday, according to Iranian media. He said the military strike alone was "not sufficient" to avenge Soleimani's death and vowed to expel American troops from the Middle East.
Trump warned against further attacks, touting American military power.
"U.S. armed forces are stronger than ever before. Our missiles are big, powerful, accurate, lethal and fast," Trump said. "The fact that we have this great military equipment, however, does not mean we have to use it. We do not want to use it."
dickstein.corey@stripes.com Twitter: @CDicksteinDC
---
---
---