Pentagon leaders planned to send home active-duty troops in DC area before reversing decision
by
Corey Dickstein
June 3, 2020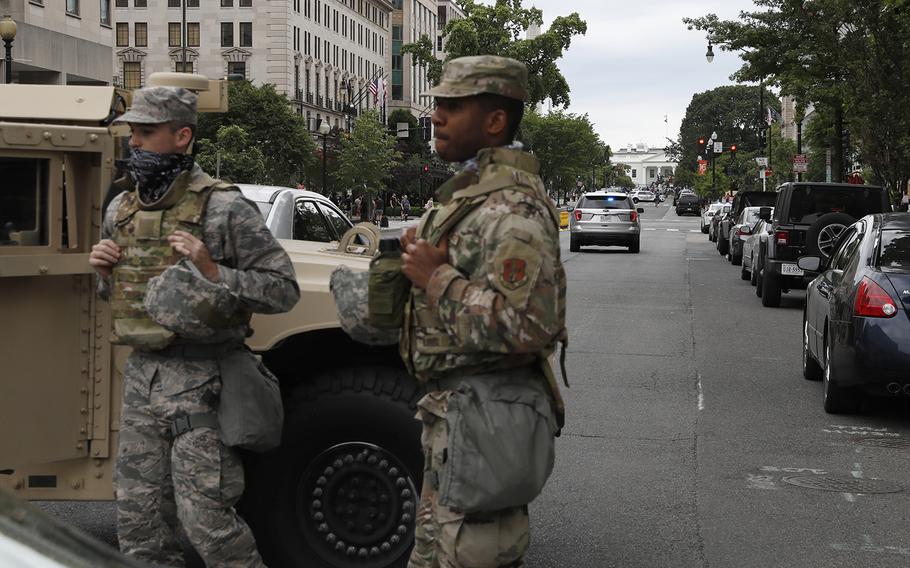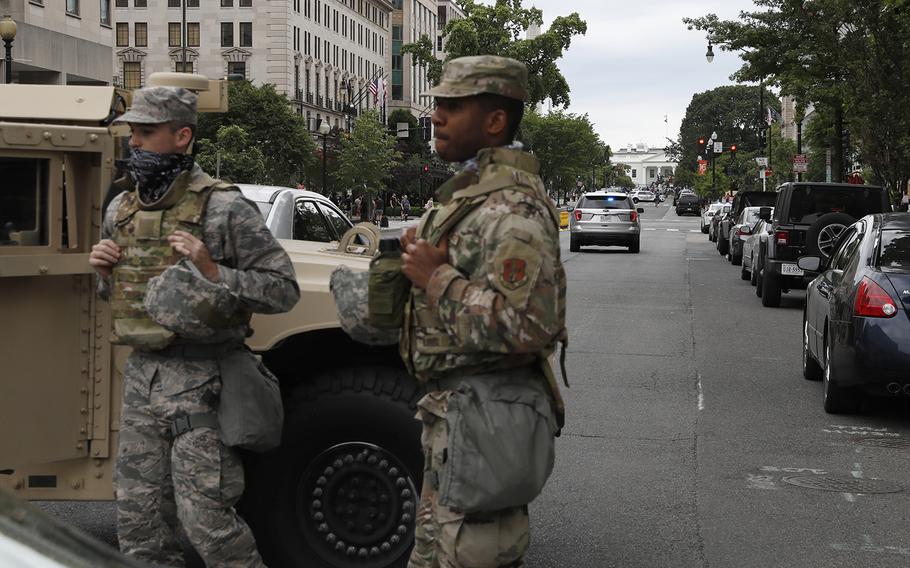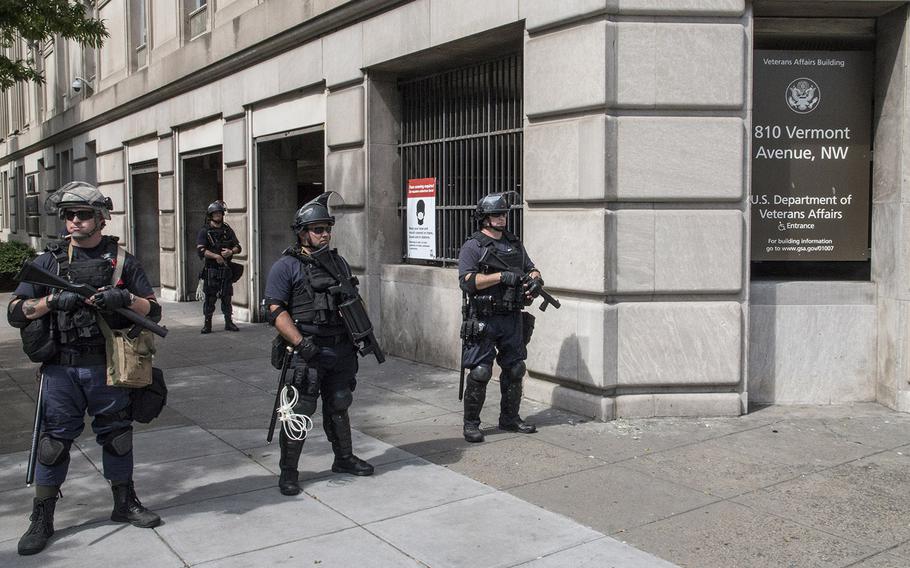 WASHINGTON — The Pentagon ordered active-duty soldiers deployed outside Washington, D.C., for riot control to remain in the region after hours earlier deciding some of those troops should return to their home bases, a defense official said late Wednesday.
Army Secretary Ryan McCarthy received orders Wednesday morning from Defense Secretary Mark Esper to send some 200 infantrymen from the 82nd Airborne Division's Immediate Response Force back to Fort Bragg, N.C., a defense official said. Later Wednesday, after Esper attended a meeting at the White House, McCarthy was notified Esper had changed his mind, the official said.
The roughly 1,600 soldiers deployed this week from Fort Bragg and Fort Drum, N.Y., to undisclosed military installations in the national capital region remained "on alert" Wednesday afternoon, two other defense officials said. Top Pentagon officials, including Esper, have said they were reticent to move those troops — the vast majority of whom are military police — onto Washington's streets.
Top Pentagon officials ultimately delayed their final decision on removing any troops from the Washington region, according to one of the defense officials, who was not authorized to comment on the issue and spoke on condition of anonymity. It was not clear Wednesday afternoon when a decision to send troops back to their home bases would be made.
The moves follow Esper's Wednesday morning Pentagon news briefing to announce his opposition to the use of active-duty forces on American streets, as protests sparked by the May 25 killing of a handcuffed black man, George Floyd, by a Minneapolis police officer, had grown violent.
Esper appeared to break with President Donald Trump in discouraging invocation of the Insurrection Act, a rarely-used 1807 statute that allows the president to deploy federal troops within the United States to quash civil unrest. Trump on Monday said if the nation's governors did not use their own National Guard troops to address violent protests, which in many cases have led to rioting and looting, he would take it upon himself to respond by deploying active-duty troops.
In his Wednesday briefing, Esper said Guard forces are better suited for domestic civil unrest deployments, which are meant to aid local, state and federal law enforcement issues. National Guard troops can perform some law enforcement duties when they are under the control of their state's governors, while active-duty troops are typically barred from such operations, unless the Insurrection Act is invoked.
"The option to use active-duty forces in a law enforcement role should only be used as a matter of last resort and only in the most urgent and dire of situations," Esper said. "We are not in one of those situations now."
Esper's comments were not well received at the White House, Politico and CNN reported, citing unnamed administration officials. White House Press Secretary Kayleigh McEnany said she was unaware of Esper's position on the Insurrection Act before Wednesday but did not say whether Trump had lost confidence in his second defense secretary.
"As of right now Secretary Esper is still Secretary Esper," she said in a White House news briefing. "If the president loses faith we will all learn about that in the future."
Esper has faced public criticism from lawmakers and former top-ranking military officials, among others, amid the military response to the civil unrest. Criticism has focused largely on his use of the term "battle space" in reference to American streets and his appearance alongside Trump in a controversial, apparently politics-motivated photo opportunity at a Washington church damaged during protests.
Esper said Wednesday that he should not have used the words he did Monday, describing the term as "military lexicon" and not meant to imply American protesters should be targeted. He also said he was unaware the visit to White House-adjacent St. John's Church would include the photo opportunity.
Rep. Adam Smith, D-Wash., the chairman of the House Armed Services Committee, said he would call Esper and Army Gen. Mark Milley, the chairman of the Joint Chiefs of Staff, to testify publicly about the military role in the nation's response to the protests.
Nationwide, some 30,000 National Guard troops have been activated in 30 states to aid local and state police responding to the riots. In Washington, 1,300 D.C. Air and Army National Guard members have been activated and at least 2,000 more National Guard troops from several states have deployed to aid the response in the national capital
dickstein.corey@stripes.com Twitter: @CDicksteinDC