Pentagon issues rare criticism of Israeli military after releasing more weapons
by
Jon Harper
July 31, 2014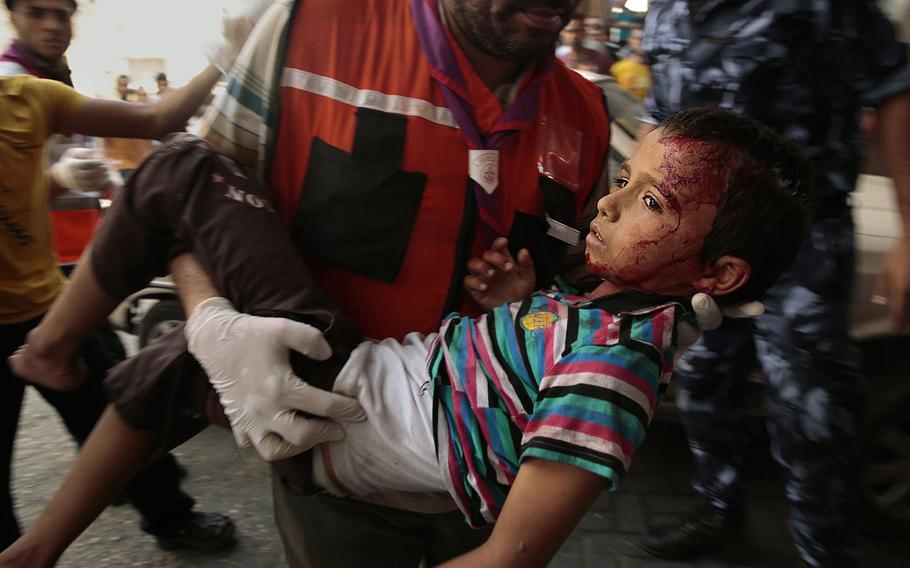 WASHINGTON — In a rare move, the Pentagon criticized the Israeli military Thursday, while proceeding to give its ally more ammunition as it presses its fight against Palestinian militants.
"The civilian casualties in Gaza have been too high," Defense Department spokesman Col. Steve Warren told reporters. "And it's become clear that the Israelis need to do more to live up to their very high standards ... for protecting civilian life."
Warren's comments came a day after the White House and State Department issued similar calls for the Israeli Defense Forces to take greater precautions.
More than 1,300 Palestinians are believed to have been killed since Israel launched its latest military operation against the militant group Hamas three weeks ago in response to missile fire from Gaza. More than 70 percent of those killed have been civilians, according to United Nations estimates.
On Wednesday, Israeli artillery hit a Gaza school being used as a shelter by thousands of Palestinians. At least 16 died in the attack, including women and children, according to the U.N.
The Israeli government has insisted that it is trying to avoid civilian casualties, while accusing Hamas of using civilians as human shields.
Dozens of Israeli soldiers have also been killed in the ongoing fighting.
On Wednesday, the Pentagon announced that it was resupplying munitions to the Israeli Defense Forces at Tel Aviv's request.
The Israeli Defense Ministry requested the munitions July 20, and the U.S. government approved the request July 23.
Warren said 120mm tank rounds and 40mm illumination rounds are being transferred from a special war reserve stockpile in Israel. The munitions have been stored there for a few years, according to a statement by Pentagon Press Secretary Rear Adm. John Kirby.
"Issuing munitions from the WRSA-I stockpile was strictly a sourcing decision and White House approval was not required," he said.
The value of the overall stockpile is about $1 billion, according to Warren. He would not disclose all the types of munitions that are stored there, and he declined to discuss other Israeli ammunition requests until they are approved.
The United States has been Israel's closet military ally for decades and provides billions of dollars' worth of foreign military sales to Tel Aviv each year. The U.S. helped fund Israel's Iron Dome missile defense system, which Israeli Defense Forces have been using to shoot down Hamas rockets launched from Gaza.
Warren was asked why the Pentagon was providing ammunition to the Israeli military while criticizing it for inflicting too many civilian casualties and calling for a cease-fire.
"This is part of our ongoing and our long-standing cooperative defense agreement with the Israelis. When they request to purchase ammunition or munitions, we sell it to them," he said.
In his statement Wednesday, Kirby said, "The United States is committed to the security of Israel, and it is vital to U.S. national interests to assist Israel to develop and maintain a strong and ready self-defense capability. This defense sale is consistent with those objectives."
harper.jon@stripes.com Twitter: @JHarperStripes