Pentagon could pay billions in defense contractor leave claims due to coronavirus pandemic
by
Caitlin M. Kenney
June 10, 2020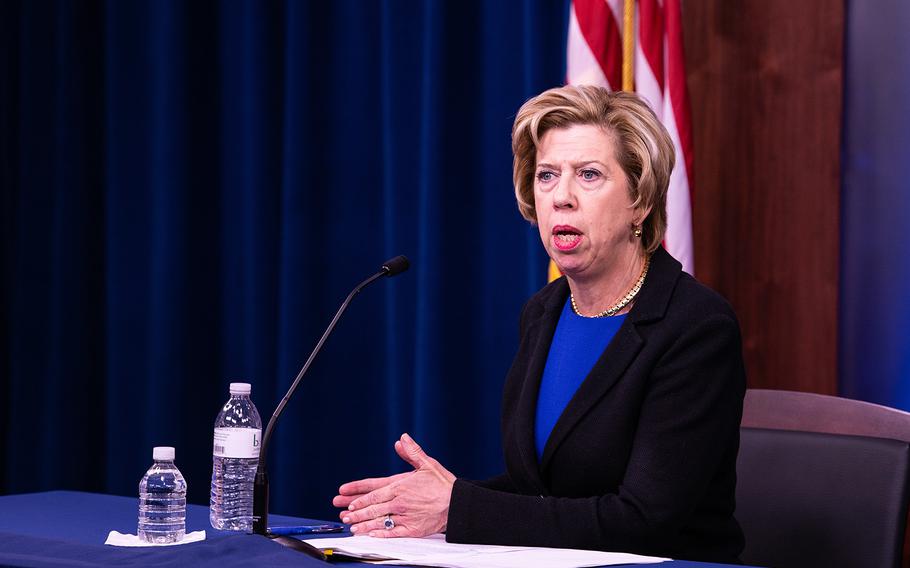 Stars and Stripes is making stories on the coronavirus pandemic available free of charge. See other free reports here. Sign up for our daily coronavirus newsletter here. Please support our journalism with a subscription.
WASHINGTON — The cost of helping defense contractors keep their employees on the payroll during the coronavirus pandemic could cost the Defense Department tens of billions of dollars if Congress does not step in with additional funding, the undersecretary overseeing acquisitions told House lawmakers Wednesday.
The Coronavirus Aid, Relief, and Economic Security Act, or CARES, includes section 3610, which authorizes the Defense Department to reimburse leave claims by defense industry contractors for keeping employees on their payroll who could not work due to the coronavirus pandemic.
Without Congress providing funding to cover the claims, the Defense Department would have to pay out the money from its own budget, which could cause negative impacts to the military, said Ellen Lord, the undersecretary of defense for acquisition and sustainment.
"While the department may be able to use other appropriated funds to reimburse contractors, the cost for 3610 is likely well beyond the department's resourced ability to do so without significantly jeopardizing modernization or readiness," she told the House Armed Services Committee.
The Defense Department's estimates of how much supplemental funding it could request is "in the double digits of billions of dollars," on the lower end, Lord said.
Lord also said one primary defense contractor had informed them that the contractor estimated its impacted cost to be up to $1.5 billion for the company and associated suppliers.
Costs associated with operating during the pandemic but not covered by section 3610, such as purchasing personal protective equipment or stop-work orders, is estimated to cost that contractor more than another $1 billion, Lord said.
No contractors have submitted a claim yet under section 3610 due to the lack of appropriations from Congress, Lord said.
"I believe that they're concerned that they might get a one-time shot and want to make sure what the entire situation is," she said about the claims.
The Pentagon's estimated figure is based on information from talking with contractors about the issues they are facing, and they also have DOD employees talking with management teams and collecting further data, Lord said.
Rep. Joe Courtney, D-Conn., said he believed because Congress had already given authorization for the section that he expected there would also be support for the funding.
kenney.caitlin@stripes.com Twitter: @caitlinmkenney