Pentagon considers redacting names from promotion packets after removing photos
by
Corey Dickstein
July 17, 2020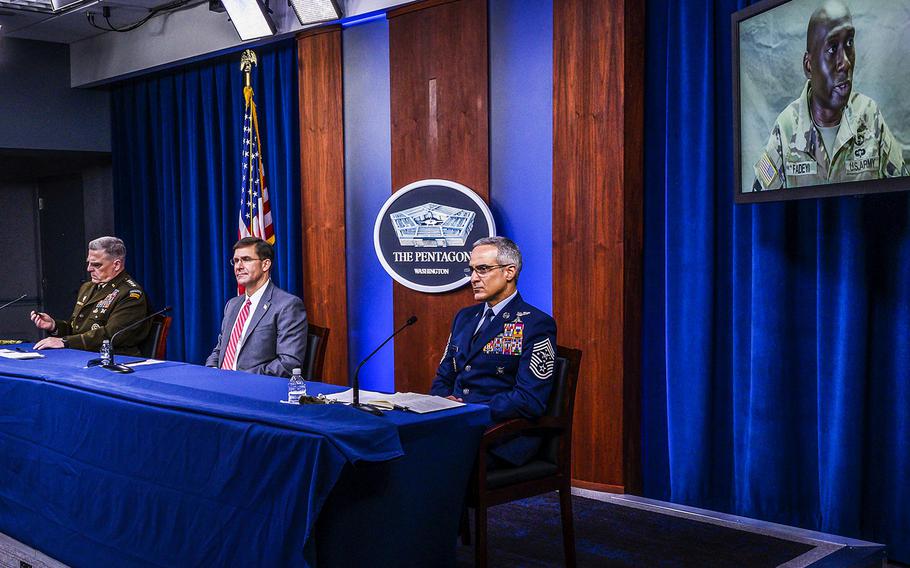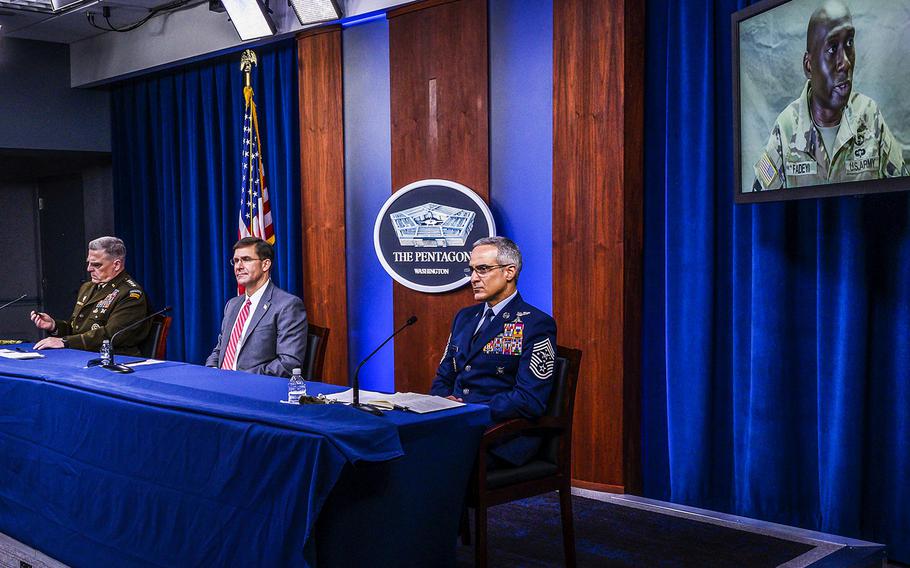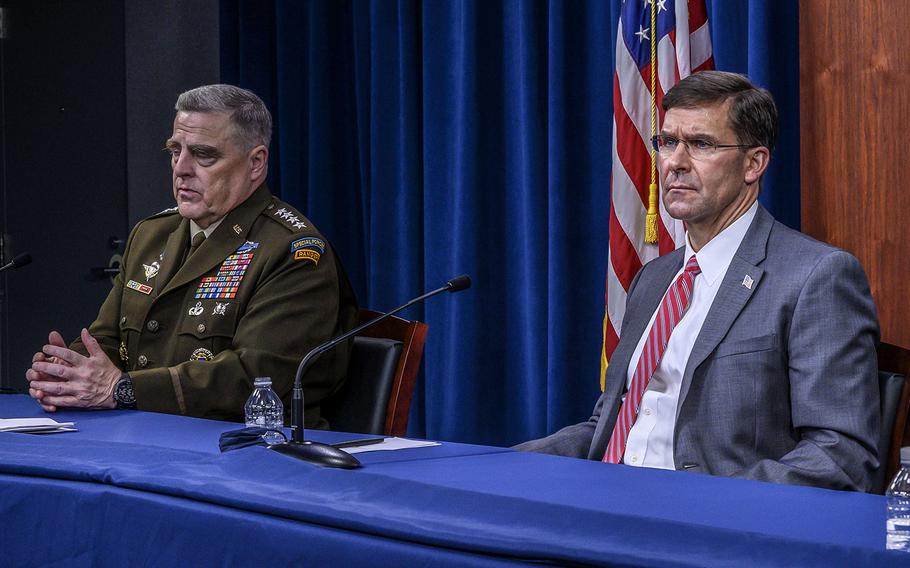 WASHINGTON — Top Pentagon officials said Friday that they are considering new moves to remove information from service members' promotion packets that could potentially lead evaluators to discriminate against them, such as redacting individuals' full names and gender.
Defense Secretary Mark Esper said a task force was created last month to study issues of racism and equality in the ranks to consider whether the inclusion of troops' names and genders could "trigger unconscious bias" in some evaluators. Esper on Wednesday released updated guidance that directed the military services to remove all official photographs from promotion packets later this year. That followed the Army's decision last month to remove photos from its promotions processes.
"We are trying to root these practices out that might enable unconscious bias and things like that," Esper said Friday during a virtual town hall session at the Pentagon alongside Gen. Mark Milley, the chairman of the Joint Chiefs of Staff, and the military's top enlisted service member, Senior Enlisted Advisor to the Chairman Ramon Colon-Lopez.
The subject was raised in a video recording played during the town hall by Army 1st Sgt. Jonathan Fadeyi, who was born in Nigeria and raised in Michigan after moving to the United States when he was 5 years old.
Fadeyi said he was concerned evaluators could determine the gender or race of the service member they were evaluating by reading their name, instead of looking merely at the person's qualifications for advancement.
Esper's new task force is challenged with looking at a wide range of race-related issues within the ranks, including how to train service members to identify their own unconscious biases and to root out practices, policies or cultural norms that might be discriminatory. The services are to develop new training protocols on those issues by Oct. 1.
"When it comes to names and possibility of redacting certain information, we are taking a very holistic look at the way that boards can look at packages by virtue of merit toward promotion," Colon-Lopez said. "That is looking at character, demonstrated abilities and credibility of [the person] based on actions, to go ahead and pick the best person for the best duties."
He vowed improvement in the Pentagon's military promotions systems.
"We can do better when it comes to those boards," Colon-Lopez said.
Esper and Colon-Lopez have in recent weeks conducted listening sessions on racial topics at no fewer than six military installations with more than 100 service members, they said during the event.
The sessions can be uncomfortable, but they have encouraged all military leaders to conduct them with their units to ensure their troops are being treated with respect and feel they have a voice on topics such as race as the entire country examines racial injustice in recent months.
"One of the things is the importance of giving our folks the lexicon — the words, the definitions — to start talking about things like discrimination, and racism, and prejudice to get people conformable with the terms, and then help teach practices … to have those conversations," Esper said. "These are very difficult conversations… [and] I think once you get over that initial reluctance to have that conversation, people will start talking, and you great insights into their experiences [and] their perceptions."
dickstein.corey@stripes.com Twitter: @CDicksteinDC