Pandemic could deepen Air Force's pilot shortage, general says
by
Corey Dickstein
April 10, 2020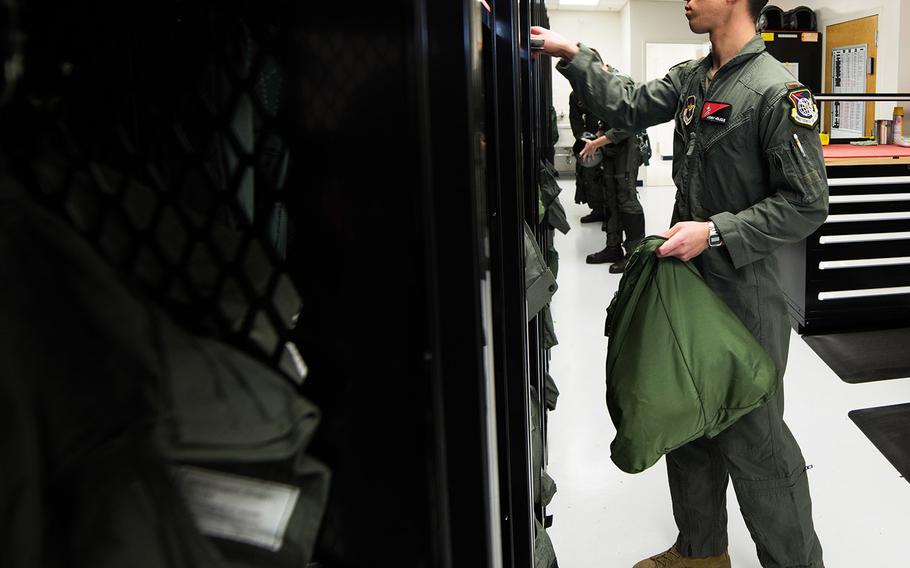 Stars and Stripes is making stories on the coronavirus pandemic available free of charge. See other free reports here. Sign up for our daily coronavirus newsletter here. Please support our journalism with a subscription.
WASHINGTON — Air Force leaders are concerned a reduction in flight training could deepen the longstanding pilot shortage in the service if the coronavirus outbreak in the United States drags on for months, a top general said Friday.
The Air Force has continued training its future pilots, designating flight training as mission essential in the early days of the outbreak, Gen. Brad Webb, the service's training chief, told reporters Friday in a telephone news briefing. But the pandemic has forced the service to cut back the size of its undergraduate pilot training courses and cut the amount of time pilot-trainees spend in the cockpit, he said.
The pandemic comes just as Air Force leaders believed they were getting a handle on the pilot shortage.
Gen. David Goldfein, the Air Force chief of staff, told lawmakers last month that the service remained about 2,000 pilots short of the 21,000 that he believes are needed to meet requirements laid out in 2018 National Defense Strategy. That strategy deems preparations for potential conflict with great-power competitors China and Russia should be the military priority over other national security concerns, such as international terrorism.
Goldfein told the House Armed Services Committee on March 4 that the Air Force was "holding its own" as pilot retention had improved. Nonetheless, he said, the shortage was likely to drag on as the military competes with high-paying commercial airliners for capable pilots.
Webb said it was not yet clear how impactful the pandemic would be on the pilot shortage, but Air Force leaders were looking at that issue and others almost every day.
"It's not helping, obviously," he said
In an effort to reduce the chances of an outbreak of the virus within its flight schools, the Air Force has reduced the size of its pilot-training classes, separating students into small pods of seven or eight students who interact only with themselves and their instructors. Those groups are taking shifts to get flying time, Webb said.
Typically, Air Education and Training Command trains some 3,500 pilots in a year. Webb declined to say how large a reduction he anticipated in 2020 amid the outbreak. The general said he would not tell reporters how much smaller pilot classes are now or provide the number of pilot-trainees who have tested positive for the coronavirus due to security concerns.
The Air Force reported 256 cases of the virus among its active-duty and reserve troops, as of Friday.
Just like pilot training, the Air Force has reduced class sizes for incoming enlisted recruits attending basic military training and job-specific training courses. Webb said he expected all those training courses to continue because the Air Force could not afford to stop taking in new airmen.
Pentagon officials have acknowledged this week the coronavirus could force leaders to consider an unpopular program used in the past known as stop-loss to keep troops in uniform past the dates they were scheduled to discharge.
Stop-loss was last implemented on a wide scale in the 2000s as the Pentagon sought to keep troops in uniform to fight wars in Iraq and Afghanistan. The program allows the military to retain enlisted troops and officers indefinitely, including delaying planned retirements.
Webb said Friday that the Air Force had not reached that point — yet.
"If this were to continue for an extraordinary amount of time — I mean multiples of months— we would probably … have to continue to assess when we would have to take other measures," such as stop-loss, the general said. "We're not there at this point."
Defense Secretary Mark Esper on Thursday said such a decision was unlikely and would be "a measure of last resort."
Nonetheless, Webb said leaders in his service were discussing stop-loss and other options almost daily to ensure the service keeps enough airmen, including pilots.
He said the coronavirus outbreak ultimately could actually lead some people to commit to military service or stay in the Air Force longer than they initially planned.
"Generally, you see in times of crisis [increased interest in the military] — 9/11 is another great example of that — it's patriotism or job opportunity or what have you," Webb said. "We generally see those who are getting out [soon] or who recently got out want to return to service, inside of our Air Force."
dickstein.corey@stripes.com Twitter: @CDicksteinDC
---
---
---
---