Other upgraded Army medals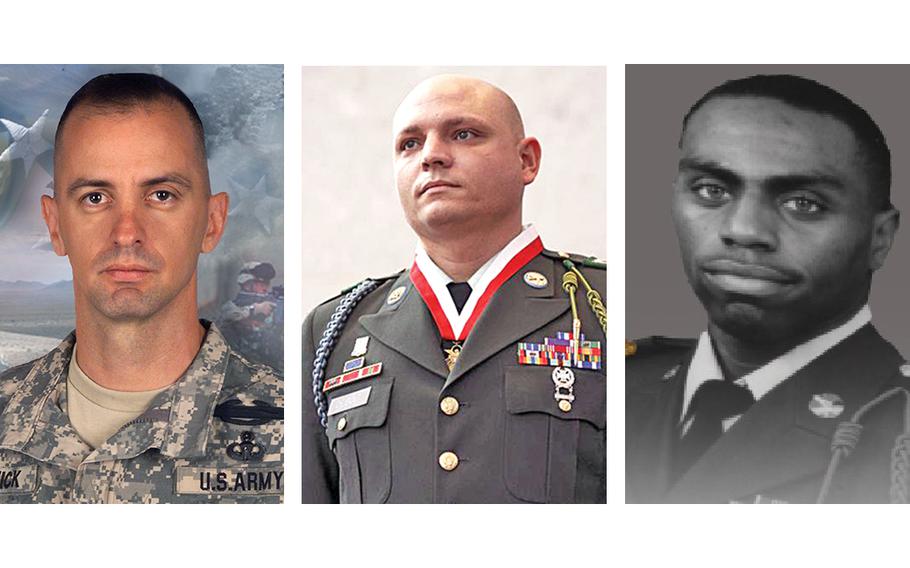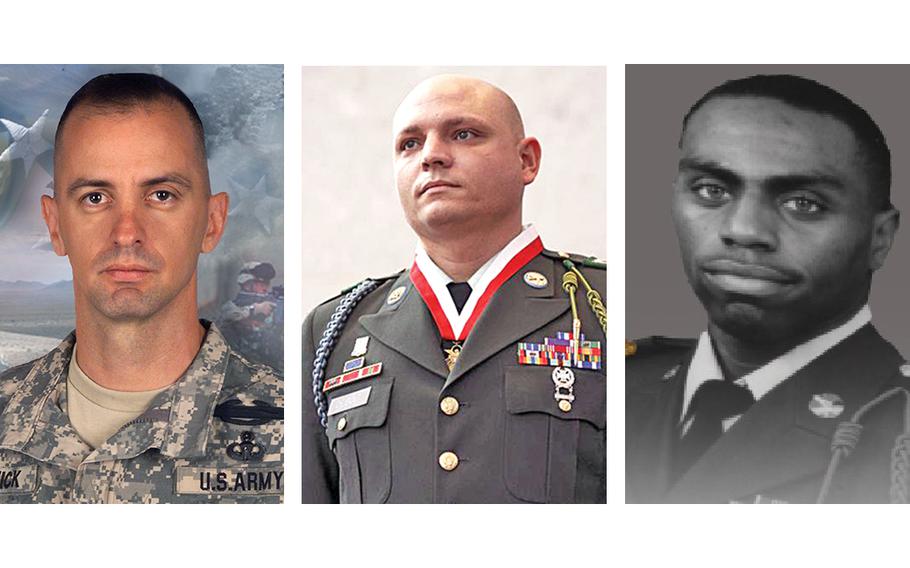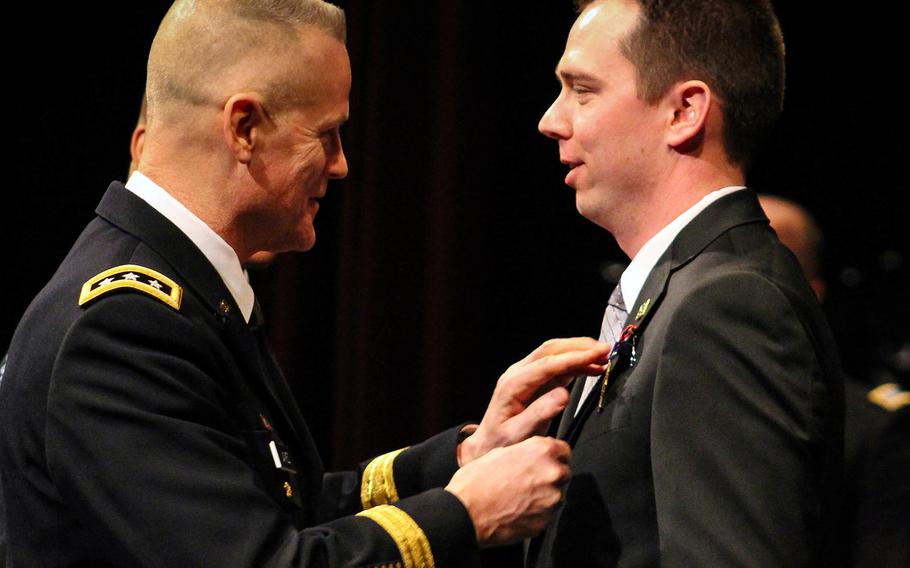 The Army's review of its post-9/11 medals resulted in 16 upgrades from the Silver Star to the Distinguished Service Cross. Twelve of those medals will be presented this year. In addition to retired Sgt. Daniel Cowart, the Army has released the names of four other recipients.
Staff Sgt. Stevon A. BookerA medal upgrade ceremony for the late Staff Sgt. Stevon A. Booker will be held April 5 in Pittsburgh, Pa.
On April 5, 2003, while serving as a tank commander with Company A, 1st Battalion, 64th Armor Regiment, 3rd Infantry Division, Booker's platoon led a task force toward Baghdad International Airport. When the enemy attacked, he and his crew's machine guns malfunctioned. Booker laid flat on top of the tank's turret and used his weapon against enemy forces while also providing accurate information about the enemy's vulnerabilities. Booker remained exposed on top of the tank for nearly five miles and was mortally wounded. This offensive attack into Baghdad became known as Thunder Run.
Maj. Thomas G. BostickA ceremony for the late Maj. Thomas G. Bostick was held March 1 at Fort Carson, Colo.
Bostick was killed in action near Kamu, Afghanistan on July 27, 2007. His brother, retired Master Sgt. Bobby Bostick accepted a framed award citation on behalf of the family.
On July 27, 2007, as the commander of Troop B, 1st Squadron, 91st Cavalry Regiment, Bostick's unit defeated an enemy attack. While collecting casualties, the soldiers were attacked again. Bostick positioned himself between the enemy and exposed soldiers. Though he was mortally wounded, his actions allowed other soldiers time to retreat through hazardous terrain to seek cover and survive the attack.
Capt. Andrew L. BundermannA ceremony for Capt. Andrew L. Bundermann took place March 7 at the University of Minnesota, in Minneapolis.
On Oct. 3, 2009, while serving Combat Outpost Keating, Afghanistan, as the acting commander of Troop B, 3rd Squadron, 61st Cavalry Regiment, Bundermann, then a 1st lieutenant, worked with two other soldiers to set up the only remaining communications platform during an attack from more than 400 enemy fighters. With only 53 soldiers on the outpost, Bundermann used the platform to coordinate mortar teams and supporting artillery to neutralize a key strategic position of the enemy. He then reallocated forces and led a bold counterattack that led to the successful defense of the outpost. Known as the Battle of Kamdesh, former Staff Sgts. Clint Romesha and Ty Carter received Medals of Honor for the same battle. The events were the subject of a book by CNN host Jake Tapper that will be made into a movie.
Sgt. Robert K. DeboltA ceremony for Sgt. Robert K. Debolt will take place March 28 at Fort Riley, Kan.
On Sept. 4, 2008, while serving in Afghanistan as an infantryman with Company C, 2nd Battalion, 2nd Infantry Regiment, Debolt, then a private, was driving a vehicle in an escort convoy that was attacked. His vehicle struck a roadside bomb and was almost immediately engulfed in flames. Debolt exited the vehicle, while on fire himself, and saved two other soldiers from the wreckage.