Video
'One of the bravest': Trump presents Medal of Honor to soldier for his heroics in ISIS-hostage rescue
by
Corey Dickstein
September 11, 2020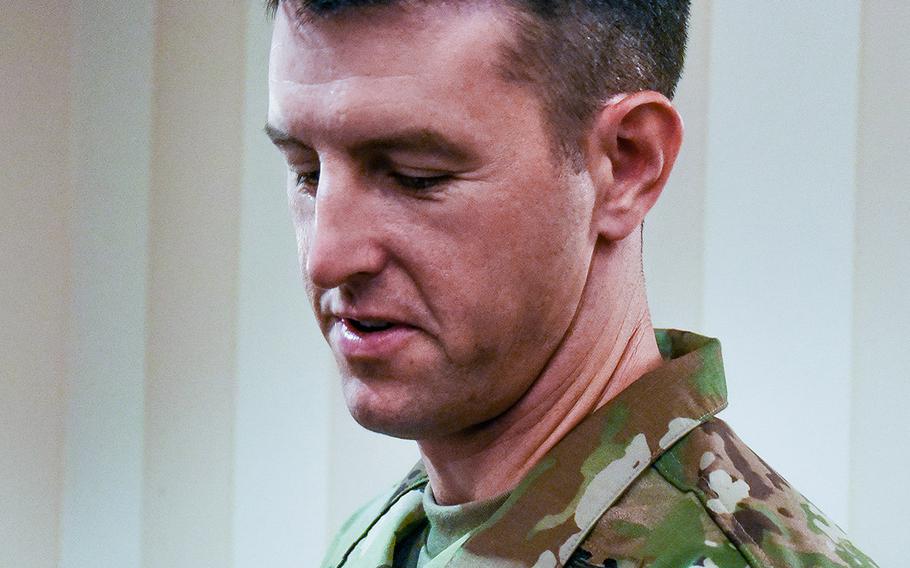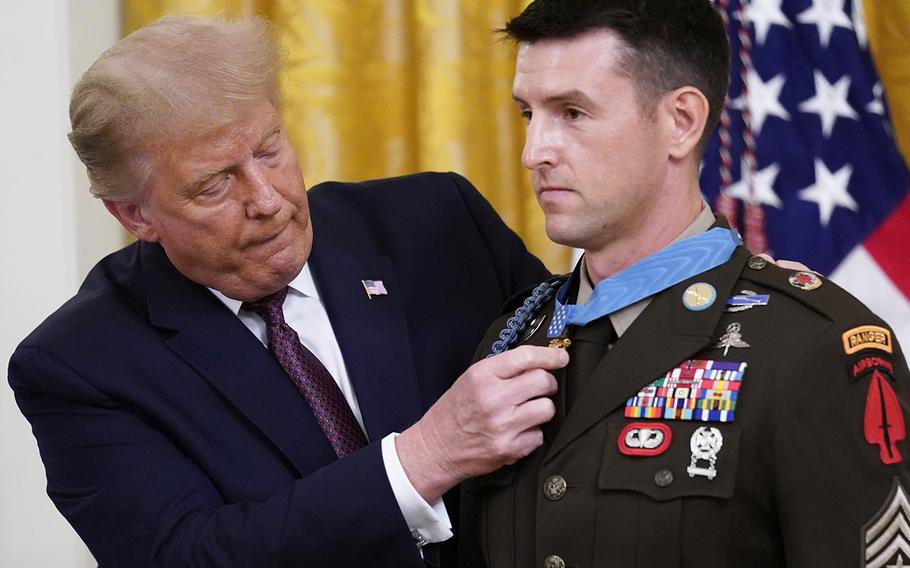 WASHINGTON — Gunfire ripped through the air and suicide-vest explosions rattled the ground as then-Sgt. 1st Class Thomas Patrick Payne peered inside the burning building where dozens of Islamic State-held prisoners remained locked in cells.
He knew he needed to move quickly or the hostages would burn to death, the longtime Army special operator said. He entered the building, exposing himself to machine gun fire, and with a set of bolt cutters, freed the prisoners from the jail in the northern Iraqi city of Hawija.
For his actions in the Oct. 22, 2015, raid, which ended with the first American service member killed by ISIS since the U.S. return to Iraq in late 2014, Payne, now a sergeant major, was presented the Medal of Honor on Friday by President Donald Trump. The award is an upgrade of the Distinguished Service Cross that Payne was initially awarded in 2017. He is just the second living service member to receive the nation's highest honor for combat valor for actions in Iraq.
Wearing his brand new World War II-inspired Army Green service uniform, Payne cracked a slight smile after Trump placed the medal around his neck, peering around the soldier's side to ensure it was straight.
Payne is "one of the bravest men anywhere in the world," Trump told an audience in the East Room of the White House, which was filled with senior Pentagon officials and the soldier's family.
"Pat, you personify the motto Rangers Lead the Way, and you inspire us all," the president said.
In an interview Wednesday, Payne, 36, struggled to describe his feelings about receiving the Medal of Honor, which he said should be credited to the troops with whom he served on the battlefield that day and the dozens of mentors who shaped him into one of the Army's most elite special operators.
"It's a different feeling," said the veteran of 17 combat deployments. "It's hard to describe. You hear stories of other Medal of Honor recipients. And for me, I don't consider myself a recipient, I consider myself a guardian of this medal, and the legacies of my teammates will live on with this Medal of Honor."
That includes the legacy of Master Sgt. Joshua Wheeler, who was killed by enemy fire during the raid, and who posthumously received the Silver Star, the nation's third highest honor for valor, for his own actions that day.
Wheeler's wife, Ashley, was among those in attendance Friday to witness Payne receive the Medal of Honor.
'No-fail mission'
Payne's unit — a task force of elite members of the U.S. Army Special Operations Command and special forces from the Iraqi Kurdish peshmerga — spent more than a week preparing for the hostage rescue mission behind enemy lines. By nature, hostage rescues are among the most dangerous missions that U.S. troops execute.
It was not Payne's first hostage rescue mission. Twelve years earlier as a young private, he had participated in the operation to free Pfc. Jessica Lynch from her Iraqi military captors. There were other hostage rescues in between, he acknowledged Wednesday.
Like the others, Payne said, the 2015 operation was "a no-fail mission."
The task force was alerted ISIS had dug new graves at the prison compound, where some 70 hostages were being held in Hawija. At that point, Payne said, quick action became critical.
"If we didn't [raid] this target then these hostages would probably be executed," he said.
The firefight broke out immediately as the CH-47 Chinook helicopters dropped off Payne and the other U.S. and Kurdish soldiers under the cover of darkness. The teams split into two forces, sending Payne into the first prison building, where 37 hostages were held.
The firefight grew heavier at the other building as Payne prepared to enter the first prison. They heard over the radio that a U.S. service member was hit — Wheeler. Payne recalled the Kurdish fighters struggling with the news that one of the Americans had been shot. But the mission had to continue, he said.
"Our partner force needed some strong inspiration and leadership, and that's when one of my teammates looked them right in the eyes and said, 'Follow me'," Payne recalled. "I mean, it was kind of one of those moments, you're like, 'Wow. This is pretty awesome.' And at that point, you know that personal courage is contagious on the battlefield.
"Once you're able to control your fears, that's a bridge to personal courage."
The team entered the first building and freed the hostages with bolt cutters. The prisoners' eyes lit up, Payne recalled. Some cried.
Meanwhile, a fire had broken at the other building where the battle continued. Payne made his way there.
"I told my teammate, 'Hey, let's get in the fight,'" he recalled. "It was just, 'Hey, let's go.'"
The second building
Payne and another soldier made an unsuccessful attempt to enter the burning building from the roof. Suicide bombs shook the building as he tried to find an entry point.
With cover from his comrades, Payne entered the building with the bolt cutters, freeing hostages from several cages.
"That's when we hear over the radio that the building is starting to collapse," he said. "So, we're being shot at, the building's on fire, and it's starting to collapse. We have hostages still inside and part of our partner forces inside the building, too."
Mission leadership called for a mandatory evacuation. The team worked to get the hostages and Kurdish forces moving out of the building. Payne stood, pointing the way out "basically like a third base coach," he said.
He noticed one hostage, a large man, was not making any effort to flee.
"He had basically given up on life," Payne said. "I basically grabbed him by the back of the collar and pulled him out of that building."
"He saved multiple hostages, and he was the last man to leave," Trump said Friday, describing the battle that left some 20 ISIS fighters dead. "He wouldn't leave no matter what they said, no matter who ordered him to do it. He wouldn't do it. He was the last one out."
The president described the raid as among the "most daring" in U.S. military history.
The grueling nature of the battle did not dawn on Payne until he was back on the helicopter traveling out of ISIS-controlled territory.
"It hit me for the first time, you know, it was like what did we just do?" he said. "It was the epitome of teamwork to liberate these hostages."
He learned of Wheeler's death shortly after landing. Payne lauded Wheeler's actions that day.
"He knew what had to be done, and he didn't hesitate," Payne said of Wheeler. "He looked at his teammates and gave the order, 'On me.' And then he ran to the sound of the gunfire."
A special moment
Payne received the Medal of Honor on the 19th anniversary of the 9/11 terrorist attacks, the primary event that convinced him to join the military, as thousands of other Americans did.
He said Wednesday that he expected he would be thinking of the firefighters and others who rushed to respond that day in New York City and at the Pentagon and the other service members who have volunteered to fight since 2001.
"You think about them, you think about our country," he said. "I'll think about my teammates, you know."
Payne enlisted in the Army shortly after graduating high school in South Carolina in 2002.
After watching live news coverage of the twin towers collapsing, he knew he wanted to fight.
After some research, he aimed to join the Army's elite 75th Ranger Regiment, whose Rangers were among the first soldiers sent into Afghanistan after the 9/11 attacks.
After initial entry training and completing the Rangers' grueling selection process, Payne arrived at the 1st Battalion, 75th Ranger Regiment at Hunter Army Airfield in Savannah, Ga., early in 2003. He was sent to Iraq, where the United States had just invaded, for his first combat experience not long after his arrival at the unit.
"I wanted to have the opportunity to serve with the best, and that's why I chose to serve in the [Ranger] Regiment when I first joined the military," Payne said.
In 2007, he was selected to join the Army's most elite units within its Special Operations Command at Fort Bragg, N.C., where he has since served several deployments to Afghanistan, Iraq and in support of counterterrorism operations in Africa.
Now an instructor at Fort Bragg, he has earned numerous valor awards for battlefield heroics, including Bronze Star Medals with combat "V" for valor, a Joint Service Medal with Combat "V" and Army Commendation Medals with Combat "V."
He is also a Purple Heart recipient, which he received after he was injured in battle in Afghanistan in 2010. It was while recovering from those wounds, which left shrapnel permanently embedded in his leg, that he met his wife, Alison.
Payne credits Alison with helping him get back in shape, which ultimately save his Army career.
"She was a dual-sport athlete in college, and she just helped me start running again and got me on my feet," he said. "If I didn't get my knee to bend again, basically … I was going to have to think about different career paths."
Instead, as he recovered, he decided he wanted to accomplish another feat in the military — to win the grueling 60-hour Best Ranger Competition. In 2012, alongside his Ranger partner Master Sgt. Kevin Foutz, he accomplished that goal.
It was one of the highlights of his career, he said.
"Looking back at it, [I] learned a lot from that competition," Payne said. "It teaches you .. that you've got to push yourself to a limit that you didn't know existed, to actually win that competition, and you can take the lessons learned from that competition and apply it to combat."
Those lessons were critical as he cleared that burning building under fire in October 2015, he said. They will be critical as he continues his Army career, which he aims to extend well into the future.
"I still want to serve to this day," Payne said. "We're still a nation at war, and I still want to serve my country."
dickstein.corey@stripes.com Twitter: @CDicksteinDC