GALLERY
'Old Guard' honors the fallen through Arlington National Cemetery's Flags-In
by
Meredith Tibbetts
May 25, 2018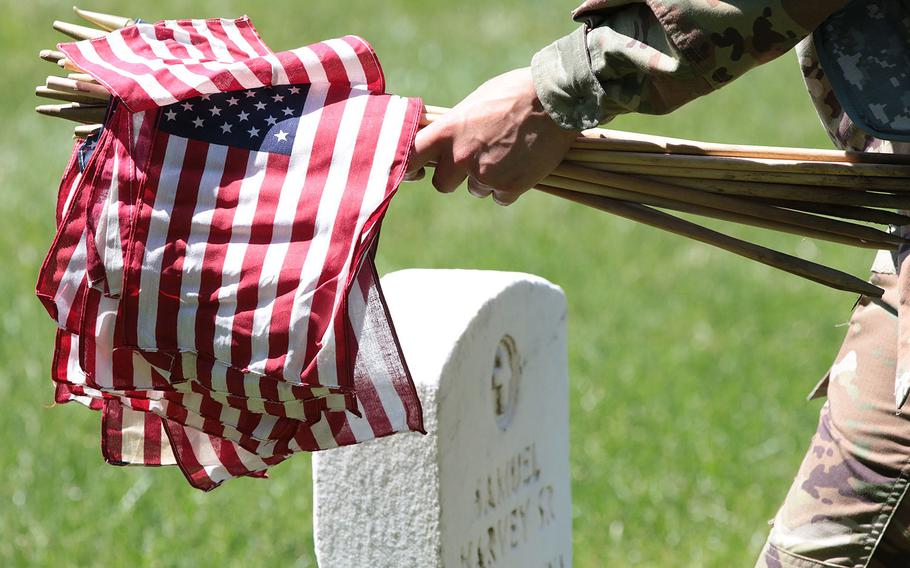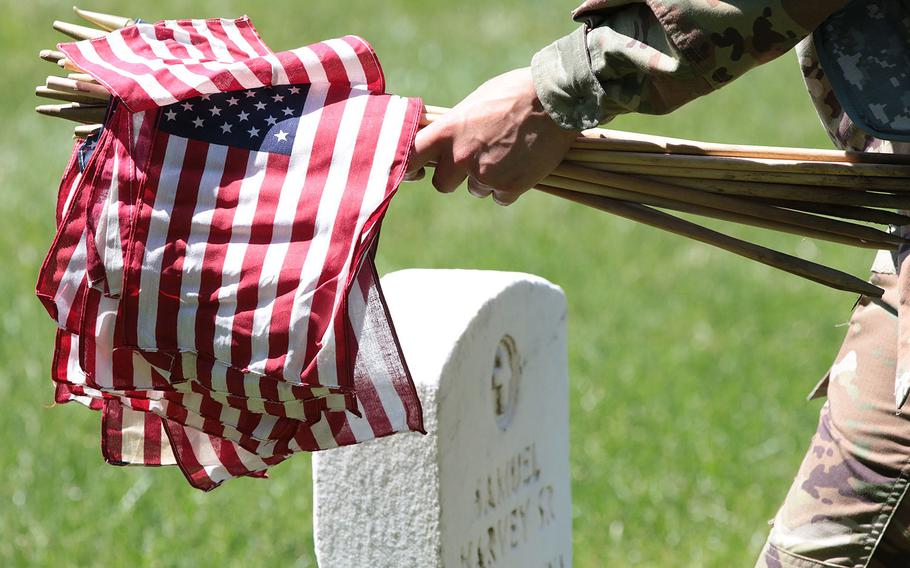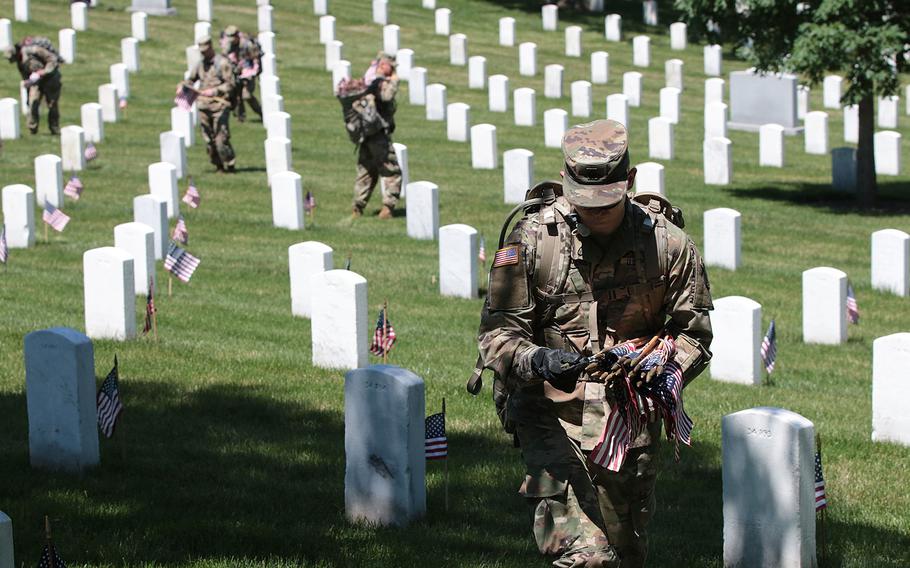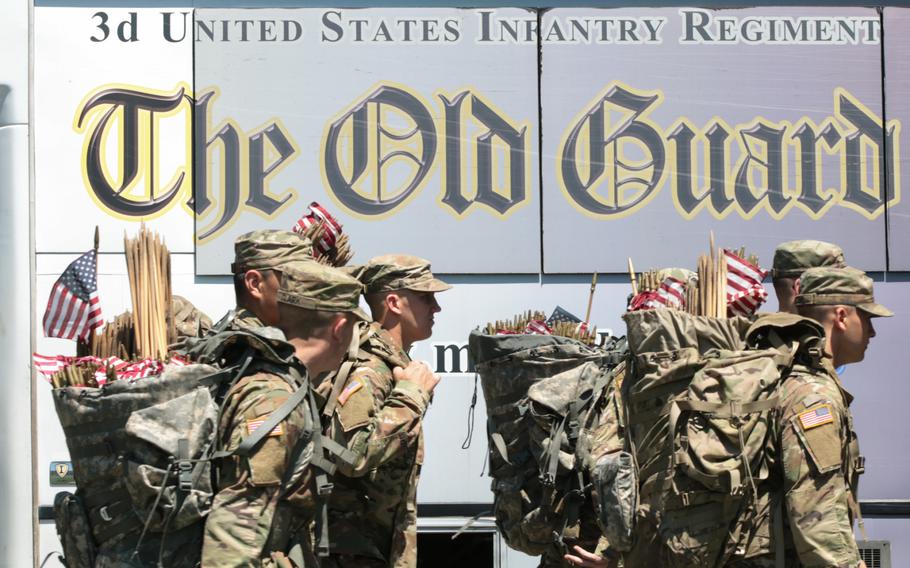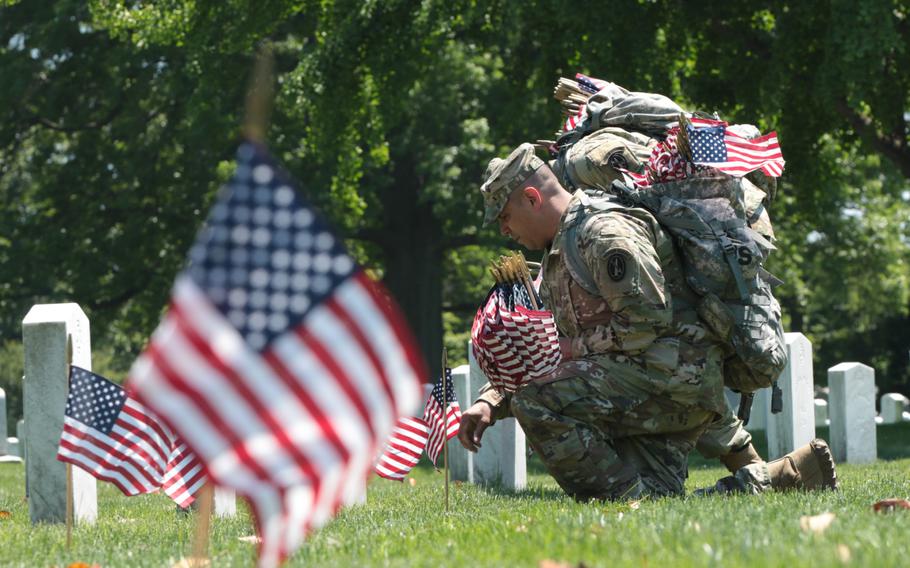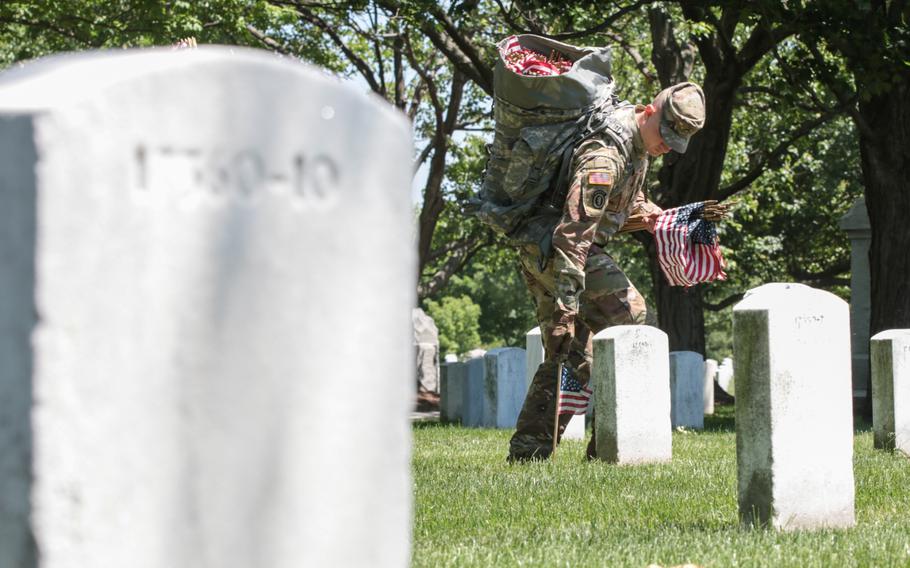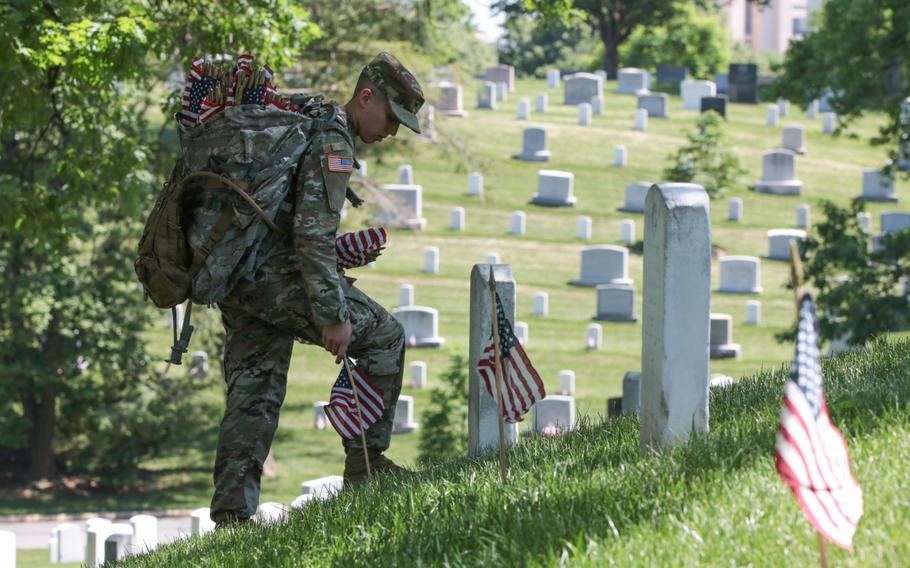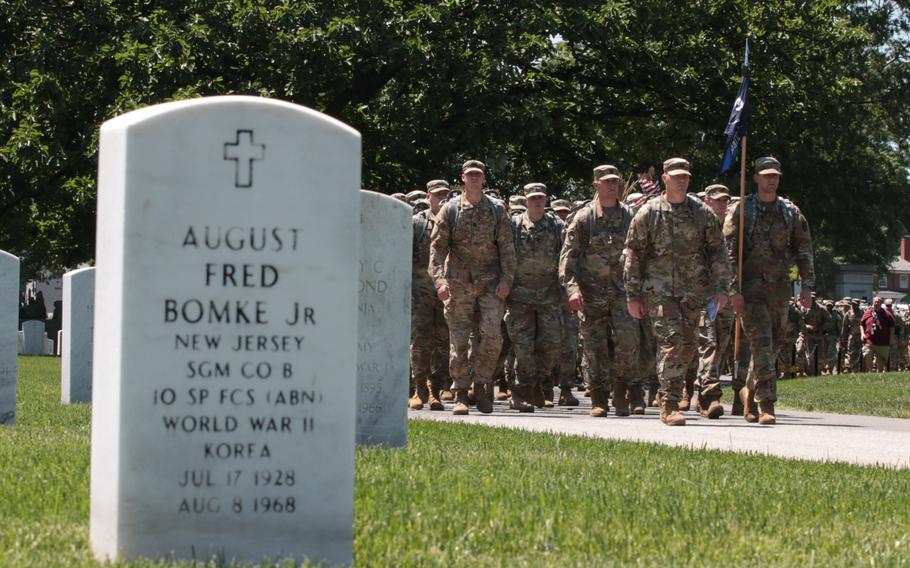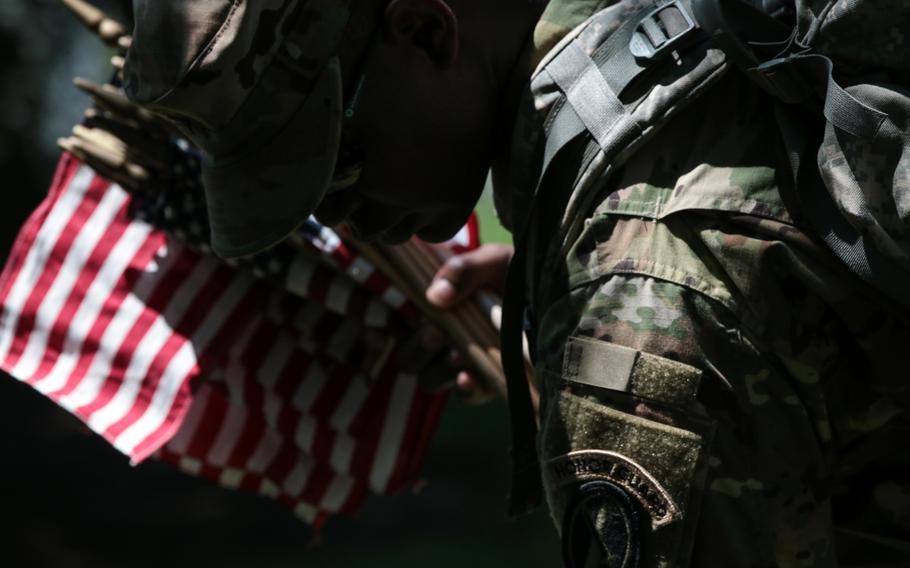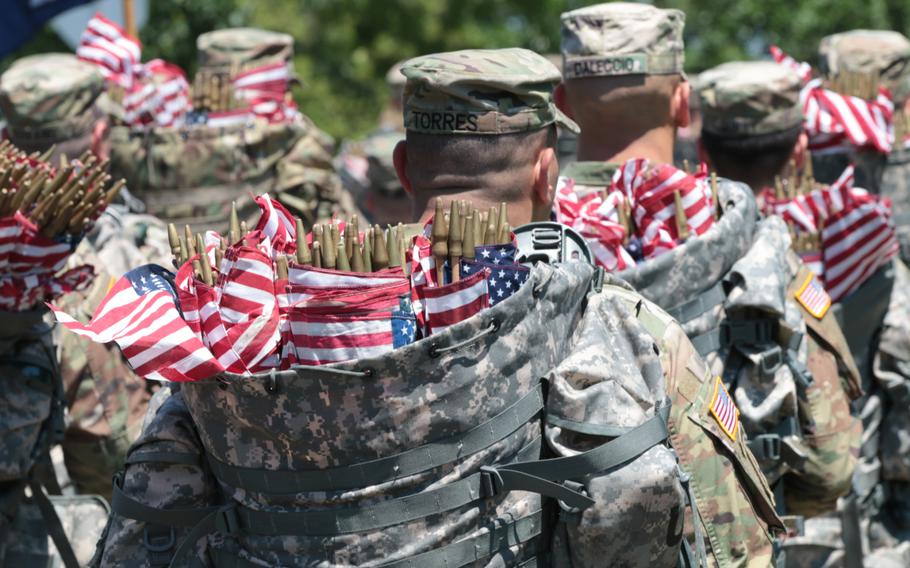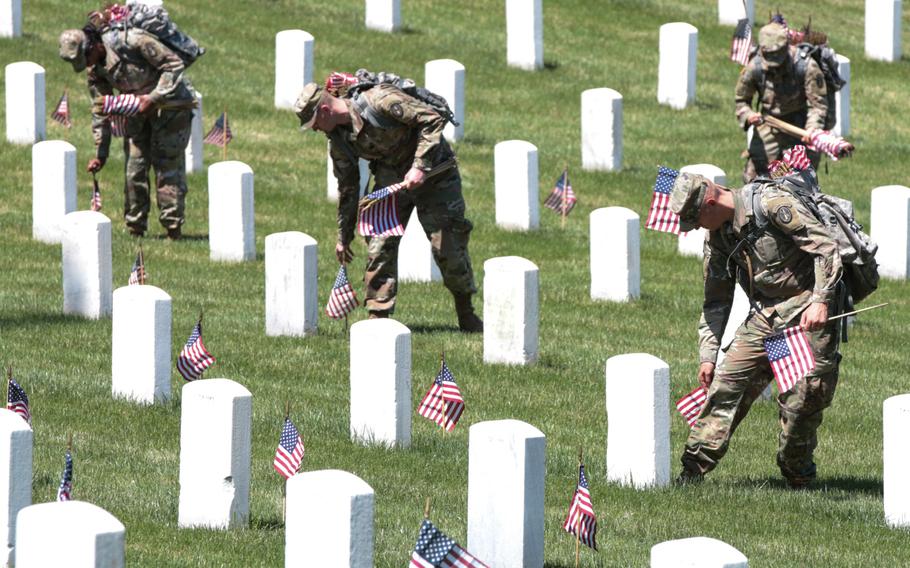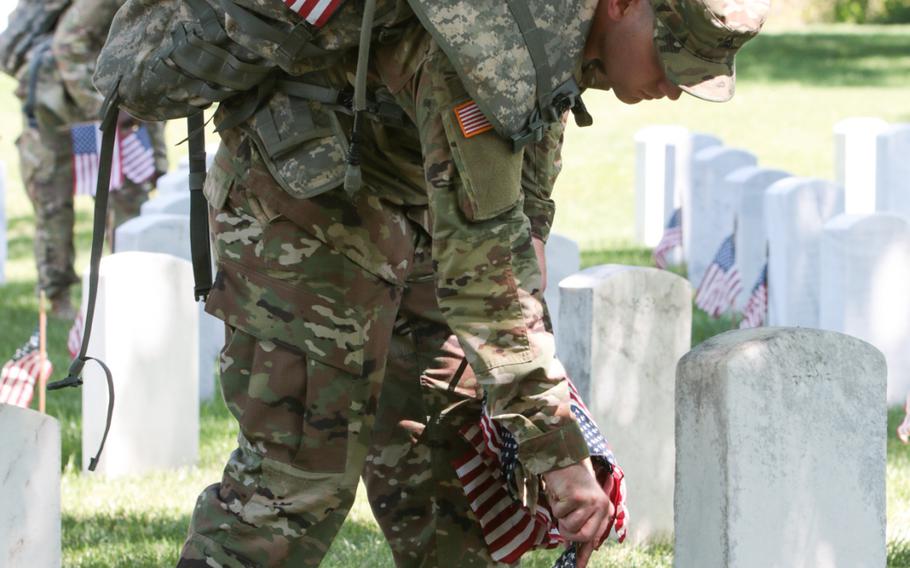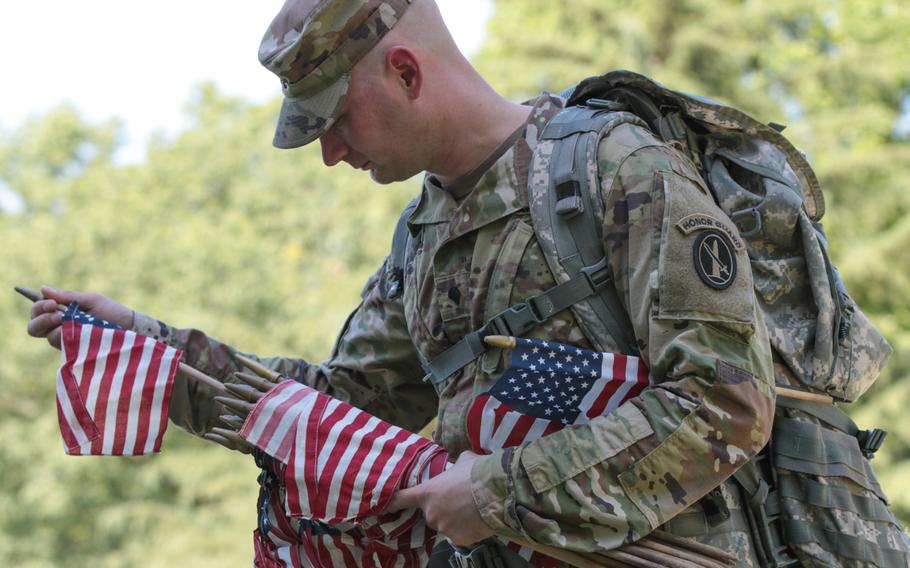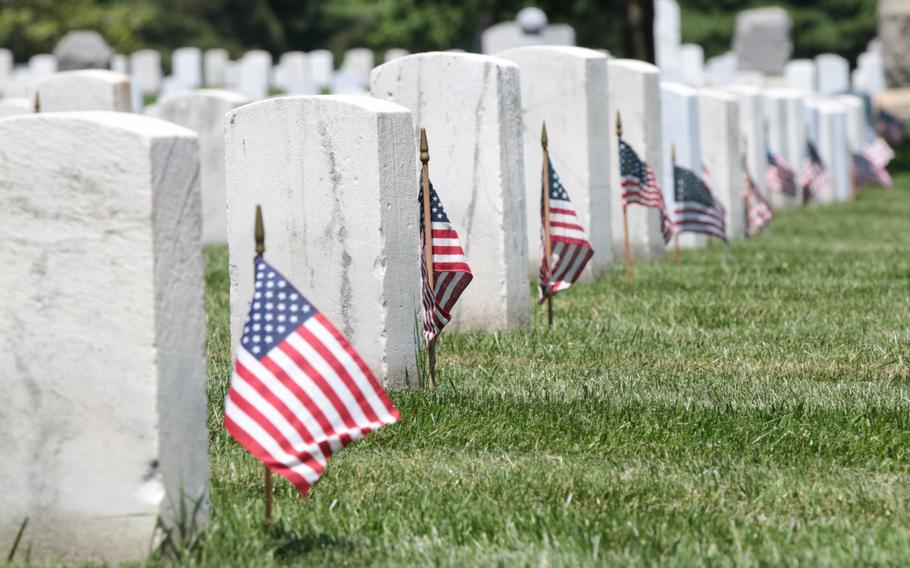 ARLINGTON, Va. —One boot length, and one pause to take a mental reading of the name displayed before him. With the tip of his boot close to the headstone, a soldier with the U.S. Army's 3rd Infantry Regiment, known as the Old Guard, plants an American flag at his heel. And then he does it again for the next headstone in the neatly lined rows.
Old Guard soldiers repeated this somber action Thursday until every grave marker at Arlington National Cemetery had a flag in front of it as part of Flags-In, a pre-Memorial Day Army tradition.
"Each tombstone that I place a flag on, I tell myself to repeat the name," Spc. Oneish Simpson said. "They say that you live twice: One (time) when you are born and you are given a name, and one when you pass away and the name stays there. To be able to come out here and mention it, it's kind of bringing that person back. It's paying respects to what they have done."
It was Simpson's first year participating in Flags-In.
"I've heard about it, I've seen pictures, but to actually be here in this capacity is a humbling experience," Simpson said.
Maj. Rob Lodewick, public affairs officer for 3rd Infantry Regiment, said about 900 Old Guard soldiers placed about 234,000 flags throughout the cemetery.
"The Old Guard has been doing Flags-In since 1948 — 70 years," he said.
Every available soldier in the regiment participates, according to cemetery officials, and the event lasts four hours.
"It's for reflection on the sacrifices that have been given before. … Simpson said. "You don't really have an appreciation for what you have now until you see how it's paved for you, who risked their lives and gave the sacrifice, paid the ultimate price for you to be where you are today."
It's all about honoring fallen heroes, Sgt. Zachary Bartlett said. "It's truly an honor for everyone out here to be placing the flags on all the graves here today."
It was also Bartlett's first year doing Flags-In, and he said it was a bit overwhelming.
"People sometimes underestimate it," he said.
Spc. Gerardo Contreras Jr., who has been in the Army for 3½ years, has been with the Old Guard since the start of his career. He said the servicemembers buried at Arlington "put down the most that they could. They put down their lives for us, for America. All we can do is honor them and do what we can for them."
tibbetts.meredith@stripes.com Twitter: @mjtibbs