Offutt Air Force Base remains under water, cancels summer air show
by
Rose L. Thayer
March 20, 2019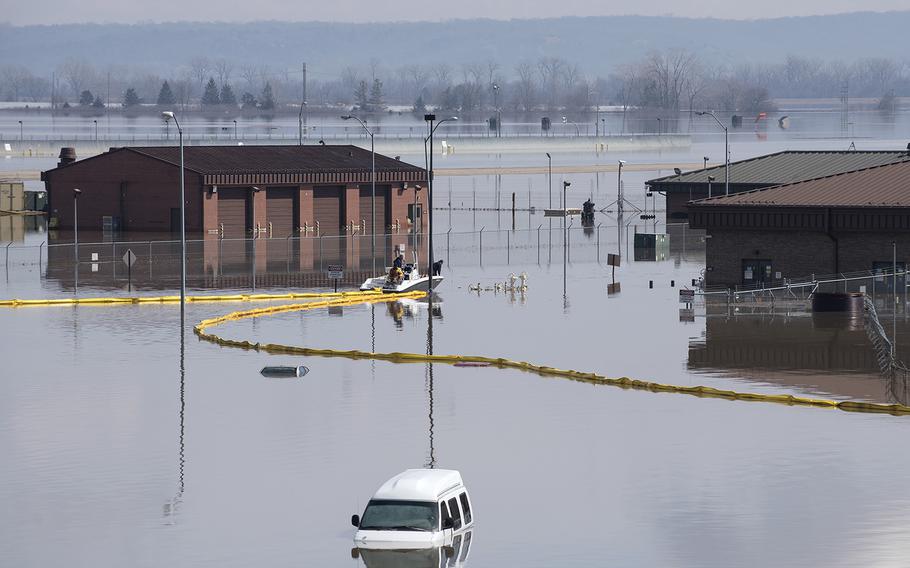 Military leaders and cleanup crews were still waiting Wednesday for water to recede at Offutt Air Force Base in Nebraska where the airfield and in several buildings on the southeastern portion of the base remain flooded after heavy rain and historic levels of melting snow poured into regional rivers.
"We are still in recovery mode," said Ryan Hansen, spokesman for the 55th Wing, which oversees operations of the base located just west of the Missouri River.
Flooding began Friday at Offutt, as well as across Nebraska and other states along the Missouri River. Hundreds of homes have been evacuated and many farms impacted. Areas south and also along the Mississippi River are bracing for possible flood waters.
At least 17 high-water records have been set across Nebraska, where 660 people are in evacuation shelters and the National Guard and State Patrol have had to rescue more than 175 people, the Nebraska Emergency Management Agency said in a statement, reported The Associated Press.
The water at Offutt receded enough to allow the base to reopen a previously closed access gate and all personnel returned to work Tuesday, Hansen said. About 10,000 personnel report to the base each day, and about 6,500 are active-duty servicemembers.
Flood waters are expected to continue to recede through the week and Hansen said base officials plan to have environmental crews along with engineers and the fire department determine building safety and survey damage. About 30 buildings flooded and at the water's peak, one-third of the base was covered.
Preventive measures to mitigate fuels leaks at the airfield appeared to be successful, as no leaks or line breaks have been detected, according a news release posted to Offutt's Facebook page.
"After reviewing aerial photos of the areas of the installation affected by flooding, base officials identified a sheen on top of the flood water near the fuel storage area. More than 3,700 feet of boom was deployed to ensure any possible fuel leak was contained," the release stated. "Closer examination, by boat, at the site, leads base officials to suspect the sheen is actually caused by residual fuel from submerged equipment. Again, there is no evidence of a ruptured tank or a fuel line leak."
One of the base's older storage tanks collapsed in the water, but it was empty and no longer in service, the release stated.
"We are continuing to monitor the area with support from members of the [Environmental Protection Agency] Region 7 emergency response team," said Col. Michael Manion, 55th Wing commander. "There is no threat to personnel at this time and we are committed to ensuring compliance with all environmental procedures moving forward."
Officials continue to test the base's drinking water and it remains safe to drink, the release stated.
To focus on recovery, an annual air show scheduled for June was canceled. It typically draws about 150,000 people to Offutt to view the 55th Wing's RC-135s, fixed-wing reconnaissance aircraft, along with aircraft from across the Air Force and other branches of the military, Hansen said. The Air Force Thunderbirds were scheduled to appear at the show.
Camp Ashland, a National Guard training site about 25 miles west of Offutt on the Platte River, was completely underwater earlier this week and remains inaccessible.
About 200 members of the Nebraska National Guard also continue to support recovery efforts across the state, said Master Sgt. Michael Houk, spokesman for the National Guard. Missions include traffic control, administrative support to the state's emergency operations center, and aircraft drops of sandbags at Cooper Power Station, two levees and Lincoln Power Station. Three UH-60 Blackhawk helicopters and one UH-72 Lakota helicopter remain on standby for search and rescue and medevac missions.
thayer.rose@stripes.com Twitter: @Rose_Lori