Offices of housing company raided at Tinker Air Force Base in probe of asbestos exposure in base residences
by
Rose L. Thayer
January 17, 2020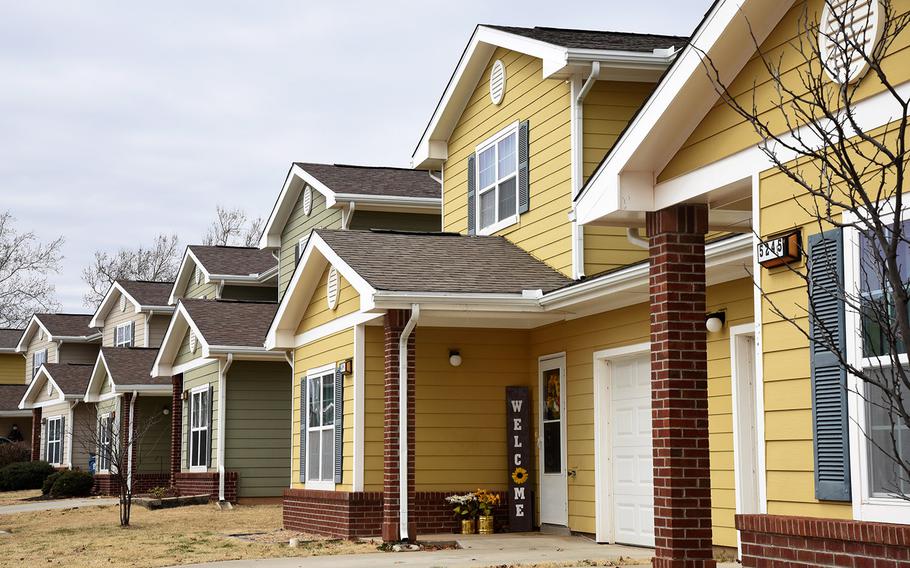 AUSTIN, Texas — The offices of housing company Balfour Beatty Communities at Tinker Air Force Base in Oklahoma were raided Tuesday by Air Force and Environmental Protection Agency investigators searching for evidence in an investigation that families in base housing were exposed to asbestos.
Sen. Jim Inhofe, R-Okla., said Thursday in a statement that the agencies were investigating suspected Clean Air Act violations by Balfour Beatty, the private company that manages housing on the base.
"While this matter is still very much under investigation, should these or any of the other ongoing federal investigations be substantiated, Balfour Beatty and those who perpetrated any wrongdoing against our military families must be held accountable to the fullest extent of the law," said Inhofe, chairman of the Senate Armed Services Committee.
Officials for Balfour Beatty said in a statement that the EPA's investigation is related to asbestos flooring removal that was reported in September.
"When that event occurred, [Balfour Beatty] promptly and voluntarily reported the incident to the local Oklahoma Department of Environmental Quality. The company will continue to cooperate fully with the investigation," according to the statement.
Linda Card, spokeswoman for Air Force Office of Special Investigations, confirmed Thursday that investigators from both agencies executed a search warrant at Balfour Beatty offices and seized evidence. Because the investigation remains open and ongoing, no further information is releasable, she said.
Private companies that manage military housing have been under increased scrutiny following an investigative report last year by Reuters that exposed the sometimes dangerous conditions of base housing for families. Several congressional hearings followed where military spouses have testified about rodent and insect infestations, mold and asbestos inside homes and toxic hazards such as lead paint.
In a letter from Balfour Beatty officials to Oklahoma environmental officials, the company wrote a contractor performing floor replacements in homes at Tinker AFB's McNarney Manor neighborhood used an unlicensed subcontractor to remove asbestos-containing vinyl and linoleum flooring without filing required notifications or employing appropriate work practices.
The contractor performed work in September in up to 30 houses, including 20 homes that had asbestos flooring, according to the company's letter. Balfour Beatty officials wrote they were working with base commanders to notify and relocate affected residents so a licensed asbestos-abatement contractor could enter the homes and clean properly.
Further review found that in the previous year, the same company had torn up flooring in 13 homes that contained asbestos, according to the letter. Those residents were also relocated for cleaning. "[Balfour Beatty] reported these findings to base command, and has instituted a jointly agreed upon action plan with the Air Force to relocate residents in the 13 occupied units, in advance of mobilizing licensed asbestos-abatement contractors to clean and perform air testing in each unit," according to the letter.
The EPA declined to answer questions about Tuesday's events, referring all inquiries to the U.S. Attorney's Office in the Western District of Oklahoma. Travis Smith, a spokesman for the district, said investigators "engaged in conduct in accordance with a lawful court order."
Balfour Beatty, which oversees 43,000 homes for the Air Force, Army and Navy at 55 installations, also faces a federal investigation by the FBI and the Air Force regarding allegations of falsifying work orders at Tinker Air Force Base in order to earn financial incentive bonuses. Richard C. Taylor, the company's president of facility operations, renovations and construction, addressed this investigation during testimony at a December hearing of the House Armed Services Committee's subpanel on readiness.
"We take the issue of fraud seriously, including the allegations that certain members of our staff handled work orders inappropriately, and we are cooperating with the Department of Justice with regard to their investigation into these allegations," he said at the hearing.
Additionally, the company has hired an accounting and audit firm to conduct a forensic accounting review of Balfour Beatty's requests for incentive fees, Taylor said.
The fraud allegations stem from joint reports from Reuters and CBS News that Balfour Beatty falsified work order records in order to receive bonus payouts at three Air Forces bases -- Tinker Air Force Base, Travis Air Force Base in California, and Fairchild Air Force Base in Washington.
Employees of Balfour Beatty provided service officials maintenance logs that showed maintenance work was completed in the time allotted for the company to receive the incentive pay, while other logs held by the Balfour Beatty showed the work took longer to complete, according to the joint news report. They reported some military family members living in the housing locations were exposed to sewage spills, vermin and mold outbreaks.
In response, John Henderson, the assistant secretary of the Air Force, said in a July statement that he ordered about $4.3 million in incentive fees be withheld until Balfour Beatty completed an internal assessment.
In a September letter from Henderson to Balfour Beatty management, he referenced the asbestos flooring incident at Tinker as one of several problems at Air Force bases where the company manages housing as leading to his decision to request a performance improvement plan from the company.
"These failures are unacceptable and have seriously eroded confidence by senior Air Force leadership in [Balfour Beatty's] ability to provide military families with safe, quality housing," Henderson wrote. "Unless the Air Force sees prompt and substantial improvement in BBC's performance at all 21 housing privatization project sites, and specifically Tinker Air Force Base, we intend to initiate formal action under the dispute provisions of the project documents for certain [Balfour Beatty] projects where serious performance failures have not been resolved or continue to arise."
Stripes reporter Corey Dickstein contributed to this report.
thayer.rose@stripes.com Twitter: @Rose_Lori