Odierno: Budget cuts could impact training, deployment
---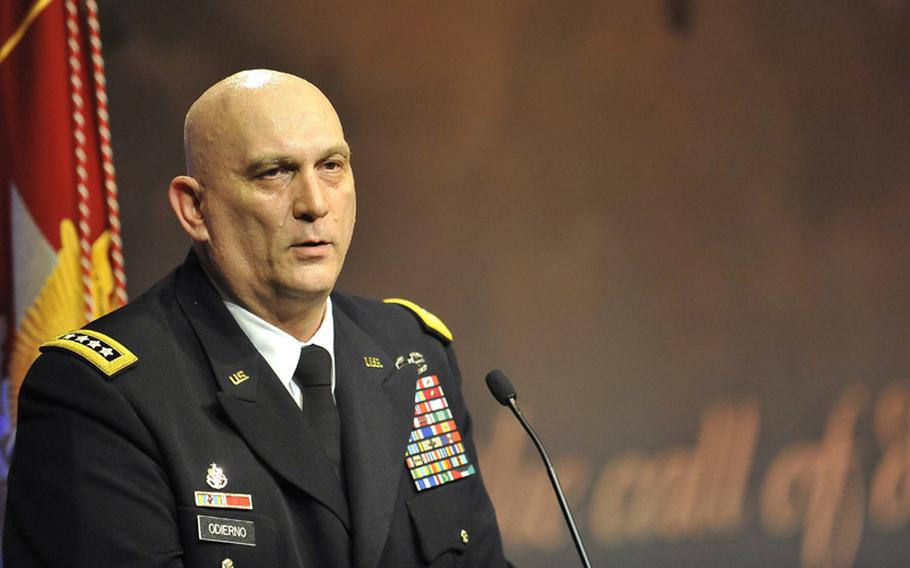 WASHINGTON — If the defense budget crisis continues to unfold, it could eat into Army training and force extensions of deployments to Afghanistan in 2014, Army Chief of Staff Gen. Ray Odierno said Friday.
Odierno had discussed the possibility of longer deployments earlier this week in Congressional testimony about automatic defense budget cuts that are scheduled to kick in if legislators don't agree on a way to cut the federal deficit by March 1.
Platoon, battalion and company-level training at U.S. installations might be severely restricted if the $500 billion in cuts over a decade, known as sequestration, take effect, he said.
Sequestration, combined with the continuing resolution funding the U.S. government — Congress has not passed a budget for 2013 — would create a nearly $18 billion dollar shortfall in the Army's 2013 operations and maintenance budget, Odierno said.
"I told a congressman the other day I have two choices if I can't make that training up quickly: I'll either have to send in forces that aren't ready or I have to extend those that are already there," Odierno told an audience Friday at the Brookings Institution, a Washington think tank.
Regardless of what happens, troops in the next wave of deployments will be fully trained, Odierno said.
"My concern is for the troops who come after them," he said. "They will now be behind."
Army officials said later that Odierno was not planning longer deployments, but laying out possibilities if a "perfect storm" of budget crises converge.
"Understand this was part of sequestration testimony and having to describe what could happen," said Lt. Col. Kathleen Turner, Odierno's spokeswoman, in an email. "There are many decisions with the budget, CR and Sequestration that will happen over the next few months before we would get to this decision."
In addition to cutting into training, Odierno said earlier this week the budget crisis could result in the Army shedding an additional 100,000 active, reserve and National Guard troops in coming years, among other cuts.
Soldiers in Afghanistan currently serve 9-month deployments, although requirements for troops in recent years have pushed deployments much longer at times. In 2007, as conflicts raged in both Afghanistan and Iraq, the Army extended deployments to 15 months.
Carrollc@stripes.osd.mil Twitter: @ChrisCarroll_
---
---
---
---