Obama rules out ground forces in Iraq; US weighing other military options
By
Jon Harper harper.jon@stripes.com
June 13, 2014
---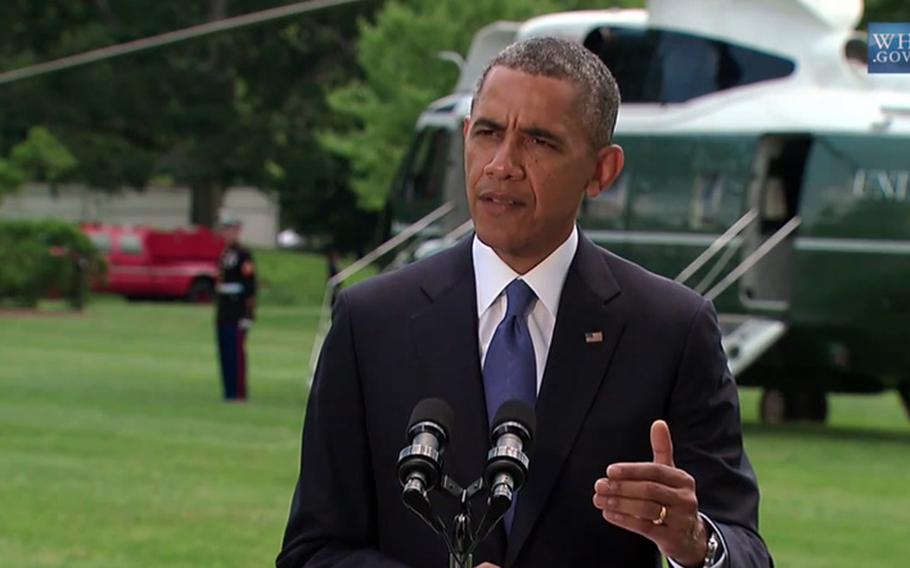 WASHINGTON — President Barack Obama on Friday ruled out using U.S. ground forces to quell the growing insurgency in Iraq.
"We will not be sending U.S. troops back into combat in Iraq," he said.
But the Defense Department will provide Obama with a "wide range" of other military options to degrade the Islamic State of Iraq and the Levant, a transnational militant group that has taken over large swathes of the country, Pentagon Press Secretary Rear Adm. John Kirby told reporters.
The military options being presented are designed "to help break the momentum of ISIL's progress and bolster Iraqi security forces," Kirby said.
Kirby declined to discuss specific options in detail.
The U.S. military has enhanced its intelligence, surveillance and reconnaissance efforts in Iraq in recent days at the request of the Iraqi government, Kirby announced. Kirby would not provide details about the ISR support, but State Department spokeswoman Marie Harf said that the Pentagon is flying unarmed surveillance drones over Iraq.
Obama said the U.S. wants to get a better idea of what's happening in the country before any military action is carried out.
"We want to make sure that we have good eyes on the situation there. We want to make sure that we gathered all the intelligence that's necessary so that if in fact I do direct and order any actions there, that they're targeted, they're precise and they're going to have an effect," he said.
A U.S. official told CNN that the Pentagon plans to move an aircraft carrier, the USS George H.W. Bush, into the Persian Gulf to provide Obama with options for possible airstrikes.
"The aircraft carrier Bush and her strike group remain in the region and ready for any tasking that [U.S. Central Command commander] Gen. [Lloyd] Austin cares to give them. But as we speak right now, there's no aircraft carriers [steaming] into the Persian Gulf," Kirby said.
Kirby noted that the U.S. has about 35,000 military personnel in the Middle East.
No decisions regarding potential military action have been made, Kirby said.
Kirby painted a picture of a potent insurgent force that is challenging the Iraqi government.
"Clearly, they're well-resourced, and what we're seeing is a not-unsophisticated, you know, degree of cooperation and organization on their part, and, of course, momentum," he said.
There are "thousands" of militants in the group, according to Kirby, including foreign fighters from Syria.
In recent days, the militants swiftly captured territory in northern Iraq, as well as equipment that the fleeing Iraqi security forces left behind. There is concern that U.S.-provided materiel might now be turned against the forces it was intended to help.
"We certainly have reasons to believe that ISIL have benefited from that with respect to some captured equipment and systems … They're driving some of these vehicles. They're in possession of some of this stuff. But I'd be loath to tell you that we actually have a really solid sense of what they've got," Kirby said.
American contractors working in Balad, Iraq in support of the U.S. Foreign Military Sales program, are being temporarily relocated by their companies due to security concerns in the area, according to State Department spokeswoman Jen Psaki.
The U.S. Embassy in Baghdad is still open, according to the State Department, but the militants have indicated that they intend to push into the city.
"Our Central Command commander has assets and resources should evacuations be required … but we're not there yet," Kirby said.
Evacuation requests have to come from the State Department. No such requests have been made, and "military assets are not always the first tool of choice for that," according to Kirby.
Obama said American military action in Iraq is not imminent.
"Although events on the ground in Iraq have been happening very quickly, our ability to plan — whether it's military action or work with the Iraqi government on some of these political issues — is going to take several days. So people should not anticipate that this is something that is going to happen overnight," he said.
Obama said that potential U.S. military action will depend on political efforts by Iraqi leaders to overcome sectarian differences that have plagued the country and strengthened the insurgency.
"In the absence of this type of political effort, short-term military action — including any assistance we might provide — won't succeed … The United States is not simply going to involve itself in a military action in the absence of a political plan by the Iraqis that gives us some assurance that they're prepared to work together.
"The United States has poured a lot of money into these Iraqi security forces, and we devoted a lot of training to Iraqi security forces. The fact that they are not willing to stand and fight and defend their posts … indicates that there's a problem with morale, there's a problem in terms of commitment, and ultimately that's rooted in the political problems that have plagued the country for a very long time," he said.
Kirby said the Iraqi security forces were sufficiently capable when U.S. troops departed Iraq at the end of 2011, and he suggested that the American military isn't responsible for the deficiencies that some Iraqi units have demonstrated in recent days.
"When we left Iraq, we left Iraqi security forces that were competent to the threat that they were facing. That threat has evolved over three years, and, frankly, the Iraqi security forces have changed over three years. I mean, the Iraqi government should be able to speak to their organization, their manning, their resources, and their training and equipping of their armed forces over the last years," he said.
Nearly 4,500 American servicemembers were killed during the Iraq War, which lasted from 2003 to 2011. The U.S. also spent hundreds of billions of dollars on the war effort.
"Obviously our troops and the American people and the American taxpayers made huge investments and sacrifices in order to give Iraqis the opportunity to chart a better course, a better destiny," Obama said. "But ultimately, they're going to have to seize it … [and] we are not going to be able to do it for them."
harper.jon@stripes.com Twitter: @JHarperStripes
---
---
---
---