ANALYSIS
Obama presents caution as strength in West Point speech
---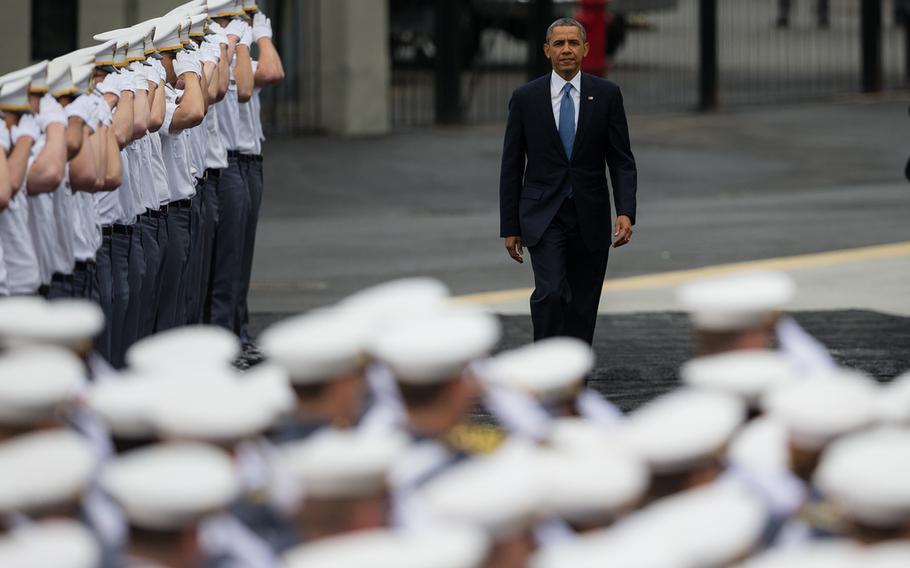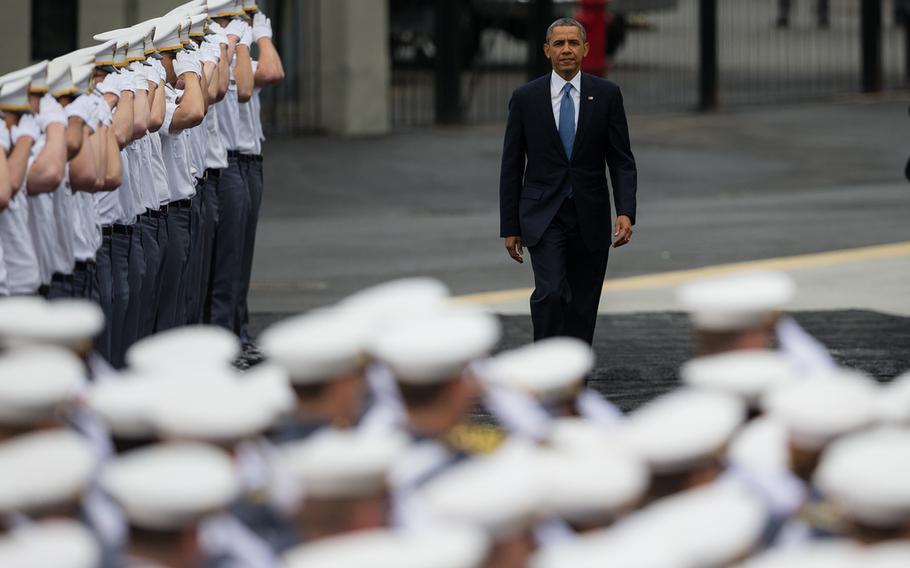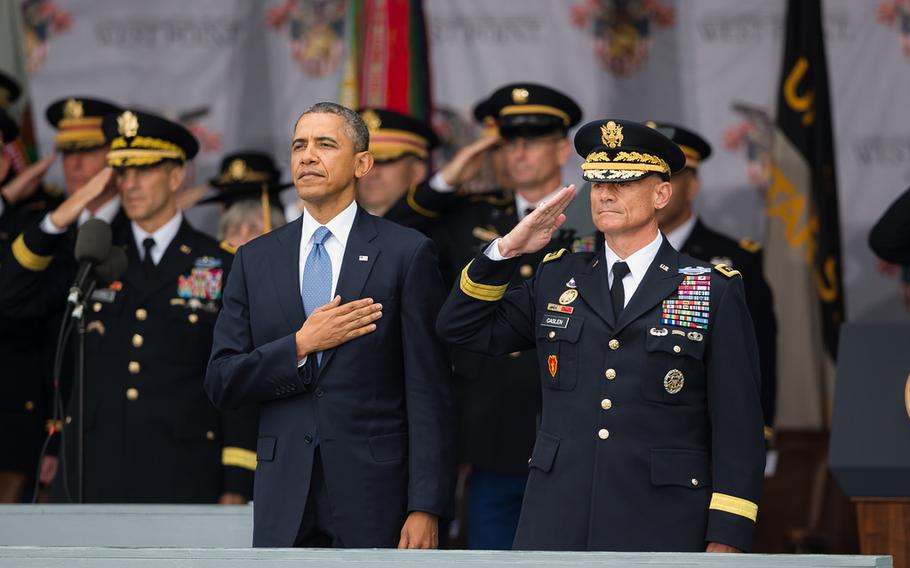 WASHINGTON — Short of direct threats to national security, the U.S. military isn't the first tool to reach for when conflicts arise around the globe, President Barack Obama told West Point graduates on Wednesday.
Coming after nearly 13 years of nonstop fighting in the Middle East and Southwest Asia, the president's speech appeared to be calibrated for a war-weary America — civilian and military alike — willing to side with him over critics who argue that failing to take more direct action forsakes U.S. leadership in crises from Syria to Ukraine to Iran.
In defending his measured approach to conflicts around the globe, Obama said working with the international community for diplomatic solutions is not a sign of weakness. The United States will act unilaterally to defend itself, he said, but short of that, the country will seek partners and work with allies to accomplish its overseas goals.
"U.S. military action cannot be the only — or even primary — component of our leadership in every instance," he said. "Just because we have the best hammer does not mean that every problem is a nail."
Obama has endured harsh criticism over his administration's refusal to provide more U.S. military support to rebel fighters in Syria, where Western-backed fighters are contending both with the repressive regime of Syrian president Bashar Assad and al-Qaida affiliated insurgents bolstered by foreign jihadists. But it was the right decision, he said.
"As frustrating as it is, there are no easy answers, no military solution that can eliminate the terrible suffering anytime soon," he said. "As President, I made a decision that we should not put American troops into the middle of this increasingly sectarian war."
Other calls have come from Republicans and Democrats alike, demanding a greater show of force against Russia for annexing part of Ukraine, or for military action against Iran, or terrorist groups in Africa. Soon after the speech, House Foreign Affairs Committee chairman Ed Royce, R-Calif., issued an email statement that Obama has not done enough to deal with global threats, including Syria and North Korea, sacrificing U.S. leadership and credibility.
"The Obama Administration has consistently underestimated the threats we face: Iran, North Korea, al-Qaida, and others," Royce said. "In many corners of the globe, the world is growing more unstable, with a tide of militancy facing the United States and our allies.
Rushing to use the military with an unclear view of consequences has caused repeated blunders, Obama said at West Point. He vowed to the graduates — whom he pointed out were members of the last class graduating before the scheduled end of combat operations this year in Afghanistan — that he would not initiate military operations for the sake of appearances.
"I would betray my duty to you and to the country we love if I ever sent you into harm's way … because I was worried about critics who think military intervention is the only way for America to avoid looking weak," he said.
Obama's theme — when and how to use the military — is not a new one, but analysts said it has never been put forth as forcefully or prominently as the West Point speech, which aides said would lay out Obama's approach to foreign policy in his final years as president.
"I think the reason he had to give the speech is that both here in the United States and abroad he's become viewed as a very weak leader," said Gary J. Schmitt, a resident scholar on national security issues at American Enterprise Institute, a conservative Washington think tank.
While bashing advocates of profligate military intervention, Obama has failed to live up the principles he promoted in the speech, Schmitt said. The president has not nurtured democracy in Egypt, nor has he worked effectively with allies to support pro-Western rebels in war-torn Syria, Schmitt said.
Obama's speech was short on specifics about how to lay the groundwork for increased U.S. "soft power," said Jacob Stokes, a research associate at the Center for A New American Security, a Washington think tank with close ties to the Obama administration.
Funding diplomatic and civilian initiatives is frequently difficult, while the Pentagon's comparatively large budget places undue emphasis on military solutions — something he said military leaders themselves have long recognized.
"The big issue is not a disagreement over policy, but the challenge is turning this policy into action," Stokes said.
A human rights advocate said that while Obama's theme has been oft-discussed, it has never sunk in.
"The idea that not every problem has a military solution has proven really hard to get into our national discourse," said Heather Hurlburt, senior fellow for national security at Human Rights First, based in New York. "There have been efforts for a long time from the military and civilian side alike saying we have a fabulous tool, but let's not overuse it."
Obama may feel it particularly necessary to try to steer U.S. foreign policy in a slightly different direction as the U.S. trims its defense budget and potential adversaries flexing their muscles.
"One reason for him to do this now is that both Russia and China are acting in pretty aggressive ways, and there's a sort of knee-jerk reaction that to counter that, we should steam around the Black Sea and build more aircraft carriers to counteract China," she said. "The Obama framework is that that isn't necessarily the right approach. He's explaining to Americans how we're going to compete and thrive in an environment where our competitors are newly assertive."
carroll.chris@stripes.com Twitter: @ChrisCarroll_
---
---
---
---