Obama calls for full review on progress of sexual assault
by
Jennifer Hlad hlad.jennifer@stripes.com
December 20, 2013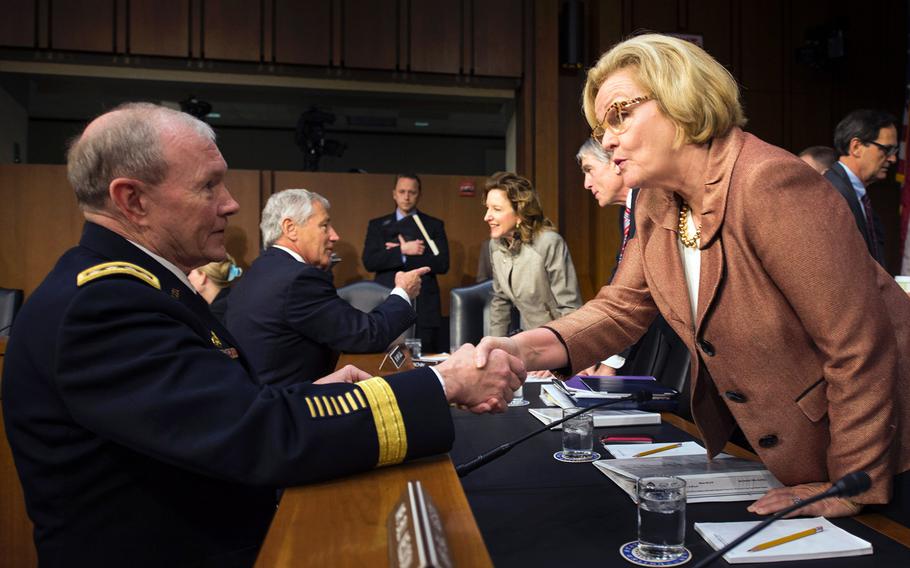 President Obama has asked the Department of Defense to review its progress in eliminating sexual assault and report back in a year — and said he will consider more changes to the system if he doesn't see the progress he expects.
The announcement came just hours after the Senate gave final approval to a defense bill that includes several provisions aimed at preventing sexual assault in the military and caring for victims.
Earlier this year, Obama told defense leaders to "step up their game" in preventing and responding to sexual assaults in the armed forces. Friday, he commended military leaders on their work on the issue, but said that as long as servicemembers "face the insider threat of sexual assault, we have an urgent obligation to do more to support victims and hold perpetrators accountable for their crimes, as appropriate under the military justice system."
Sen. Claire McCaskill, a Missouri Democrat who fought for many of the reforms that were included in the National Defense Authorization Act, said Obama "should be commended for treating this scourge with the seriousness it deserves, and for fully backing the historic, comprehensive reforms we pushed across the finish line last night.
"I agree with him that we should give these significant reforms the time they need to succeed. And I, too, plan to spend the next year holding commanders accountable, and ensuring that these historic reforms are implemented forcefully and effectively."
Sen. Kirsten Gillibrand, a New York Democrat, was seeking to further change the Uniform Code of Military Justice by removing from commanders the authority to prosecute serious crimes, including sexual assault, that involved troops in their own command. That provision gained dozens of supporters, but ultimately was not included in the defense bill.
On Friday, she said she appreciates the president's commitment to "solving the sexual assault crisis in the military," and that she spoke to Obama on Thursday about the topic.
"However, my immediate focus will remain on earning the votes to pass the fundamental reform needed to address the fact that last year alone an estimated 23,000 sexual assault victims lacked the confidence to report their attacks out of fear their chain of command would not act — or, worse yet — retaliate against them.
"I do not want to wait another year to enact the one reform survivors have asked for … We have the best fighting force in the world and they deserve a first-class justice system."
Defense Secretary Chuck Hagel said Friday that the Pentagon welcomes Obama's "continued leadership on this issue, and we share his commitment to doing whatever it takes to solve this problem."
Obama said he expects Hagel and Chairman of the Joint Chiefs of Staff Gen. Martin Dempsey to provide a full review of their progress by Dec. 1, 2014.
"If I do not see the kind of progress I expect, then we will consider additional reforms that may be required to eliminate this crime from our military ranks and protect our brave servicemembers who stand guard for us every day at home and around the world," he said.
hlad.jennifer@stripes.com Twitter: @jhlad
The ListThe following are sexual assault-related provisions included in the 2014 defense bill:
• Eliminates ability of military commanders to overturn jury convictions.
• Requires civilian review if a commander declines to prosecute a sexual assault case.
• Requires all service branches to assign independent legal counsel to sexual assault victims to advise them and help through the legal process.
• Requires dismissal or dishonorable discharge for any servicemember convicted of sexual assault.
• Makes retaliating against sexual assault victims a crime under the UCMJ.
• Eliminates 5-year statute of limitations in rape and sexual assault cases.
• Requires commanding officers to refer sex-related offenses to military criminal investigative organizations.
• Requires any interview with the victim to be done in the presence of trial counsel, victim's counsel or victim advocate, if requested by the victim.
• Allows victim input in clemency matters, and prohibits the convening authority from considering matters relating to the character of the victim that were not presented or excluded from the trial.
• Removes consensual sodomy from the list of criminal offenses under the UCMJ
• Eliminates the ability of commanders to consider the good military character of the accused when determining whether to charge a defendant in a criminal matter.
• Prohibits anyone with past felony convictions of rape or sexual assault, forcible sodomy, incest or felony convictions of attempts of those crimes to enlist or be commissioned into the military.
• Allows Coast Guard commanders to transfer victims of sexual assault to another base at his or her request.
• Gives commanders the authority to reassign or remove a service member accused of a sex-related offense.
• Limits the scope of all Article 32 hearings to the question of probable cause.
• Requires the military lawyer who presides over an Article 32 to be a military lawyer with rank equal to or higher than the trial counsel and defense counsel.
• Requires Article 32 proceedings to be recorded, with the transcript available to all parties, including the victim and victim's counsel.
• Requires the military to retain restricted and unrestricted reports of sexual assault for 50 years.
• Adds sexual assault and related charges to the list of protected communications that can be investigated by the DOD Inspector general, and requires the DOD IG to review and investigate allegations of retaliation against those who report a sexual assault.
• Requires disposition of substantiated sex-related offenses to be noted in personnel records of offenders.
• Requires the secretary of defense to direct the service secretaries to verify and track compliance of commanding officers in conducting climate assessments of their own units.
• Requires the independent panel looking at the way the military handles sexual assault to report back within one year.
• Requires that same panel to review the creation of a searchable database of information contained in restricted reports of sexual assault.
• Requires timely access to a sexual assault response coordinator for members of the National Guard or reserve.
• Requires a review of the training, qualifications and experience of servicemembers and civilians responsible for sexual assault prevention and response.
• Requires the secretary of defense to review progress toward implementing a policy on retention and access to records and evidence related to sexual assaults against servicemembers.
• Requires the secretary of defense to determine whether sexual harassment cases should be evaluated or addressed within the office of Diversity Management and Equal Opportunity, and to assess that office's capability to track sexual harassment cases.
• Requires the armed services to adopt an eight-day incident report timeline for sexual assaults.
• Requires the service academies to have curricula on preventing sexual assault provided to new students within the first 14 days, and repeated annually.
Source: The offices of Sens. Claire McCaskill, Barbara Boxer, Amy Klobuchar and Patty Murray.