NORTHCOM General: Border deployment will grow beyond 5,200 troops
By
Claudia Grisales Corey Dickstein
October 30, 2018
---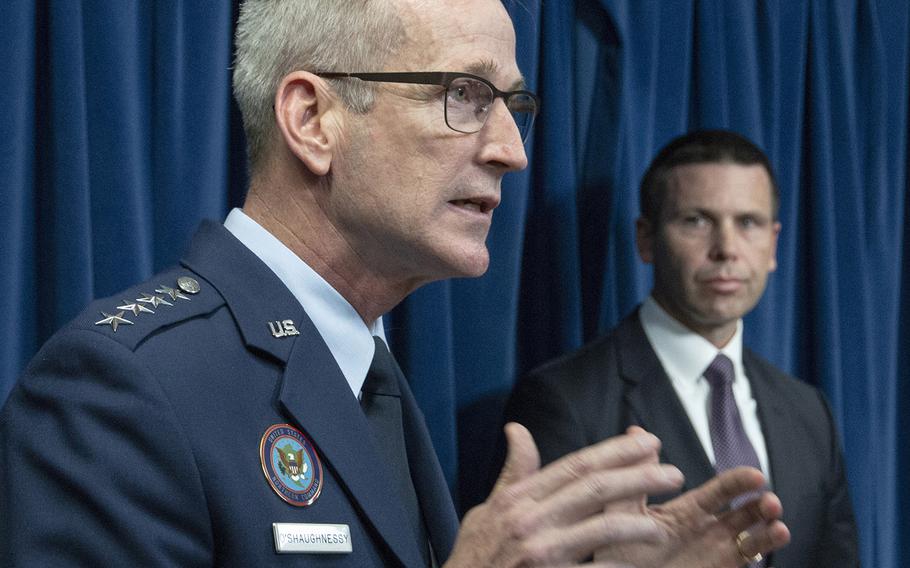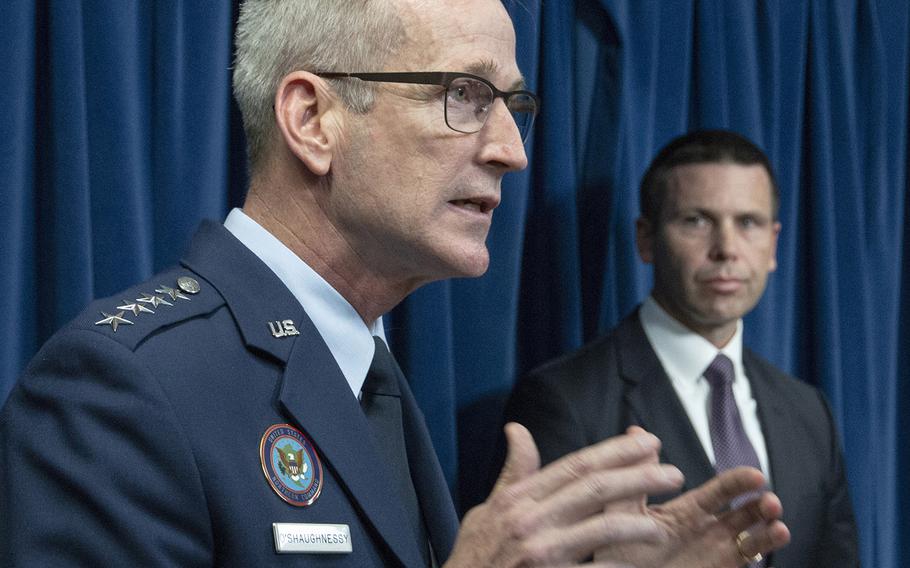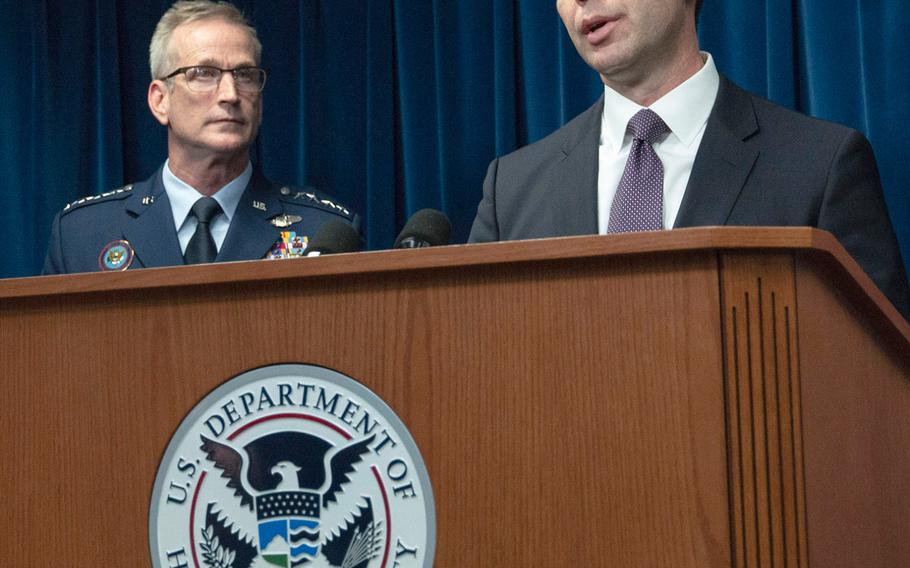 WASHINGTON — The Pentagon will deploy 5,200 active-duty troops to the U.S.-Mexico border to help curb illegal immigration, officials said Monday following President Donald Trump's repeated warning that migrants in southern Mexico making their way toward the United States pose a national security threat.
That deployment of mostly Army engineering, aviation, medical and military police soldiers will grow even larger, Air Force Gen. Terrence O'Shaughnessy, the chief of U.S. Northern Command, told reporters at the Pentagon on Tuesday. He said it was not immediately clear how many servicemembers would ultimately deploy for the mission, dubbed Operation Faithful Patriot, to support U.S. Customs and Border Protection agents.
By Tuesday, some 1,000 active-duty troops had arrived in Texas to "harden the southern border," O'Shaughnessy said. The new crop of troops will arrive in the border region by Saturday, joining roughly 2,100 National Guard forces already operating – primarily in logistics and background support missions – on the southern border in support of U.S. Customs and Border Protection agents.
"Our concept of operations is to flow in our military assets with a priority to build up southern Texas and then Arizona and then California to reinforce points of entry to enhance CBP's ability to harden and secure the border … by providing robust military capabilities," the general said.
The massive deployment – about five times more troops than Pentagon officials indicated they initially planned to send last week – would bring to the border a military force roughly equal to the U.S. military deployment in Iraq and Syria to fight the Islamic State. The Pentagon has about 5,200 troops in Iraq and 2,000 in Syria, the amount that it has maintained in those countries through the vast majority of the ISIS fight launched in 2014.
The 5,200 active-duty troops deployed in the new border mission is expected to increase in the coming weeks, O'Shaughnessy said.
"Requirements coming in from [the Department of Homeland Security] will drive a change in the number," he said. "What I can confirm is there will be additional forces … but the magnitude of that difference we don't have an answer for right now."
Units totaling "several thousand" additional troops have been notified they could be called to the border, if needed, a defense official said earlier Tuesday on the condition of anonymity.
Also unclear Tuesday, O'Shaughnessy said, was what the cost of the operation would be or specifically what organization would pay the bill.
Department of Homeland Security officials requested the new deployment of active-duty military forces, specifically citing the loosely organized group of some 3,500 Central American migrants now walking by foot in southern Mexico toward the United States. The group made up largely of women and children who have said they seek refugee status after fleeing violence in their home countries remain some 1,000 miles from the U.S. border, according to The Associated Press.
Nonetheless, Trump has repeatedly warned the group posed a national security threat to the United States, and he tweeted Monday it included "Many Gang Members and some very bad people."
"This is an invasion of our Country and our Military is waiting for you!" the president also tweeted.
CBP Commissioner Kevin McAleenan warned Monday that other similar caravans were being organized in Central America.
"We are preparing for the contingency of a large group of arriving persons intending to enter the United States in the next several weeks," McAleenan told reporters Monday afternoon in a briefing alongside O'Shaughnessy. "We will not allow a large group to enter the United States in an unsafe and unlawful manner."
Deploying troops will come from all four military services, though the vast majority will come from the Army, officials said. Pentagon officials declined to detail specifically how many troops would come from each service or many of the units ordered to deploy.
Soldiers are deploying from a variety of bases across the United States including Fort Knox and Fort Campbell in Kentucky, Fort Hood in Texas, Fort Riley in Kansas, Fort Carson in Colorado, Joint Base Lewis-McChord in Washington, Fort Bragg in North Carolina and Fort Stewart in Georgia, according to O'Shaughnessy. They will bring with them knee-high, steel-reinforced barriers, enough coiled razor-wire to span more than 100 miles, more than 10 helicopters outfitted to fly day and night missions, and at least three C-130 and one C-17 cargo planes.
The deployment will also include an armed contingent of military police officers, including soldiers of the 89th Military Police Brigade from Fort Hood and the 97th Military Police Battalion at Fort Riley.
Despite carrying weapons, the MP forces would not be authorized to conduct law enforcement operations, an activity that would be barred under the 1878 Posse Comitatus Act. That law bans the use of American military personnel for civilian law enforcement efforts on U.S. soil, outside military installations.
Earlier Monday, White House Press Secretary Sarah Huckabee Sanders said the Trump administration was "looking at a number of different options" when she was asked if the president was considering suspending that act.
O'Shaughnessy seemed to put to rest any speculation that military troops would conduct unprecedented operations at the southern border under the impending deployment.
"Everything we are doing is in line with and in adherence to Posse Comitatus," the general said.
Like the National Guard members who have been supporting CBP efforts at the border since April, the 5,200 deploying troops are not expected to interact with migrants. Instead, their mission will be largely to support and enable CBP agents to conduct their law enforcement duties.
Among soldiers deploying will be Army Corps of Engineers personnel and Army combat engineers from the Fort Knox-based 19th Engineer Battalion, from the Fort Campbell-based 326th Engineer Battalion, and Fort Riley's 1st Engineer Battalion. They will focus on tasks such as building temporary barriers along the border and constructing temporary shelters to house a potential influx of CBP agents, and O'Shaughnessy said.
It will also include an influx of military aviation units who will be tasked with ferrying CBP agents along the border with helicopter and airplanes, he said.
McAleenan said the influx of military personnel was necessary to deter migrants from attempting to enter the United States illegally. However, some Democratic lawmakers dismissed the new deployment as a political stunt by the White House just a week before the Nov. 6 midterm elections.
Republicans were not as publicly vocal about their thoughts on the move, despite a few endorsements.
Ahead of Monday's announcement, Rep. Mac Thornberry, R-Texas, chairman of the House Armed Services Committee, lauded the plan when it was estimated 800 servicemembers would be deployed. However, the committee's ranking Democratic member, Washington Rep. Adam Smith, said last week that the new deployment to the border was "fundamentally wrong" and a "political act."
Several Democratic lawmakers followed suit Tuesday.
"Troops as props—Trump uses our brave soldiers in a blatant political ploy on the border," Sen. Richard Blumenthal, D-Conn., a member of the Senate Armed Services Committee, tweeted Tuesday. "Is the world's mightiest military necessary to deal with a dwindling caravan of asylum seekers?"
With Trump's announced interest Tuesday to end birthright citizenship, which is protected by the 14th Amendment of the Constitution, led several Democrats to claim the moves were part of an overall effort to distract voters from apparent failures of his presidential administration.
"Misusing our armed forces & taxpayer dollars to send troops to the border; Now a cynical assault on Constitution's birthright citizenship," tweeted Sen. Patrick Leahy, D-Vt., the ranking Democrat on the Senate Appropriations Committee. "This POTUS will do ANYTHING to shift [attention] away from his attacks on covering pre-existing conditions & plans to cut Medicare & Social Security."
Sen. Ron Wyden, D-Ore., ranking Democrat on the Senate Finance Committee, also tweeted the moves were a distraction from Trump's stance on health care and his administration's "smash-and-grab corruption." Wyden went on to say that Trump was "wastefully militarizing the border" as an act of "desperation and cruelty."
Republicans were less publicly vocal about their reactions to the plans in the hours after it was announced Monday. However, at least four Republican House members endorsed the military's work.
"We need to stop this caravan from entering the U.S.," tweeted Rep. Michael McCaul, R-Texas, chairman of the House Homeland Security Committee. The Homeland Security and Defense departments will deploy the additional troops to "harden points of entry and key gaps. 800 more troops are headed to Texas now."
Rep. Ron Estes, R-Kan., said Monday in a statement that as a member of McCaul's committee, he knows that securing the border is key to national security.
"I am thankful to the members of the Kansas National Guard, the active-duty soldiers stationed at Fort Riley, and all Kansans who will be among the engineers, military police, cooks, medical personnel and others deployed to support efforts to secure our border," Estes said. "These men and women make our state and country proud."
dickstein.corey@stripes.comTwitter: @CDicksteinDC
drisales.claudia@stripes.com Twitter: @cgrisales
---
---
---
---