New Senate Armed Services chairman McCain blasts Obama, military cuts
by
Travis J. Tritten
January 21, 2015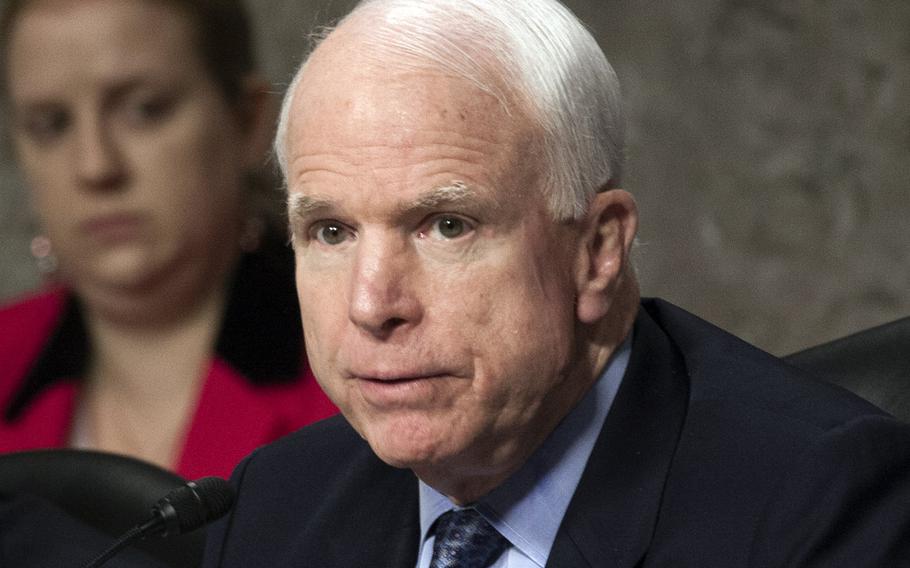 WASHINGTON — Sen. John McCain opened the first Armed Services Committee meeting of the session as chairman Wednesday and fulfilled expectations by criticizing the Obama administration and warning about impending military budget cuts.
The Arizona Republican and new chairman called President Barack Obama's State of the Union comments about overseas military successes "wishful thinking" and asked foreign policy luminaries Brent Scowcroft and Zbigniew Brzezinski to testify about "mindless" caps on defense spending.
The GOP gained majority control in the Senate after November elections, putting McCain back in charge of the chamber's top military oversight committee, and fueling speculation that the senator would use the position to criticize the president and Defense Department priorities.
McCain said the president gave an overly upbeat assessment in Tuesday's speech of improving global security despite growing concerns over Russia, China and Islamic extremists in the Middle East and Africa.
"That news came as a surprise to anyone who has been paying attention to what has been happening around the world," he said.
Obama touted his foreign policy and military strategy abroad, saying that his administration's sanctions have left the Russian economy in tatters as punishment for meddling with Ukraine, and that its practice of backing foreign local forces in lieu of supplying ground forces is effectively combating terrorism.
Meanwhile, McCain and his party have begun an effort to lift budgetary spending limits that allow the DOD only a modest $1.7 billion increase this year. Caps will remain in place into the next decade and keep defense spending increases at about 2 percent.
"We are on track to cut $1 trillion from defense budget by 2021" even as the world order unravels and U.S. security is imperiled, McCain said.
The Senate Armed Services Committee under McCain is planning more foreign policy hearings with high-profile intellectuals and former officials such as Wednesday's duo of Scowcroft, a retired lieutenant general who was national security adviser to President George H.W. Bush, and Brzezinski, national security adviser to President Jimmy Carter.
McCain opened the hearing Wednesday by asking Scowcroft and Brzezinski about the mandatory budget cuts, which are part of a larger agreement struck in Congress to reduce the federal deficit over the coming years. Other areas of the federal budget also face the caps.
"It is a terrible way to determine force structure, strategy or anything like it," Scowcroft said. "It is undermining our ability to do what we need to do to remain alert for the contingencies in the world."
The Senate hearing comes just a day after the new chairman of the House Armed Services Committee, Rep. Mac Thornberry, R-Texas, unveiled his plans this year to push back against the budget caps and plans by the White House and Pentagon to trim servicemember compensation and retire some weapons systems.
The Obama administration and the Defense Department are set to release budget proposals for the coming fiscal year in early February. The release is likely to set off an intense debate on Capitol Hill about shifting spending caps away from defense.
tritten.travis@stripes.com Twitter: @Travis_Tritten