New Pentagon policy limits what flags can be displayed by troops, effectively banning Confederate flags
by
Corey Dickstein
July 17, 2020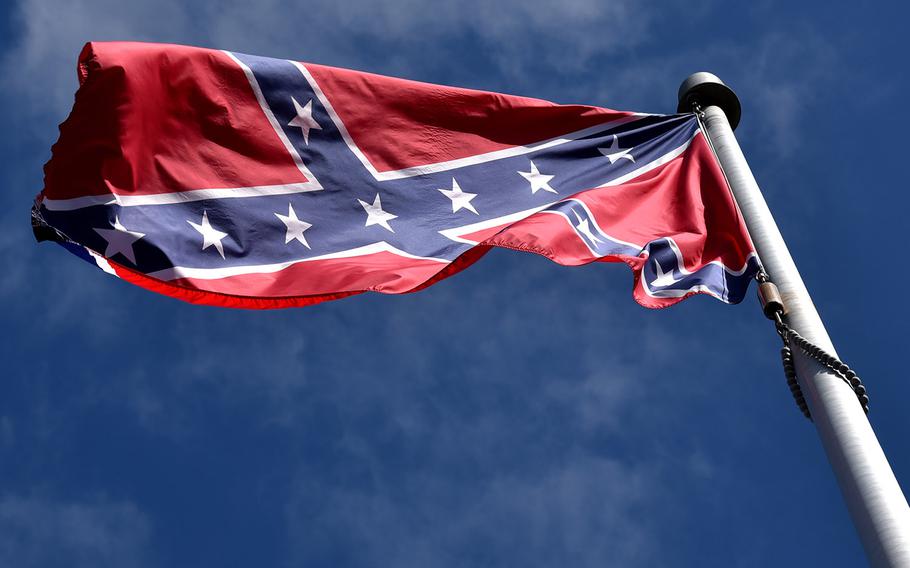 WASHINGTON — Defense Secretary Mark Esper on Friday unveiled a new military-wide policy that limits what flags can be displayed by American troops on U.S. military installations, buildings and vehicles, which effectively bars Confederate flags without actually mentioning the controversial banners.
The new policy comes after weeks of rigorous debate within the Pentagon's highest levels about the Confederate battle flag's place on America's military posts as calls for its prohibition grew amid a renewed national conversation on racism after the killing of a handcuffed Black man by Minneapolis police on Memorial Day. The Marine Corps first moved to ban the flag in April and issued official guidance doing so in June. Other U.S. military entities, including top commands in South Korea and Japan, followed suit in recent weeks.
Esper's policy labels nearly all flags outside those representing the United States, its states and territories, official U.S. military flags, the Prisoner of War/Missing in Action flag, and those representing allied nations and military organizations as unauthorized for public display by U.S. troops on Defense Department property. He wrote the flags displayed by service members should focus on U.S. military tenets such as "good order and discipline, treating all our people with dignity and respect, and rejecting divisive symbols."
"What has always united us remains clear — our common mission, our oath to support and defend the Constitution, and our American flag," Esper wrote in the memorandum dated Thursday. "With this change in policy, we will further improve the morale, cohesion, and readiness of the force in defense of our great nation."
The military services had all been considering branch-wide bans on displays of the Confederate flag in recent months, but paused in issuing such guidance when Esper's office took the lead on the issue early this month. Pentagon officials said it was intended, in part, for the Defense Department to issue a singular policy across its entire force. But the policy was also meant to avoid President Donald Trump's wrath, one official said Friday.
Trump has defended the Confederate battle flag in recent weeks, especially after NASCAR moved to ban its display at its races. Trump has also vowed the names of 10 southern Army posts named for Confederate generals from the Civil War would not be changed during his administration.
"My stance is very simple: It's freedom of speech," Trump said in a July 7 interview with Nexstar broadcasting.
In an April letter to the Marine Corps, Gen. David Berger, the corps commandant, wrote the Confederate battle flag could raise a sense of pride for some southerners, but others view it as a symbol for racism and hate.
"This symbol has shown it has the power to inflame feelings of division," he wrote. "I cannot have that division inside our corps."
Esper's policy released Friday does not ban "unauthorized flags" from display in museums, at grave sites, on historical or educational displays, works of art or monuments.
Senior Army officials said recently the Army was continuing to look at the names of those 10 installations but would not announce a change in the near future. Congressional lawmakers, meanwhile, are split on the issue, but drafts of the 2021 National Defense Authorization Act, the annual Pentagon policy and spending bill, approved by the Senate and House Armed Services Committees contain provisions aimed at stripping installations of Confederate-linked names.
Trump has vowed a veto of any legislation that reaches his desk and forces such name changes.
Army Secretary Ryan McCarthy, speaking to reporters Thursday, said he was committed to banning any "divisive symbols" from his service, but he avoided explicitly labeling the Confederate flag such a symbol.
"We would have any divisive symbols on a 'no-fly list,' if you will," he said.
dickstein.corey@stripes.com Twitter: @CDicksteinDC