New Iraq, Syria medal features sword stabbing a scorpion
---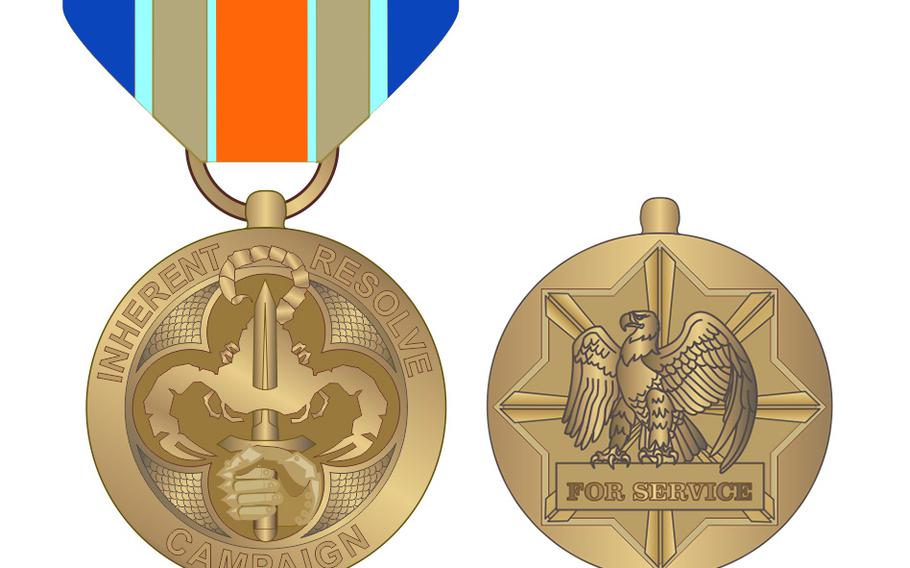 WASHINGTON – The U.S. military is a sharpened blade and the Islamic State group is a venomous desert predator.
The Defense Department rolled out the unusually powerful and aggressive imagery Wednesday when it announced a new medal for troops serving in Iraq and Syria.
The Inherent Resolve Campaign Medal depicts an armored hand thrusting a short sword or dagger through the head of a scorpion, its stinging tail curled as if striking. On the back an eagle perches atop a banner that reads "For Service."
"The scorpion represents a predator arachnid that is often found in arid desert climates. The sword or dagger is a defensive weapon used to guard and protect from dangerous elements," Pentagon spokesman Matthew Allen wrote in an email to Stars and Stripes. "When combining these two symbols into the design of a military campaign they represent the defense of freedom, liberty, and justice from those predators who infringe on these values consider sacred to a free and orderly society."
Past medals awarded for service in Iraq and Afghanistan featured maps, eagles and Arab scimitars – symbols of solidarity and local national unity. But the brutality of the Islamic State has created new challenges. Defense Secretary Ash Carter's go-to analogy for the group has been "parent tumor," a term he coined at the beginning of the war – but not the kind of imagery that works on a medal.
The sword-and-scorpion design comes as the United States is ratcheting up the war effort with expanded operations and troops. Momentum appears to finally be turning against the Islamic militants, who have conducted brutal occupations of territory in Iraq and Syria and carried out deadly terror attacks in Europe.
In March, Staff Sgt. Louis F. Cardin of Temecula, Calif., was killed and eight of his fellow Marines were injured in an attack on a U.S. firebase in northern Iraq. The combat base was set up to support Iraqi military units poised to retake the key city of Mosul from the Islamic State.
That incident coincided with U.S. announcements that key figures in the group, including a ministry of war and a financier, were killed by special operations strikes that began in December.
The medal was unveiled as a symbolic turning of the page. Carter announced it at a change-of-command ceremony in Florida at U.S. Central Command, which oversees the war effort. Gen. Lloyd Austin handed the reins to Gen. Joe Votel, who will determine how to push ahead with recent gains.
No doubt the military wants to put a metaphorical sword through the Islamic State's metaphorical carapace in a killing blow. But the White House and military brass have consistently warned of a long fight, raising the possibility of more Inherent Resolve Campaign Medals in the future.
Troops who are serving or have served in Iraq and Syria as well as surrounding waters and airspace beginning June 15, 2014 are eligible. The number of servicemembers in Iraq is limited now to 3,870, though more troops could be headed there soon and the number does not include personnel on short-term rotations.
Before Wednesday, they received Global War on Terrorism Expeditionary Medal, which featured more subdued and traditional imagery. An eagle with spread wings grasps a serpent with a shield, crossed swords and a wreath of laurel.
If they prefer something more aggressive, the expeditionary medal can be exchanged now for the Inherent Resolve medal and its pierced scorpion.
Stars and Stripes reporter Corey Dickstein contributed to this story.
---
---
---
---