New commander at Fort Hood vows to improve trust among soldiers
by
Rose L. Thayer
September 3, 2020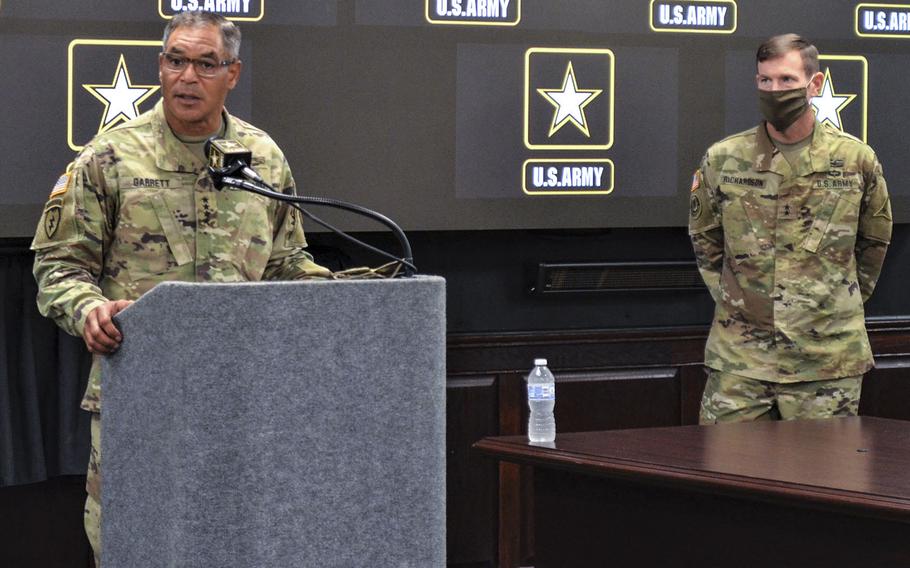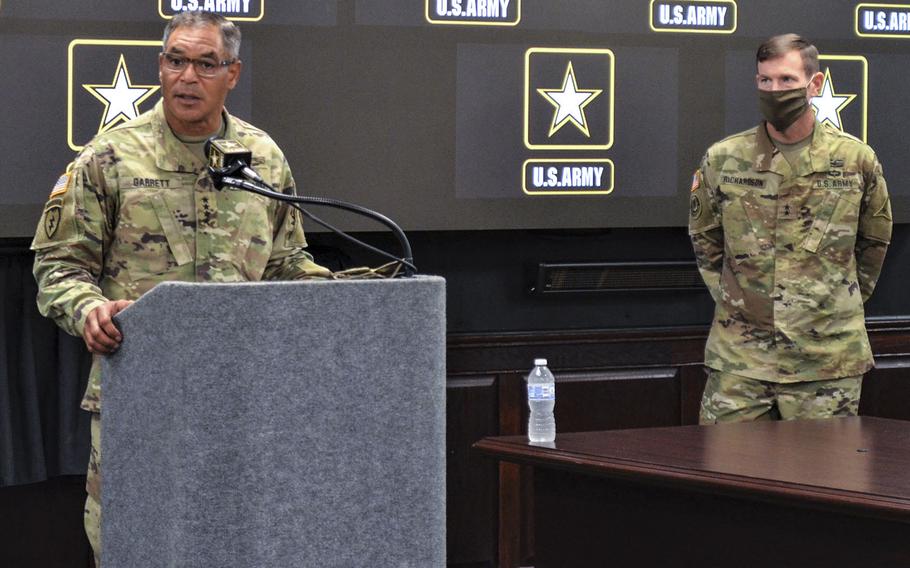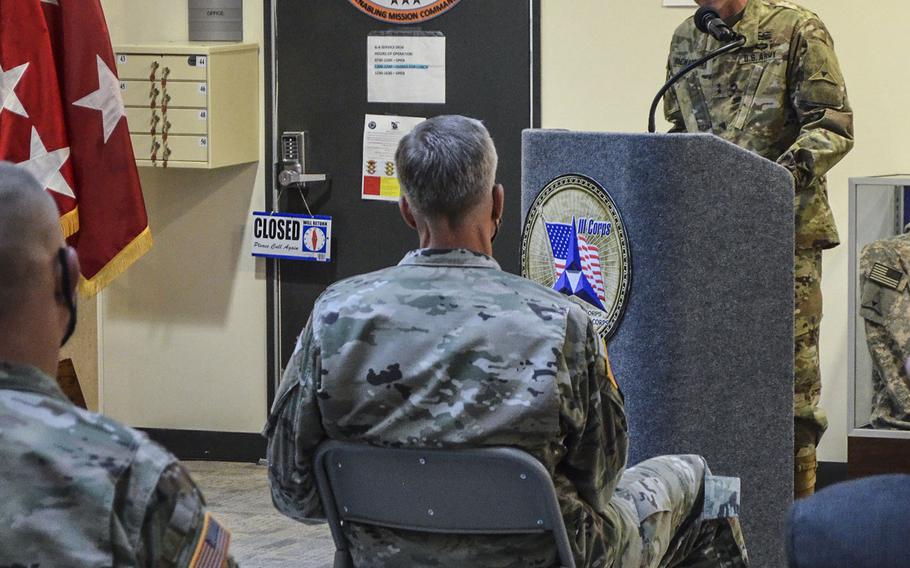 FORT HOOD, Texas – As Maj. Gen. John Richardson formally stepped into the role of acting Fort Hood commander Wednesday evening, he vowed to rebuild trust among the soldiers and leaders after the violent death of Spc. Vanessa Guillen brought to light the large amount of crime and sexual harassment at the central Texas base.
"The critical way to combat the corrosive acts of sexual harassment, sexual assault, racism, extremism and to prevent suicides is to build trust. I'm talking about trust between soldiers and leaders, between squad mates and within the chain of command," Richardson said, speaking to a small gathering at the III Corps Headquarters building at the base to mark his new position as the corps' deputy commander for operations.
He will also serve as Fort Hood's acting commander until Lt. Gen. Pat White returns this month from a deployment to the Middle East.
Richardson's predecessor, Maj. Gen. Scott Efflandt, served as the base commander during the past year as White served overseas. Efflandt was announced in March as the future commander of Fort Bliss in west Texas, but that assignment was canceled Tuesday and he will remain at Fort Hood as a series of investigations into Guillen's disappearance and death are completed.
"I have not lost, nor has the Army lost, any confidence in Maj. Gen. Scott Efflandt," Gen. Michael Garrett, commander of Army Forces Command, told reporters after Wednesday's ceremony. Efflandt attended the ceremony but did not speak publicly.
"It didn't make sense for us to put him into command, only if something were to come out of the investigation and we'd have to pull him out," Garrett said.
The day before the ceremony, Garrett announced Gen. John Murray, commander of Army Futures Command in Austin, is leading an investigation into how Guillen's chain of command handled accusations of sexual harassment in her unit to her disappearance and death to the way the search for the soldier was conducted.
Garrett pledged to be as transparent as possible on the results of those reports and how any recommendations from them are implemented at Fort Hood and throughout the Army.
"Fort Hood units are great units in our Army. What happened to Spc. Guillen was horrible," he said. "Bad things happen to great units and we will not be defined by this."
At least five investigations, including the one led by Murray, are ongoing in response to Guillen, who was killed April 22 in an arms room by a fellow soldier. It took Army criminal investigators more than two months to locate Guillen's body in a shallow grave about 20 miles from the base.
Guillen had told her family that she experienced sexual harassment on base, which inspired hundreds of veterans to post on social media their own experiences with harassment and assault and expose a larger issue about a victim's willingness to report these problems.
"Sexual harassment and sexual assault, suicide and racism and extremism, those are the three things that inside the Army are breaking trust with the American people," Garrett said.
While reporting has improved, the challenge is "there are still soldiers out there who don't trust their chain of command," he said. "We're working very hard to build that trust. Working very hard as we talk with all of our soldiers. The other piece is finding is that our soldiers don't always intervene."
Speaking with soldiers, Garrett said they seem clear on when to intervene into a situation that appears to be sexual assault, it gets more difficult with other issues.
During the next two weeks, Richardson, who last served at Fort Hood as commander of the 3rd Cavalry Regiment seven years ago, said he plans to meet with commanders -- starting with platoon leaders -- to make the reset of conditions and morale at Fort Hood the highest priority. Those conversation will also determine how units can slow down and remove or delay less important training tasks to give "leaders the time that they need to properly counsel, care for and truly get to know their soldiers before moving to the next requirement."
"This level of knowing and understanding our soldiers is the foundation of proactive leadership, allowing leaders to prevent rather than to react to breeches of our Army values," he said.
Thayer.rose@stripes.com Twitter: @Rose_Lori