New bill aims to get better-fitting equipment to women in the military
by
Rose L. Thayer
December 4, 2019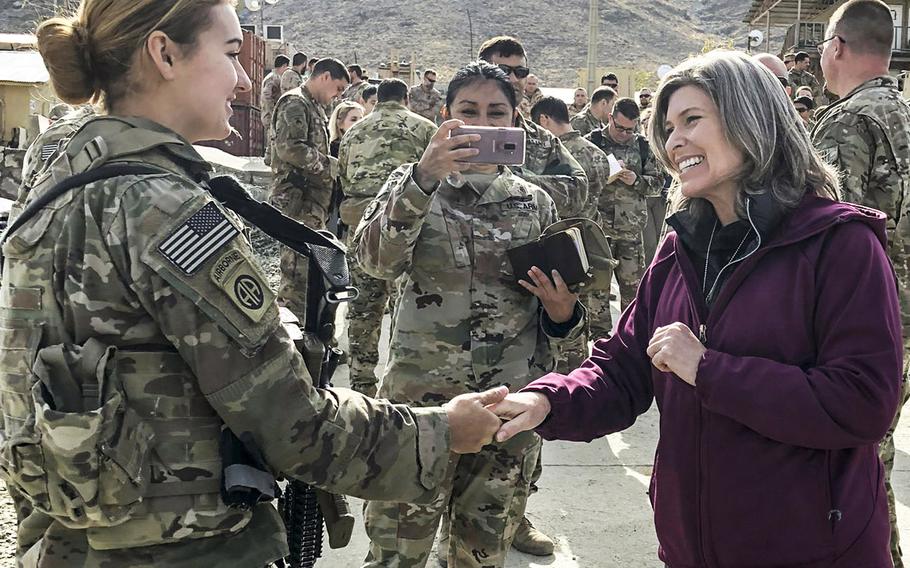 Allison Churchill never felt comfortable wearing anything with the Army Combat Uniform pattern on it. Depending on the garment, it either felt too big or painfully too tight.
In her five years as a public affairs specialist, it wasn't just that her uniforms always felt like they were falling off and her bulletproof vest squeezed her chest. It also seemed dangerous during her deployment to Iraq.
"The protective vest's shoulders were wider than my actual shoulders, which made it difficult to hold my M-16 [rifle] properly, and it never felt like my helmet sat on my head correctly," said Churchill, who left the Army in 2009 as a sergeant.
Since then, the military has made strides to improve personal protective gear for female service members, but a Defense Department report issued in 2018 again recommended the defense secretary get all military branches to issue gender-appropriate protective equipment to women for training and operational use.
Looking to get that recommendation fulfilled, Sen. Joni Ernst, R-Iowa, announced Wednesday a proposal to push the Defense Department to speed up the process of getting women into appropriate-fitting equipment. Ernst, the first female combat veteran elected to the Senate, put forward the Female Body Armor Modernization Act of 2019 alongside three fellow veterans, Sens. Tammy Duckworth, D-Ill., Martha McSally, R-Ariz., and Richard Blumenthal, D-Conn.
"Women continue to make strides in serving in critical roles within our nation's military," Ernst said in a statement. "As a woman who served in combat and commanded troops during Operation Iraqi Freedom, and with my own daughter who is going through training right now at West Point, I understand just how important it is for all service members to be properly equipped for the battlefield."
When it comes to getting equipment readily available to women, the new bill encourages the military to expedite the contracting, procuring and fielding of new generation protective equipment that better fits and protects all service members, and reduces preventable injuries by encouraging collaboration with academia and industry, utilizing emerging technologies such as artificial intelligence, human factors modeling and digital predictive human modeling to develop the next generation of combat equipment and protective equipment.
The bill requires the military to submit a report to Congress in fiscal year 2021 concerning any barriers that they have encountered when fielding their newest versions of protective equipment to service members. The report would include any cost overruns or contractor delays in fielding the new equipment.
The Defense Department's 2018 annual report of the Defense Advisory Committee on Women in the Services, which recommended women get gender appropriate gear, stated access to female-specific or smaller-sized protective equipment was severely limited and only issued to some women who were deploying and not to women during initial entry training or in regular unit environments.
Poorly fitting protective equipment is not only uncomfortable, but it is a leading cause of injury for all service members, according to the report. Improvements have been made over the years, which have helped to reduce the risk of musculoskeletal and overuse injuries, according to the report.
To continue to reduce injury, the new proposal requires the Defense Health Agency to begin administering a trackable system for data related to injuries to accompany the issuance of new protective equipment. It notes this could be done through an already-existing system such as the Defense Occupational And Environmental Health Readiness System.
Under the proposal, Defense Health Agency is also required to provide a report to Congress in fiscal year 2025, identifying the prevalence of preventable injuries attributed to ill-fitting or malfunctioning protective equipment.
The Defense Department would also be required to include questions in the annual Periodic Health Assessment on the nature and prevalence of injuries attributed to ill-fitting or malfunctioning protective equipment.
"Right now, female service members are facing injuries due to ill-fitting equipment," Ernst said. "We must do better for our military men and women. This common-sense, bipartisan proposal is a step toward ensuring adequate and proper-fitting equipment is readily available to our female servicemembers to ensure their readiness, survivability, and effectiveness in combat."
thayer.rose@stripes.com Twitter: @Rose_Lori