New Air Force chief of staff wants to empower airmen to drive change
by
Corey Dickstein
September 14, 2020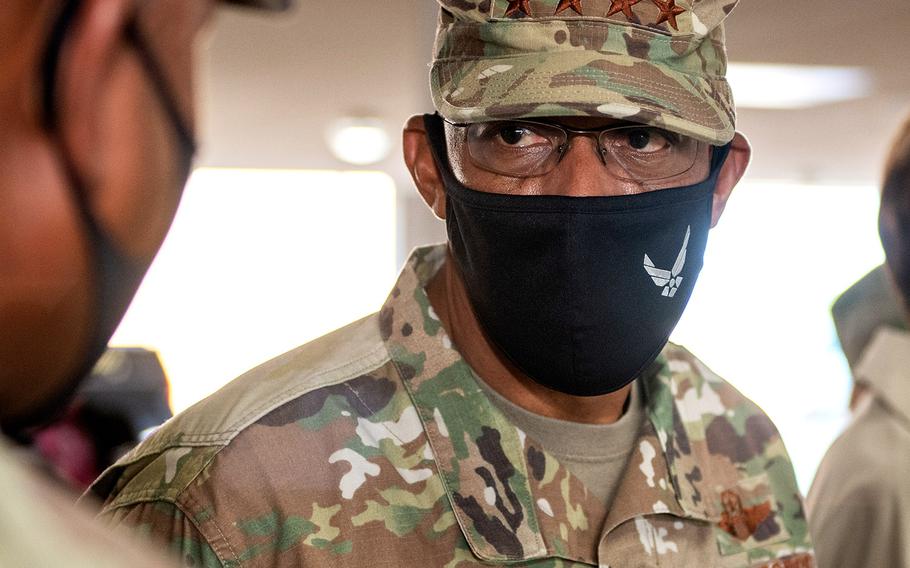 WASHINGTON — Gen. Charles "CQ" Brown, the Air Force's new chief of staff, committed Monday to driving rapid change within the service, which he says is critical to maintaining military advantages over great-power competitors China and Russia.
Brown also said the Air Force must institute cultural changes to keep pace with the improving Chinese and Russian militaries, both of which have developed advanced technologies in recent years, aimed at challenging American military supremacy. To make such changes, he said he aims to empower airmen at all levels to share their own ideas, and he wants to cut through the service's vast bureaucracy to focus on collaboration. The changes, Brown added, must start immediately.
"Just like Ricky Bobby, I want to go fast," he said during the Air Force Association's annual Air Space and Cyber Conference, referring to the fictional NASCAR driver depicted by Will Ferrell in the comedy Talladega Nights: The Ballad of Ricky Bobby. "My central theme as your chief of staff [is] accelerate change or lose."
Brown's appearance at the annual event, which is being held virtually because of the coronavirus pandemic, marked his first public comments since taking the service's reins Aug. 6. He used the platform to encourage Air Force leaders not to continue doing the same things they have always done.
Commanders should be engaging regularly with their troops and listening to their ideas, Brown said. Throughout his career, the general said he has often held "brown bag lunches" with troops at different levels under his command to connect with and better understand them.
"The more you understand about what folks are trying to achieve, the more trust you'll have," Brown said. "That requires that dialogue back and forth."
Brown said he wants leaders at the lowest-possible level within the chains of command to be trusted to make critical decisions. Making those calls at lower levels means troops can move forward quicker, he said.
Brown encouraged his troopers to think differently and challenge norms, if their ideas for change could improve the way the Air Force operates. Airmen should not fear repercussions for unique ideas, he said.
"Part of this is we're always worried about some aspect of [what happens] when I get in trouble?" he said. "Actually, I want some folks to figure out when best to move forward and [we] … are going to actually do things a little bit differently."
That could become especially important as the Air Force, and the overall Defense Department, is likely to face shrinking budgets in the future, Brown said. He is already looking at ways to streamline the service's bureaucracy and make changes that would limit the impact of reduced funding in the future.
That means Air Force elements should work collaboratively instead of developing ideas "in silos," where information goes unshared, Brown said. Collaboration between differing parts of the service would likely speed up innovation, streamline processes, and reduce redundancy, he said.
Brown's vision could also mean reorganizations in parts of the service.
The general envisions moving airmen out of some jobs considered less important to modern operations and into under-resourced jobs that he sees as vital to fighting a high-end conflict. He did not specify Monday what jobs could be considered for such changes.
The new chief of staff said he expected some people in the Air Force would probably push back on or attempt to block changes. But failing to make changes could leave the Air Force unprepared for its next fight, he said.
"Folks don't want to change once you're in your comfort zone," Brown said. "So, you have got to have a forcing function that drives that change… If we don't start doing things a bit faster, we're going to be behind, and the advantage we have will continue to erode. And that's my concern.
"You know, I might not succeed in everything I'm trying to push here, but it won't be due to lack of trying."