Nearly 50 locations now approved for lifting Pentagon's pandemic travel restrictions
by
Caitlin M. Kenney
June 12, 2020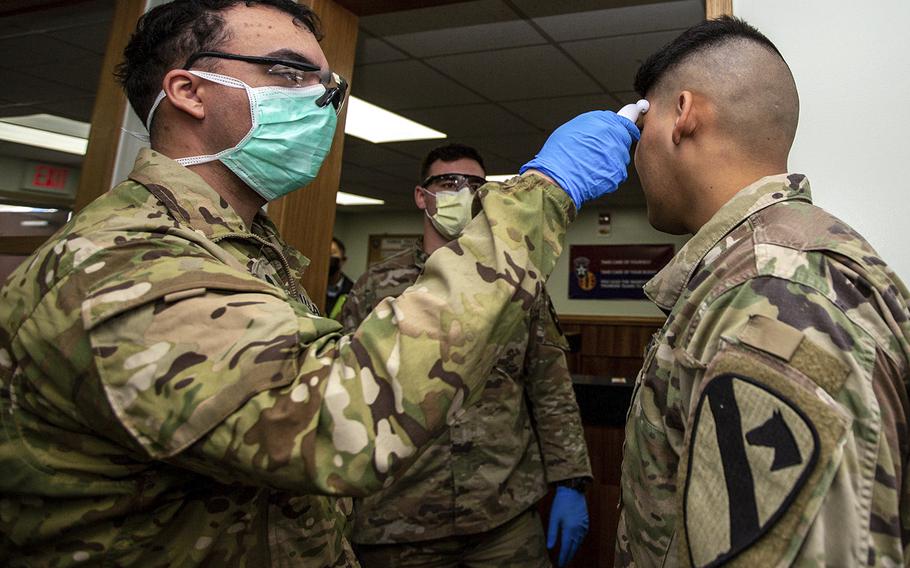 Stars and Stripes is making stories on the coronavirus pandemic available free of charge. See other free reports here. Sign up for our daily coronavirus newsletter here. Please support our journalism with a subscription.
WASHINGTON — Guam and South Korea have now met conditions to lift travel restrictions put in place by the Defense Department in March due to the coronavirus pandemic, the Pentagon announced Friday.
There are now 46 "green locations," or states and countries, that can allow official travel for service members and their families. No specific military installations in these states, territories, or countries are listed. The decision for lifting travel restrictions for individual installations and facilities is up to the service secretaries and combatant commanders.
Defense Secretary Mark Esper signed a memorandum May 22 that laid out the conditions needed for locations to allow for travel to and from bases. Esper had put in place stop-movement orders for official travel for all Defense Department personnel and their families in March due to the coronavirus pandemic.
For military bases to lift Defense Department restrictions, locations must remove shelter-in-place orders or travel restrictions, have a 14-day decline in flu or virus symptoms, and have a 14-day decline in new cases or positive tests, according to the Pentagon statement.
Guam recently hosted most of the nearly 4,800-member crew of the USS Theodore Roosevelt in hotels and other locations for almost two months while sailors went through quarantine due to a severe outbreak of the coronavirus aboard the aircraft carrier. The virus infected 1,273 Roosevelt sailors and killed one, Chief Petty Officer Charles Robert Thacker Jr. The ship left port on May 20 to return to its deployment.
South Korea was one of the first countries that the Pentagon imposed travel restrictions due to the spread of the virus in that country. The restrictions ahead of the military moving season impacted thousands of families who were preparing to go to their next assignment, either in the United States or going to South Korea. But the response from South Korea and the U.S. military to the virus was seen as an early success due to guidance implemented to combat the virus, such as closing down schools and facilities and increasing testing.
Virginia has still not made it onto the list of "green locations," however the Pentagon announced Thursday that they would begin "Phase One" of returning to normal operations on June 15 based on analysis of location conditions. In this phase, the Pentagon and associated facilities will allow only mission essential personnel to return to work and organizations will still have a majority of their work force teleworking. People in the building will be required to wear face coverings and maintain social distancing of six feet.
Kenney.Caitlin@stripes.com Twitter: @caitlinmkenney