NDAA makes maintaining professional licenses and small businesses easier for military spouses
by
Caitlin M. Kenney
December 20, 2019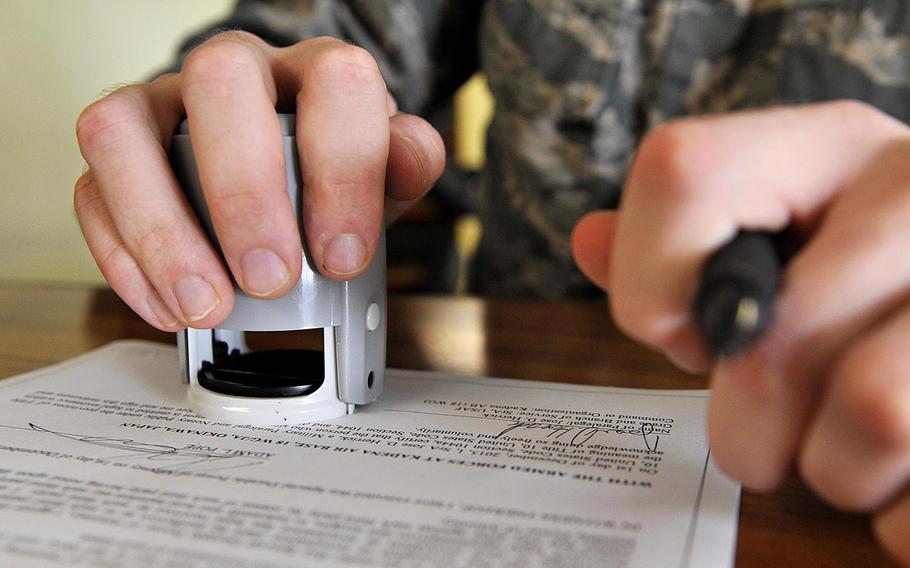 WASHINGTON — Frequent military moves for Navy spouse Andrea Krull involves not only the challenges of uprooting her life, but also maintaining her business as a public relations consultant. With each move to a new state, she would have to re-establish her residence and reregister her small business, costing time and money.
"Every time you move, not only does every state have different rules about registering your [limited liability corporation], but every county and city also has different rules," Krull said. "And so every time we move, I'm putting everything on hold for the actual physical move…And then I'm needing to go in and make sure that I'm addressing all of the correct administrative things I need to do to get re-established in every state."
The fiscal year 2020 National Defense Authorization Act includes a provision to amend the Servicemembers Civil Relief Act to allow military spouses to use the same state of residence as their service member for any reason to include for the purposes of registering a business. President Donald Trump is expected to sign the bill into law Friday night.
At one time, spouses would have to change their state of residence each time they moved while service members could retain their residence regardless of where the military moved them. The 2009 Military Spouse Residency Relief Act allowed spouses to take on the same state residency as their service member for tax and voting purposes. However, it does not cover the registration of the spouse's business in that state.
Because Krull has to register her small business in the state where she physically resides -- currently Virginia -- and the state requires that she also be a resident, Krull has to re-establish her residence and business with each move, adding more time and costs per move for her to maintain her career.
She worked with staffers for Sen. Jeanne Shaheen, D-N.H., her husband's senator, on legislation to help other spouses who face difficulties maintaining residency and small businesses while moving with the military. Krull has had to reregister her business three times.
"Military spouses have challenges enough because they are often the ones who have to move the families, make the arrangements, and then many of them work at the same time. And to have that additional burden didn't seem fair to me. And so we started working on it," Shaheen said about the addition of the bipartisan legislation to the NDAA that she worked on with Sen. Tom Cotton, R-Ark.
Krull will be able to keep her residence and business registered in one state, regardless of where her family moves to next.
"I'm really excited for all of the military spouses who are trying so hard to maintain their professional career. But this is one less thing they need to worry about," Krull said.
The legislation also included the transfer of professional licenses for spouses when they move.
For spouses who have professional licenses for their jobs, multiple moves to different states forces them to recertify and pay fees for new licenses with each move. More than 34% of military spouses need a state license to work in their field, such as teachers or nurses, according to Shaheen's office. The NDAA authorized the Defense Department to work with states on developing agreements on state licensing standards to help with the transfer of licenses for spouses when they move.
Previous initiatives by the Defense Department and White House have worked with states on establishing ways to ease the license process for military spouses when they move to the state, including reciprocity agreements for licenses and certifications.
"This is an effort to expand on that and to try and engage all states," Shaheen said. "So if you're moving from Virginia to… Montana or North Dakota, so that you don't have to get a take a new test, get recertified, pay the fees that are often required to address all of that aspect of it."
There is a separate section in the NDAA that increases the amount spouses can be reimbursed by the military for relicensing, from $500 to $1,000.
"I think that there are more and more spouses who are really sort of taking control of their own career and becoming freelancers and consultants, and being able to maintain a professional job," Krull said. "And the easier it is for everyone to do that, the more spouses will be able to be successful in continuing their career."
Kenney.Caitlin@stripes.com Twitter: @caitlinmkenney