Navy will no longer offer permanent shaving waivers for sailors with razor bumps
---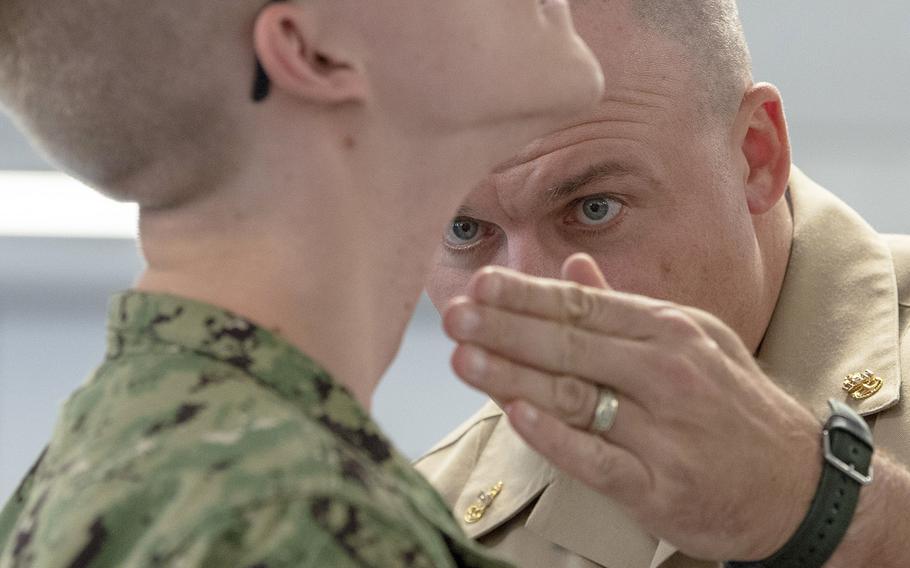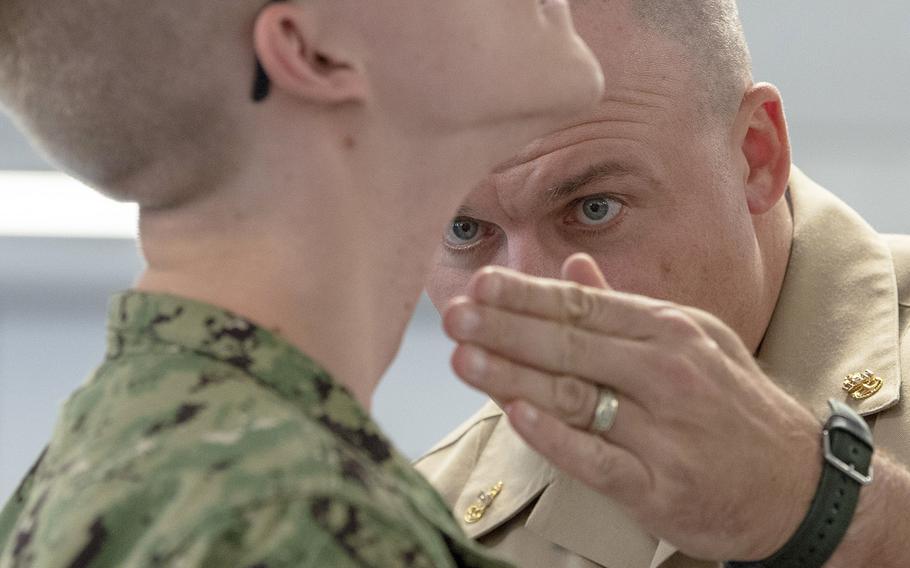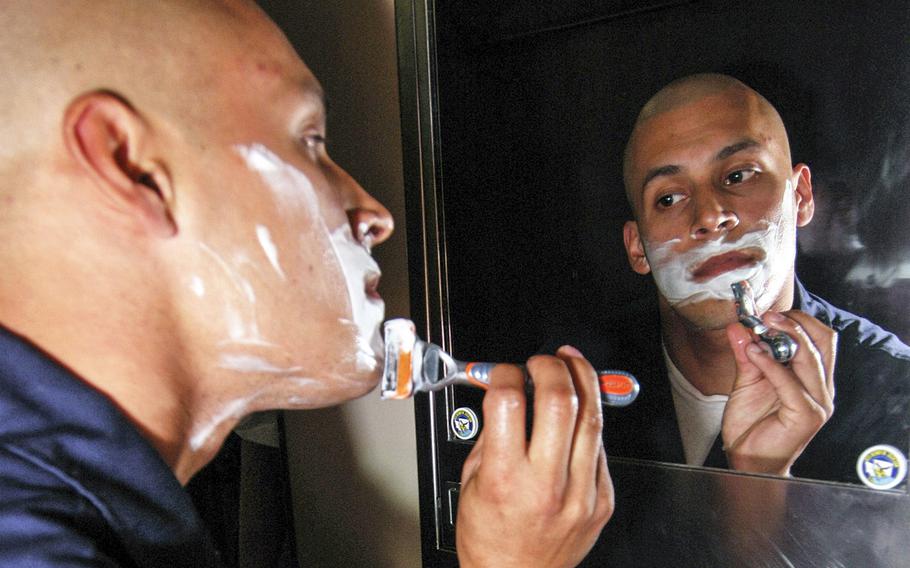 WASHINGTON — The Navy will no longer issue permanent shaving waivers for sailors diagnosed with razor bumps because whiskers can hinder the effectiveness of breathing devices, the service announced Friday.
"First and foremost, this change is about safety of our sailors and reducing the risk to mission and risk to force," Rear Adm. Jeffrey Jablon, director of the Navy's military personnel plans and policy division, told reporters Wednesday at the headquarters for the Navy's chief of personnel in Arlington, Va.
Pseudofolliculitis barbae, or more commonly known as razor bumps, is caused when curly beard hair curves back into the skin after being shaved, causing inflammation. Servicemembers are required to shave every day, so troops susceptible to razor bumps will be affected, Lt. Cmdr. Adam Cole, a spokesman for the chief of navy personnel, wrote in an email.
Of the more than 337,000 sailors in the Navy, about 6,000 each year are treated for the condition, according to Cmdr. Thomas Barlow, a dermatologist at Naval Medical Center San Diego. The Navy only tracks how many people are treated for the condition and not how many permanent waivers are issued, he said.
The condition occurs predominantly in African American men and is treatable, according to Navy documents. Treatment includes applying creams and allowing for sailors with shaving waivers, or "no-shave chits," to grow out their beard hair not longer than one-quarter inch in length.
The change in policy regarding razor bumps, which goes into effect immediately, was prompted after two reviews by the Naval Safety Center -- one in 2016 and then another in 2018 -- to validate the original review's findings. The research concluded beard hairs are a "personnel safety risk" for face seals of devices such as respirators, Jablon said.
The 2016 review looked at several studies and regulations for respirators. Research found the proper use of a respirator required a tight-fitting face seal of the device, and facial hair was shown to interfere with a proper seal.
The study also noted people who have razor bumps "will have difficult time achieving a satisfactory fit-test due to the 'non' smooth nature of their skin."
In November, a Navy safety message following the 2018 review cited responses from respirator manufacturers that "clean, smooth faces are required for a proper seal and their user manuals warn that failure to follow the guidance can result in serious personal injury, including death."
"This policy is, I think, long overdue in the light of safety. We want to make sure that when we go out into the battlespace onboard ships that sailors are safe and protected. And I think based on the safety study, this is really important that we get after it," said Master Chief Anton Fitz, who serves on the staff of the chief of Navy personnel and is the senior enlisted leader and adviser for enlisted plans, policy, and oversight.
Sailors who previously received a permanent waiver must undergo a medical re-evaluation and new treatment plan within the next six months, according to the Navy.
Sailors will now only be able to obtain a temporary shaving waiver to help manage the skin condition. While a sailor is undergoing treatment, the temporary shaving waiver allows them to grow a beard for up to 60 days. The 60 days allows for the sailor to evaluate how well the treatment is working, Barlow said.
If a sailor finds that following treatment with creams and growing his hair that he still has razor bumps after shaving, the Navy also offers laser treatments that can kill some of the hairs over time and thins out the beard.
"The goal of our laser treatments are not to make these sailors beardless, they are to enable them to shave comfortably," Barlow said.
The cost to the military for the cream treatment is about $30 per month for a sailor, he said. Most of the laser treatments are conducted at military facilities. A cost for the laser treatment was not provided.
The policy still allows commanding officers the authority to require shaving in an operational, training, and maintenance environment for safety reasons, according to Jablon.
The change will not affect the Marines because they already have their own instructions for razor bumps, Jablon said. The new Navy policy will closely align with what the Marines already do, which is mandatory shaving.
---
---
---
---