VIDEO, GALLERY
Navy SEAL receives Medal of Honor for hostage rescue
by
Corey Dickstein
February 29, 2016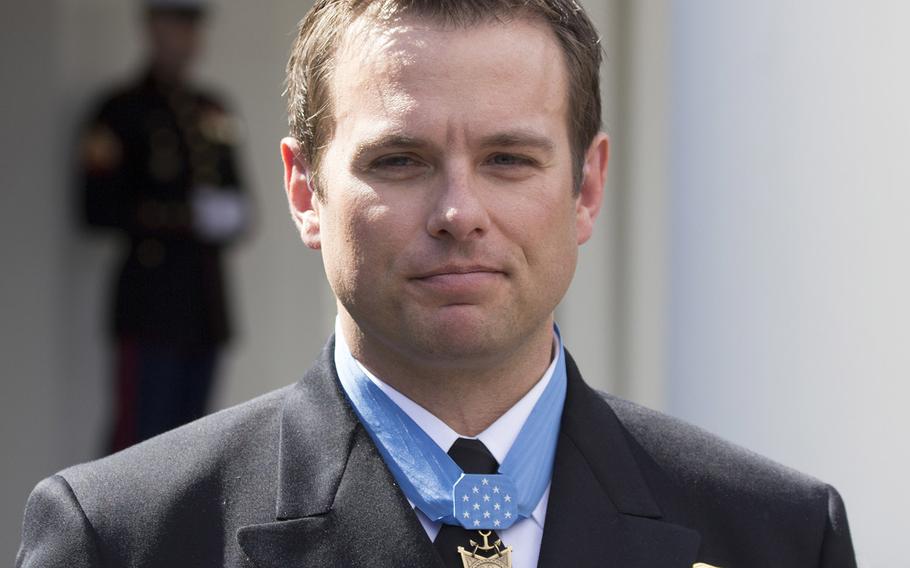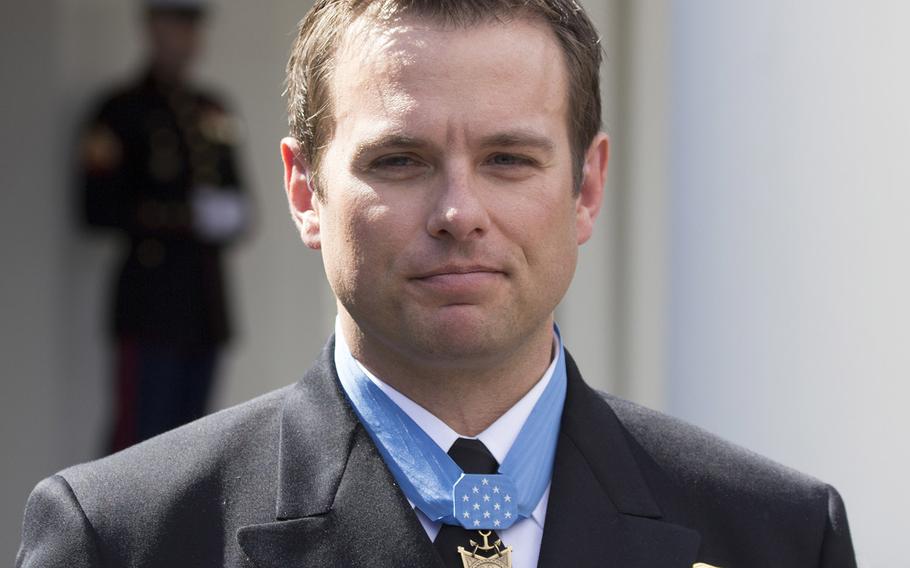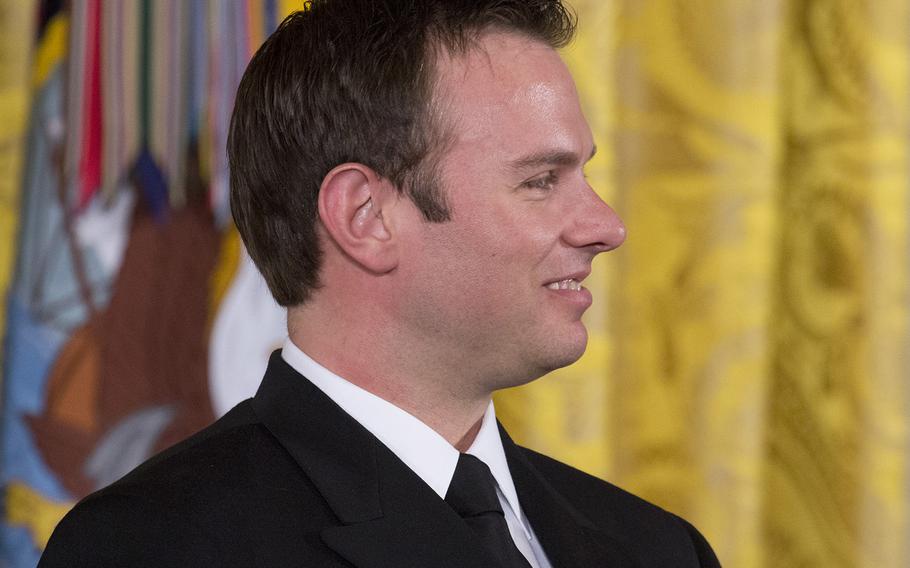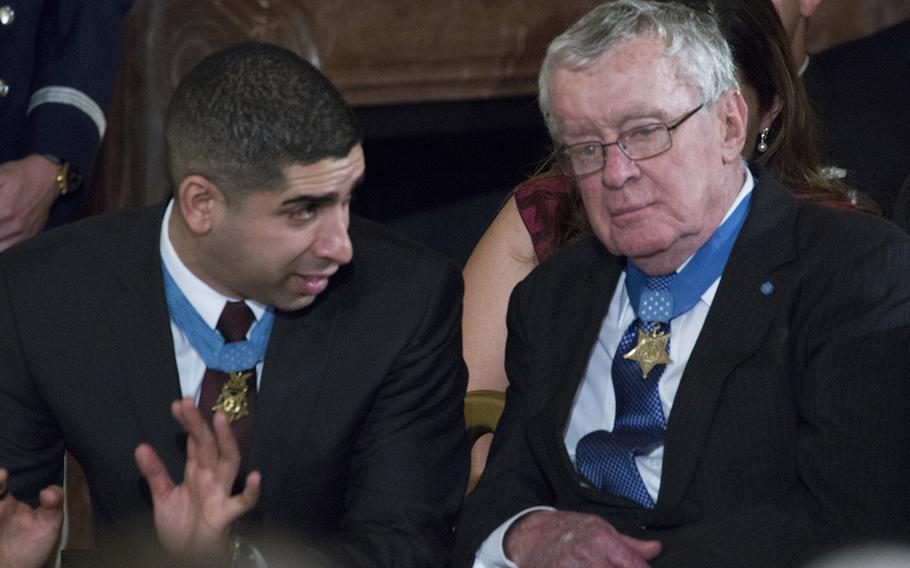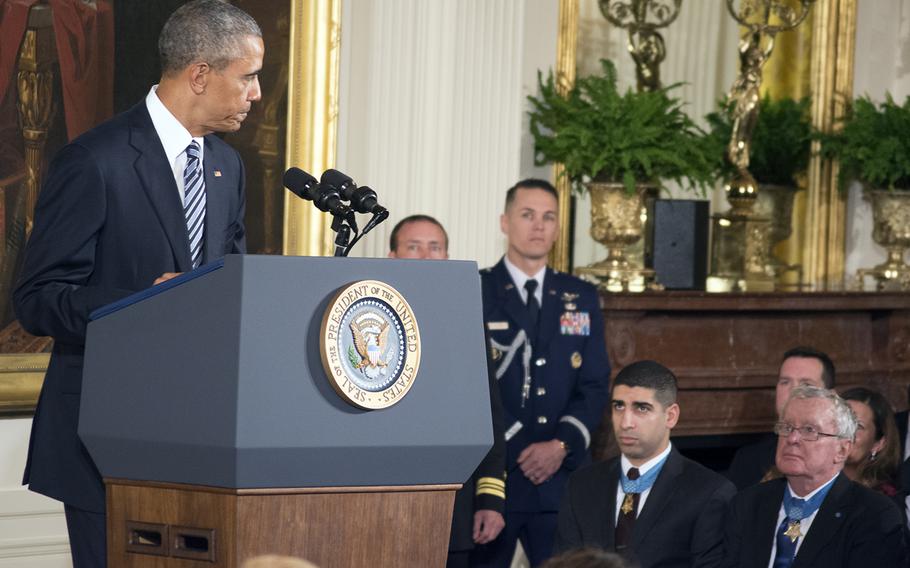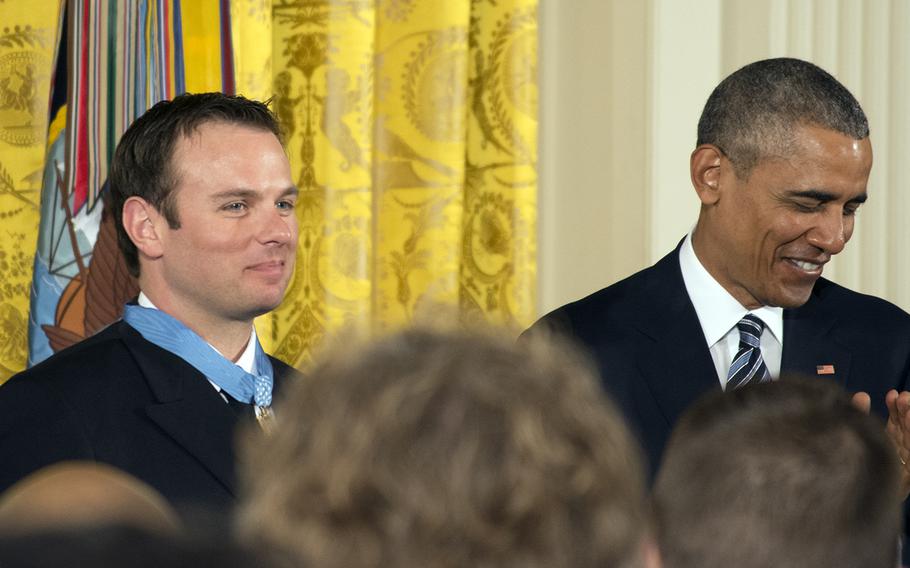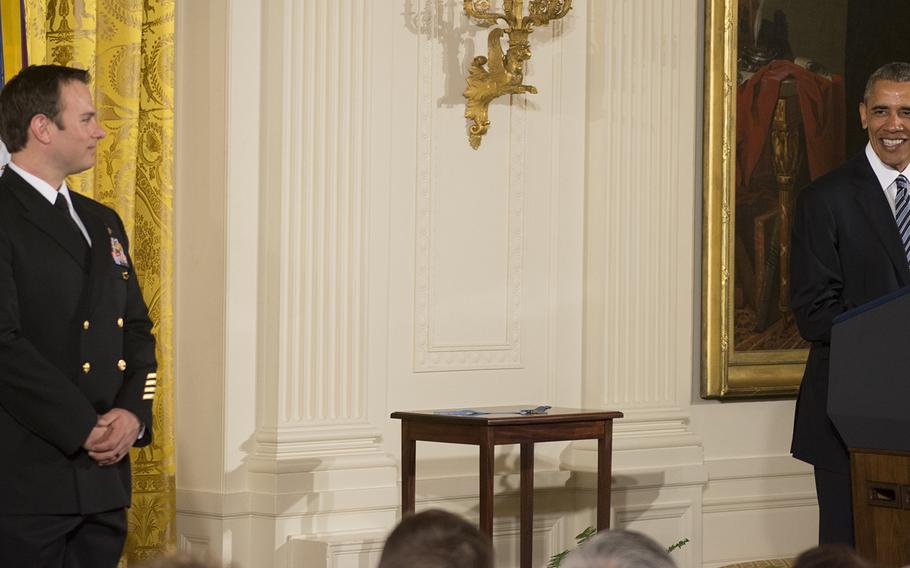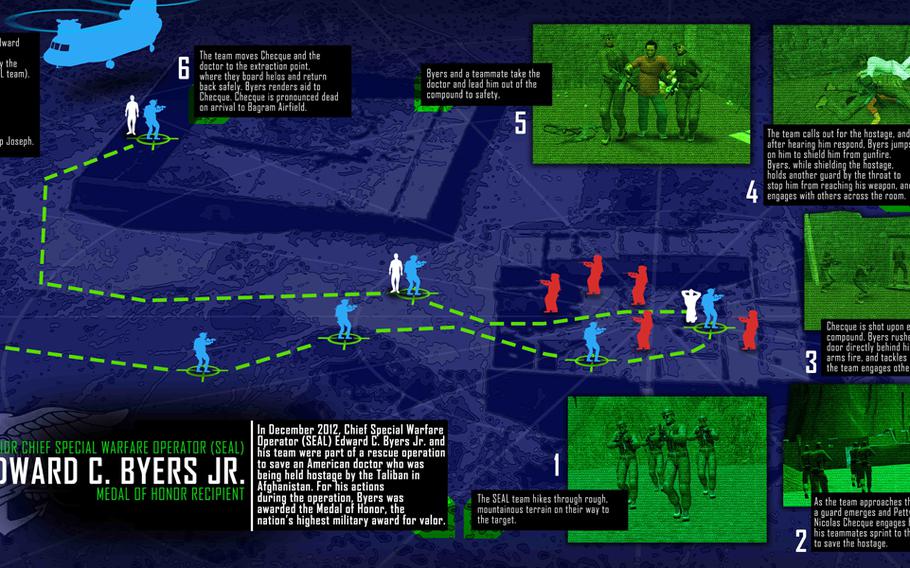 WASHINGTON — A member of Navy SEAL Team 6 who covered an American civilian with his own body to protect him during a deadly firefight deep in the remote eastern Afghanistan mountains was presented the Medal of Honor on Monday.
Senior Chief Petty Officer Edward C. Byers Jr. stood stoic in front of a large crowd in the East Room of the White House as President Barack Obama placed the nation's highest military honor around his neck.
Byers, 36, received the honor more than three years after he and a small team of the military's most elite special operators were sent on a "no-fail" mission to retrieve Dr. Dilip Joseph, an American who had been captured by the Taliban days earlier. As the second SEAL through the door of the tiny, one-room building where Joseph was being held, Byers quickly engaged two Taliban fighters, calling out to locate Joseph.
"Hearing English, Ed leapt across the room and threw himself on the hostage using his own body to shield him from the bullets," Obama said, adding that Byers simultaneously pinned an armed Taliban fighter to a wall with his bare hand, long enough for a teammate to eliminate the threat.
"It was over almost as soon as it begin, in just minutes," Obama said. "By going after those guards, Ed saved the lives of several teammates and that hostage."
Despite his actions, Byers told reporters on Monday that he was not the hero that day. That person, the SEAL insisted, was Petty Officer 1st Class Nicolas Checque, the first teammate through the door, who was mortally wounded.
"This award is truly his," Byers said after the ceremony. "He was an American hero and the hero of that operation. … Our nation owes him a debt of gratitude."
For his actions that day, Checque was posthumously awarded the Navy Cross, the service's second highest honor for valor. Obama, during his remarks Monday, mentioned the fallen SEAL's family, honoring them for their sacrifice and acknowledging the nation's "obligation to stand with them" and other Gold Star families "always."
Byers is the 11th living servicemember to receive the Medal of Honor for actions in Afghanistan. He's the sixth Navy SEAL to be awarded the medal and the first living SEAL to receive it since the Vietnam War.
That made Monday's ceremony especially unique, the president said, acknowledging the dozens of uniformed SEALs, senior special operations leaders and retired operators who joined Byers' family and friends for the ceremony.
The honor, Obama said, was "a rare opportunity for the American people to get a glimpse of a special breed of warrior that so often serves in the shadows."
Byers, who enlisted in the Navy in 1998 and has been a SEAL since 2003, will continue to serve as a special operator.
"Thoughts of Nic and other brothers who have paid the ultimate sacrifice, I believe is what will carry me through bearing the responsibilities that come with this honor," Byers said. "I don't know for sure how this will change my life. I just plan on taking it one step at a time."
dickstein.corey@stripes.com Twitter: @CDicksteinDC
---
---
---