Navy SEAL killed in Iraq was part of force sent to rescue advisers
---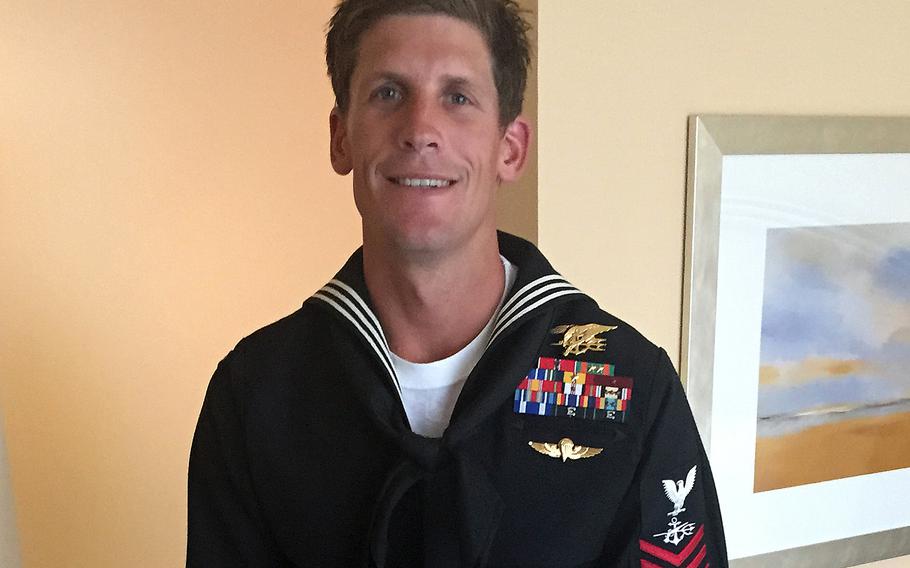 WASHINGTON — Petty Officer 1st Class Charles Keating IV died Tuesday in an Iraq village as he helped rescue fellow U.S. servicemembers under attack from Islamic State fighters, the Pentagon said Wednesday.
"He is an American hero," Col. Steve Warren said of Keating, the third U.S. combat death in Iraq since U.S. forces returned there in 2014 to help Iraq fight the Islamic State group.
The 31-year-old Navy SEAL was part of a quick reaction force called to help U.S. advisers beat back the early-morning surprise attack by the terrorist group, said Warren, the Baghdad-based spokesman for Operation Inherent Resolve.
It "was a big fight, one of the largest we've seen recently," Warren said Wednesday as he described the battle to reporters. "There were bullets everywhere."
It started about 7:30 a.m.
About 12 U.S. advisers arrived in the village of Teleskof on Tuesday for a meeting with peshmerga fighters to help them with training and equipment, Warren said.
Unknown to the advisers, and undetected by U.S. surveillance, the Islamic State group had assembled about 125 fighters and 20 vehicles to the south and were about to breach the peshmerga defenses — a series of guarded outposts and checkpoints, he said.
"The enemy was able to very covertly assemble enough force, which included several truck bombs, some bulldozers and, of course, their infantry," Warren said. "They were able to punch through the Kurdish line there … and really sprint towards Teleskof, which was their objective."
The Pentagon has repeatedly lauded its visibility and control of the battlespace in Iraq over the last several months, noting increased airstrikes and gains by Iraqi forces have made it nearly impossible for Islamic State fighters to move in large groups. On Wednesday, Warren said, this time, the forces were able to mass undetected, possibly by assembling in smaller groups in nearby areas.
At about 7:50 a.m., the Islamic State fighters reached the U.S. advisers and an intense battle ensued, he said. The advisers, typically culled from Army special forces units, fought back.
But they "could not get away," Warren said. Keating's quick reaction force was called to help.
U.S. airpower responded too. The air assault included A-10 ground attack aircraft, F-16 and F-15 fighter jets and the B-52 heavy bomber. Eleven aircraft launched 31 strikes against Islamic State militants as they fought with the U.S. and peshmerga forces. U.S. aircraft destroyed two additional Islamic State truck bombs. About half of the 125 Islamic State fighters in the battle Tuesday were killed.
At about 9:25 a.m., the Islamic State fighters detonated a truck bomb near the U.S. position. Minutes later, Keating was hit by gunfire.
Black Hawk medevac helicopters responded and transported Keating at about 10:19 a.m. The helicopters, damaged by gunfire, were still able to get Keating to a U.S. military field hospital in Irbil, Warren said. But Keating did not make it.
"His wound was not survivable," Warren said.
Keating was lauded and mourned Tuesday in his home state of Arizona where Gov. Doug Ducey ordered the flags lowered to half-staff until he is brought home and buried.
copp.cara@stripes.com Twitter: @TaraCopp
---
---
---
---